Blog

Dec 9, 2020
12 Days of Plant-Based Holiday Recipes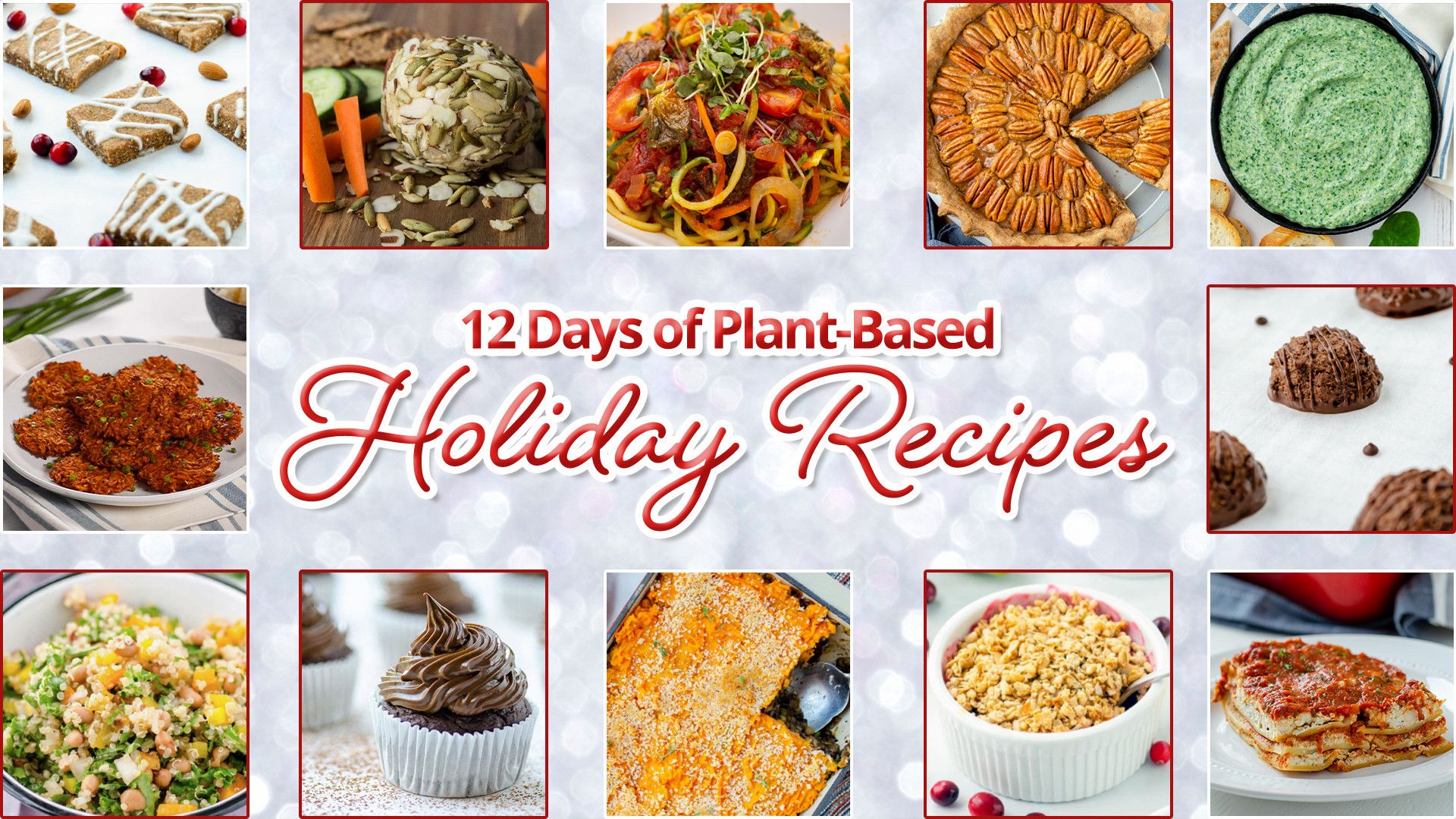 Celebrate the holidays with 12 days of healthy and delicious plant-based recipes!
Cooking and baking are a great way to enjoy the flavors of the holiday season! For the next 12 days, we'll be sharing healthy and delicious plant-based recipes inspired by winter and the holiday season! We hope you'll enjoy cooking along with us! Follow the daily schedule below for a new recipe to try each day. Cooking with us? Don't forget to snap a photo, and be sure to tag us on Twitter or Instagram!
Cook with us:
Dec. 9
We'll kick off our culinary adventure with these delicious iced gingerbread bars! Packed with cinnamon and ginger, they capture the tastes of the holiday season.
Dec. 10
Today marks the start of Hanukkah! Celebrate with our sweet potato latkes! This recipe is perfect for those who are looking for a healthy, low-fat option.  
Dec. 11
Looking for a fun family activity to try at home this weekend? Try baking these tasty macaroons! They're as delicious as they are beautiful! 
Dec. 12
A special holiday appetizer that pairs well with vegetables, crackers, or pita!
Dec. 13 
Have extra time to experiment in the kitchen this weekend? Don't miss out on this decadent pecan pie! Rich and delicious, this recipe is a wonderful treat for a special occasion!
Dec. 14
A great main course for the winter season! This vegan twist on shepherd's pie is made from a base of lentils and mushrooms with savory seasonings and crowned with a crisp sweet potato topping.
Dec. 15
For good luck in the new year, make a Hoppin' John Salad this holiday season! This dish is packed with black-eyed peas, vegetables, and flavorful seasonings.
Dec. 16 
These cupcakes use bananas, applesauce, and zucchini for a more healthful approach to this favorite dessert!
Dec. 17
The bright colors and rich flavors of this dish make it a great option for the holidays!
Dec. 18
Looking for a special appetizer to start off your at-home holiday celebration? This festive spinach dip is a great appetizer option!
Dec. 19 
Cranberries, oranges, and pears combine for a delicious dessert or special holiday breakfast!
Dec. 20
If pasta is part of your winter or holiday traditions, don't miss this plant-based lasagna!