Recipe
Chocolate Cupcakes
12 servings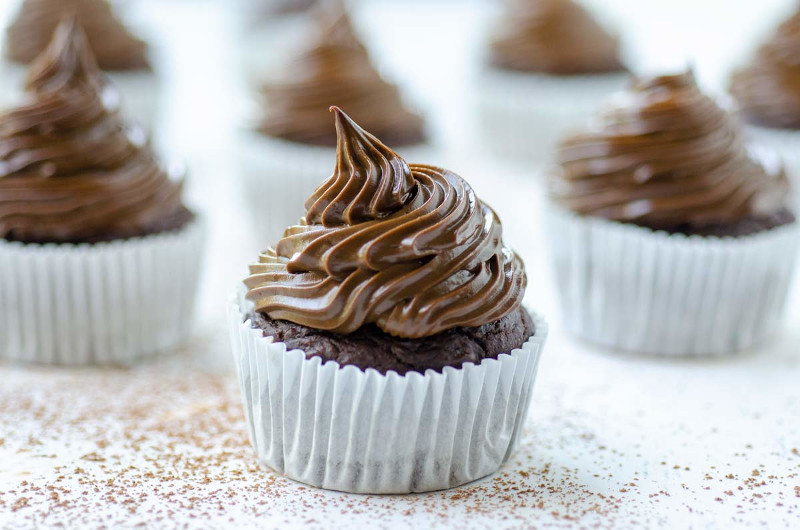 These cupcakes use bananas, applesauce, and zucchini for a more healthful approach to this favorite dessert!
About the Recipe
156 Calories · 2.6 g Protein · 3 g Fiber
Dessert
Note: You can stir 1/4 to 1/2 cup chocolate chips into the batter.
Ingredients
Makes 12 Servings
flour (1 1/4 c (156 g))

unsweetened cocoa powder (1/4 c (22 g))

baking powder (1 1/4 tsp (6.2 mL))

ground cinnamon (1 tsp (5 mL))

baking soda (3/4 tsp (3.8 mL))

iodized salt (1/2 tsp (2.5 mL))

ripe banana (1)

applesauce (1/2 c (120 mL))

brown sugar (4 tbsp (36 g))

chocolate soy or almond milk (1/4 c (60 mL))

vanilla extract (1 tsp (5 mL))

shredded zucchini (1 c (124 g))

Chocolate Avocado Frosting (see below) or strawberry jam ()
Directions
Preheat oven to 350 F (177 C) and line a muffin pan with paper liners or silicone cups or use a nonstick pan.





In a large bowl, whisk together flour, cocoa, baking powder, cinnamon, baking soda, and salt.





In another bowl, mash banana with applesauce and sugar. Add milk, vanilla, and zucchini, and stir until evenly combined.





Add dry ingredients in 3-4 batches and stir until just combined. Spoon batter evenly into muffin cups.





Bake 18-25 minutes, or until an inserted toothpick comes out clean. Cool completely. Spread with Chocolate Avocado Frosting or strawberry jam.





Chocolate Avocado Frosting: Prepare just before spreading on cupcakes. Combine 1 ripe avocado with 3-4 tbsp (45-60 mL) each unsweetened cocoa powder and pure maple syrup in a food processor. Process until completely smooth, adding a tiny bit of soy or almond milk if needed for consistency. Taste, adding more cocoa or maple syrup to taste, plus a pinch of salt, if desired. You can also add a few dashes of cinnamon or a few drops of vanilla extract.




Nutrition Facts
Per serving:
Calories: 156
Fat: 2.5 g
     Saturated Fat: 0.5 g
     Calories From Fat: 13%
Cholesterol: 0 mg
Protein: 2.6 g
Carbohydrate: 33 g
Sugar: 17 g
Fiber: 3 g
Sodium: 236 mg
Calcium: 70 mg
Iron: 1.3 mg
Vitamin C: 3 mg
Beta-Carotene: 69 mcg
Vitamin E: 0.2 mg