Recipe
Cranberry-Orange-Pear Granola Crisp
8 servings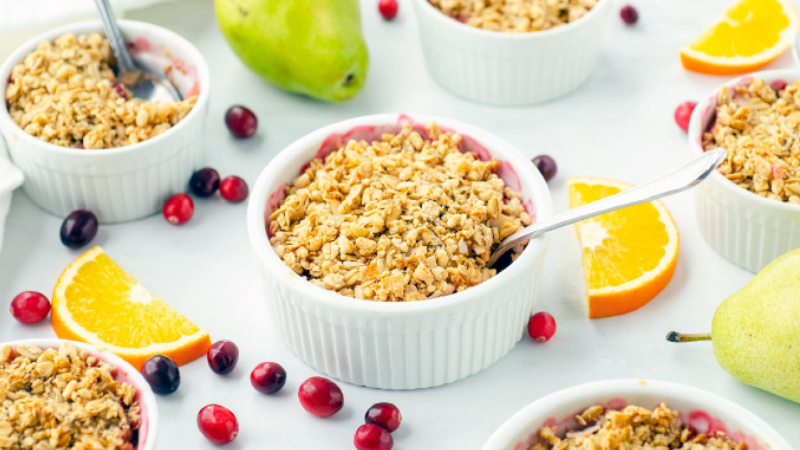 Cranberries, oranges, and pears combine for a delicious dessert!
About the Recipe
201 Calories · 3 g Protein · 7 g Fiber
Dessert
Ingredients
Makes 8 Servings
4 large firm ripe pears, peeled, cored, thinly sliced

2 1/2 c (400 g) cranberries, thawed if frozen

1 juice and finely grated peel of a medium orange

1/4 tsp (1.2 mL) iodized salt

1/4 tsp (1.2 mL) freshly grated nutmeg

1/4 tsp (1.2 mL) ground ginger

3/4 c (180 mL) (6 ounces) thawed frozen pear or apple juice concentrate or mixed pear, apple, and peach juice concentrate

2 tbsp (30 mL) cornstarch

2 c (222 g) reduced-fat granola
Directions
Preheat the oven to 400 F (204 C). In a large bowl, combine the pears, cranberries, orange juice, orange peel, salt, nutmeg, and ginger.





Stir the juice concentrate and cornstarch together in a small bowl. Immediately pour into the fruit mixture and blend well.





Pour into a 2-quart (1.9-L) nonstick baking dish (or a baking dish lined with parchment). Bake for 20 minutes.





Remove from the oven and reduce the heat to 350 F (177 C). Stir the fruit mixture thoroughly and sprinkle the granola on top. Choose gluten-free granola for a gluten-free recipe.





Bake for 20-30 minutes or until the fruit is very soft. Serve warm.




Nutrition Facts
Per serving
Calories: 201
Protein: 3 g
Carbohydrate: 51 g
Sugar: 27 g
Total Fat: 1 g
     Calories From Fat: 2%
Cholesterol: 0 mg
Fiber: 7 g
Sodium: 101 mg