Breast Cancer
Fight Breast Cancer With a Plant-Based Diet
Eating a low-fat diet rich in fruits, vegetables, grains, and beans—while avoiding meat and fatty animal products—promotes breast health.
Protective Plant-Based Diets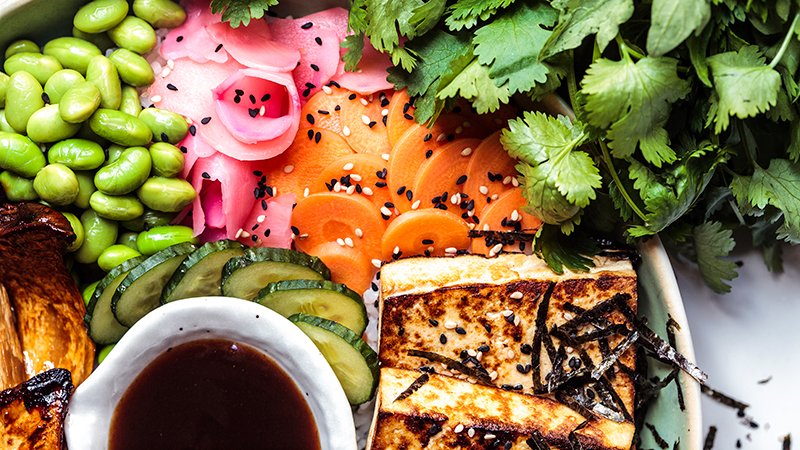 Several studies show that the more high-fiber, vitamin- and mineral-packed foods women consume, the lower their cancer risk.
Fiber from fruits, vegetables, grains, and beans is especially beneficial for breast health, because it helps eliminate excess estrogens. Many plant-based foods are also rich in vitamin C, beta-carotene, and selenium, which are linked to lower cancer risk.
The Benefits of Soy

After a diagnosis of breast cancer, women who eat more soy-based foods actually have a better chance at a long, healthy life. They are less likely to have a recurrence and less likely to die from breast cancer than women who skip soy. The notion that soy products are associated with increased recurrence is a myth that has been widely and mistakenly promoted. Research findings show that eating soy foods like tofu, tempeh, and soy milk seems to have a protective effect.
High-Fat Hazards
High-fat diets can raise levels of estrogen, a female hormone that can increase the risk for breast cancer. The greatest risk appears to come from saturated fat and animal fat. High-fat diets can also lead to weight gain, which is linked to greater breast cancer risk.
One study of nearly 10,000 women found that those who consume low-fat diets have a 23 percent lower risk for breast cancer recurrence. They also have a 17 percent lower risk of dying from the disease.
Red and Processed Meat
Studies, such as the UK Women's Cohort Study, show that red and processed meat, like hot dogs and bacon, can increase breast cancer risk. The Nurses' Health Study II found that premenopausal women who ate the most red meat had a 97 percent higher risk of a common type of breast cancer. The NIH-AARP Study involving nearly 200,000 women found a 25 percent higher risk for breast cancer in those eating the most red meat, compared to those eating the least.
" As a doctor, I want people to know that they already wield some of the most powerful tools to help take control over the risk of cancer: the fork and knife. "
Neal Barnard, MD, FACC, President, Physicians Committee
Tweet
Your Body in Balance
Read about the science behind food, hormones, and health in Dr. Barnard's new book!