News Release

Sep 18, 2023
New Spanish-Language Food for Life Plant-Based Cooking and Nutrition Courses Launch This Hispanic Heritage Month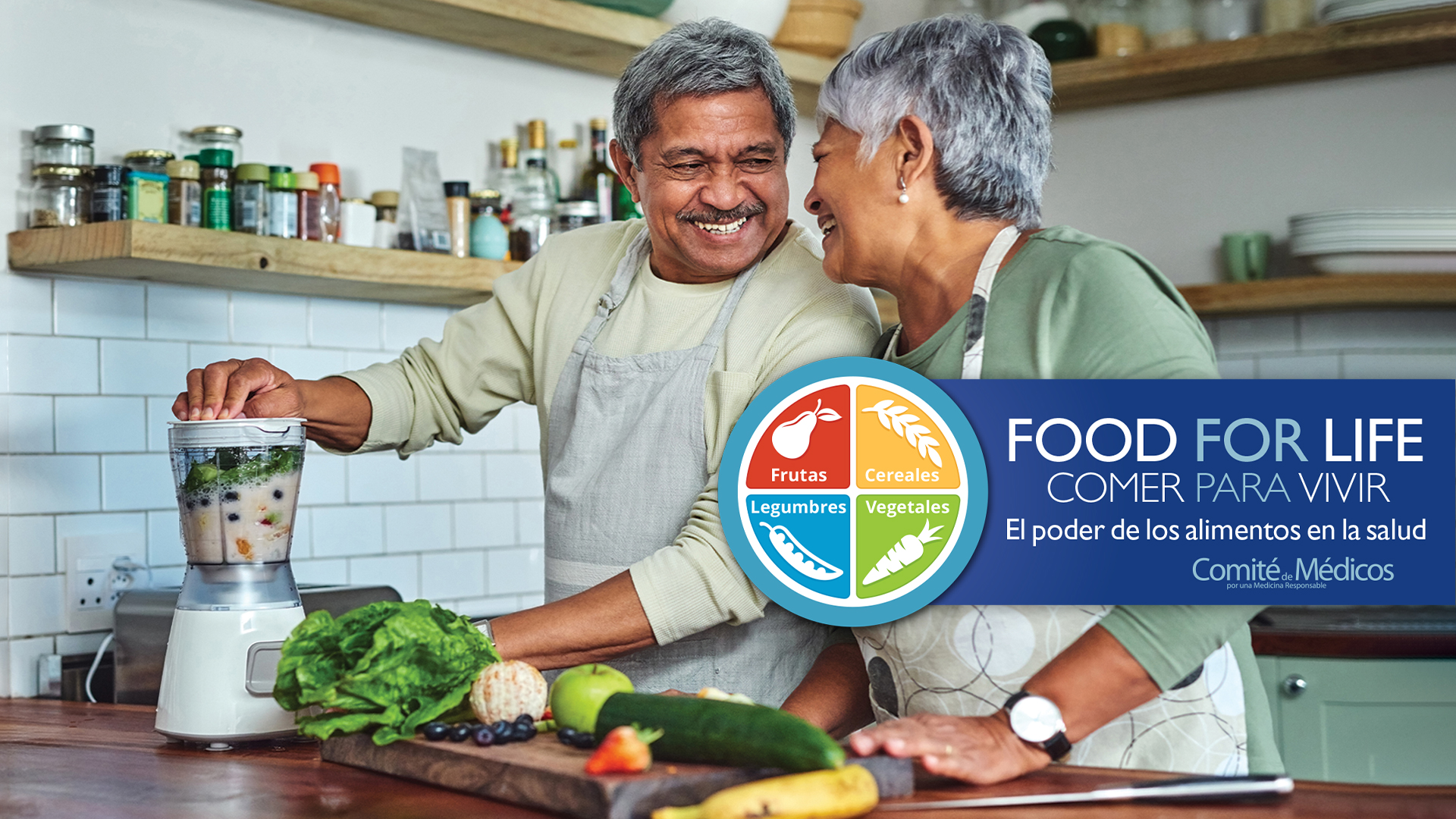 WASHINGTON, D.C.—This National Hispanic Heritage Month, the Physicians Committee for Responsible Medicine's Food for Life plant-based nutrition and cooking class program has introduced new Spanish-language courses that celebrate the diverse flavors of Spanish-speaking cultures and help participants seeking to reduce the risk of diet-related health conditions such as type 2 diabetes, obesity, heart disease, and breast, colorectal, and prostate cancers.
The new Spanish-language courses include a standalone Food for Life: Introduction to How Foods Fight Cancer class, which teaches participants about the benefits of a plant-based diet for cancer prevention and survival; a Food for Life: Kickstart Your Health series, which focuses on losing weight, maintaining a healthy weight, or simply embracing an overall healthful diet; and a Food for Life: Employee Wellness Program series, geared toward employers to offer in the workplace. The popular Food for Life: Diabetes Initiative course was launched in 2018.
"My passion lies within the plant-based nutrition arena targeting and educating Spanish-speaking people on the benefits of a healthy plant-based diet," says Food for Life instructor Katya Galbis, LD, DipACLM, who was born and raised in Mexico and now lives in Florida. Galbis is also a co-host of the Physicians Committee's Spanish-language video program Un Mundo Saludable.
Designed by physicians, dietitians, and other health experts, Food for Life classes promote healthful plant-based eating based on the latest scientific research. Each class includes information about how certain foods and nutrients work to promote or discourage disease, cooking demonstrations of delicious and healthful plant-based recipes, and practical cooking skills and tips for incorporating healthful eating habits into daily life.
Recipes from the new courses include Ginger Banana Smoothie; Tofu Cheese; Gloria's Guacamole; Quickie Quesadilla; Spinach, Beet, and Orange Salad with Ginger-Agave Dressing; Mexican Kale and Blue Corn Salad; Portobello Fajita; and Tropical Freeze.
Food for Life instructors Andres Rodriguez, CNA, and Nancy Rodriguez, RN, BSN, CDCES, who are based in the Chicago area and are teaching Spanish-language classes this month, started a plant-based lifestyle in 2011.
"Plant-based nutrition was a life-changing experience that helped me lower cholesterol, stop chest pains and emergency room visits, and prevent a repeat of my mother's history of heart disease and heart surgery," says Andres. "I want to share my knowledge about heart-healthy and plant-based nutrition with others."
Nancy says, "My mission is to educate, equip, and empower underserved families, especially with Spanish-language and financial barriers, with the knowledge to prevent and reverse chronic diseases like diabetes, through low-fat, plant-food diets and lifestyle modifications."
A recent survey found that 6% of Latinos are vegetarians (including vegans), and that taste (49%), cost (38%), and personal health (35%), were most important when making food choices.
Founded in 1985, the Physicians Committee for Responsible Medicine is a nonprofit organization that promotes preventive medicine, conducts clinical research, and encourages higher standards for ethics and effectiveness in education and research.