Blog

Aug 17, 2021
Food for Life Plant-Based Nutrition Education and Cooking Class Program Celebrates 20 Years!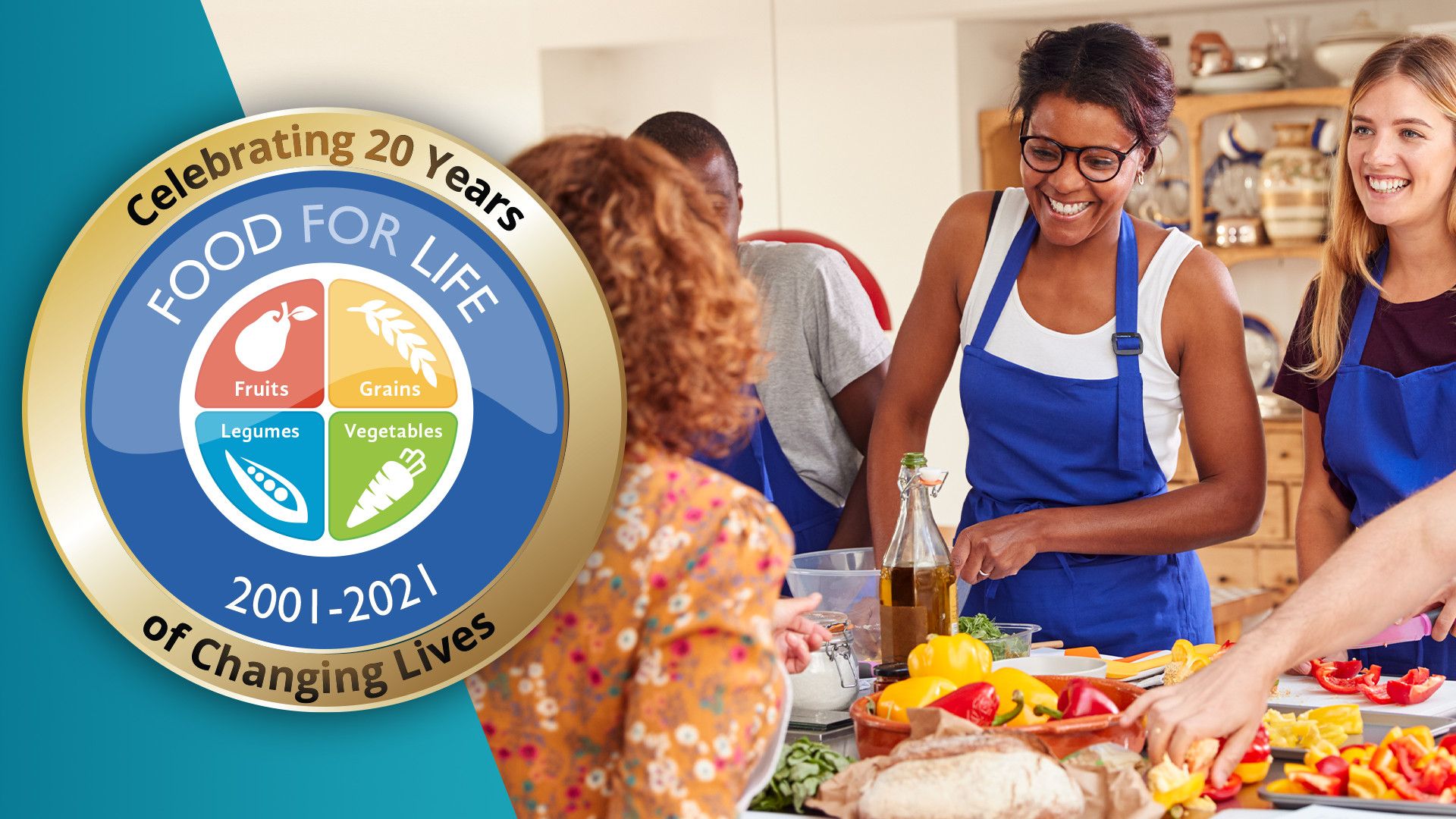 The Physicians Committee's award-winning Food for Life plant-based nutrition education and cooking class program is celebrating its 20th anniversary! Apply before Aug. 23 for the next online instructor training that begins Oct. 25!
Food for Life Celebrates 20th Anniversary
Over its 20-year history, Food for Life has gained hundreds of dedicated and passionate instructors and institutions, and they have conducted tens of thousands of classes and taught hundreds of thousands of people directly in their communities all around the world. Nearly 300 instructors and institutions have had long, successful histories with the program. However, three of our longest teaching instructors—Jean Myers, Tracy Childs, and Jane Sirignano—have been teaching the program since 2005.
Jean became a Food for Life instructor after careers as a nurse and a marriage and family therapist. Jean, however, professes that being a Food for Life instructor is the most fun job she has ever had. She got her start as an instructor with delivering Food for Life classes at a local hospital and takes pride in pairing her love of good food with sharing Physicians Committee nutrition education resources with those interested in improving their health. Learn more about Jean on this week's The Exam Room podcast:
Nutrition Education Program Turns 20!
Working with the Food for Life program has been Tracy's dream job—and she's done it for 16 years! She believes that nothing is more important for promoting good health than the food we use to nourish our bodies. She enjoys sharing her enthusiasm for healthy food and introducing people to wonderful, creative ways to make healthful, cancer-fighting meals a joyful experience. Tracy recently discussed her time as a Food for Life instructor (video begins at 19:38):
Mission Critical | PCRM Member Update
Since 2001, Jane has been giving health, food, and cooking presentations and has been a Food for Life instructor since 2005. She has experience as an assistant chef, has a diploma in nutrition and several certificates in health and wellness, and has raised a son with plant-based food and health principles.
If you share Jean's, Tracy's, and Jane's passion for plant-based cooking and nutrition and would like to help your community experience the health benefits of a plant-based diet, apply today—before the Aug. 23 deadline—to become a Food for Life instructor.