Health and Nutrition News

Dec 13, 2016
Beans Satisfy Hunger More Than Meat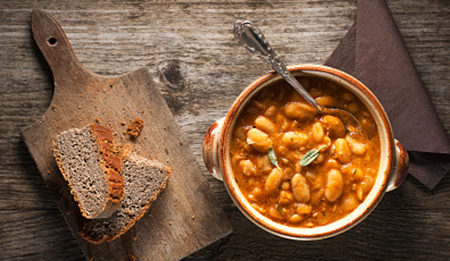 Beans, peas, and other legumes increase satiety more than animal-based protein sources, according to research published online in Food & Nutrition Research. Researchers compared outcomes from three different meals: one high in animal protein, another high in plant-based protein, and one plant-based, low-protein meal. Out of 43 participants, those who consumed the plant-based, high-protein meal felt more satisfied while consuming fewer calories, compared with those who consumed the meal high in animal protein. The low-protein meal was as satiating and palatable as the animal-based, high-protein meal. Researchers suspect high fiber intake as a possible mechanism behind the satiety. This study supports previous data on bean consumption and weight management.
.
References
Kristensen MD, Bendsen NT, Christensen SM, Astrup A, Raben A. Meals based on vegetable protein sources (beans and peas) are more satiating than meals based on animal protein sources (veal and pork) - a randomized cross-over meal test study. Food Nutr Res. 2016;60:32634.
Kim SJ, de Souza RJ, Choo VL, et al. Effects of dietary pulse consumption on body weight: a systematic review and meta-analysis of randomized controlled trials. Am J Clin Nutr. 2016;103:1213-1223.