Blog

May 18, 2021
Recipe of the Week: Lentil Cucumber Salad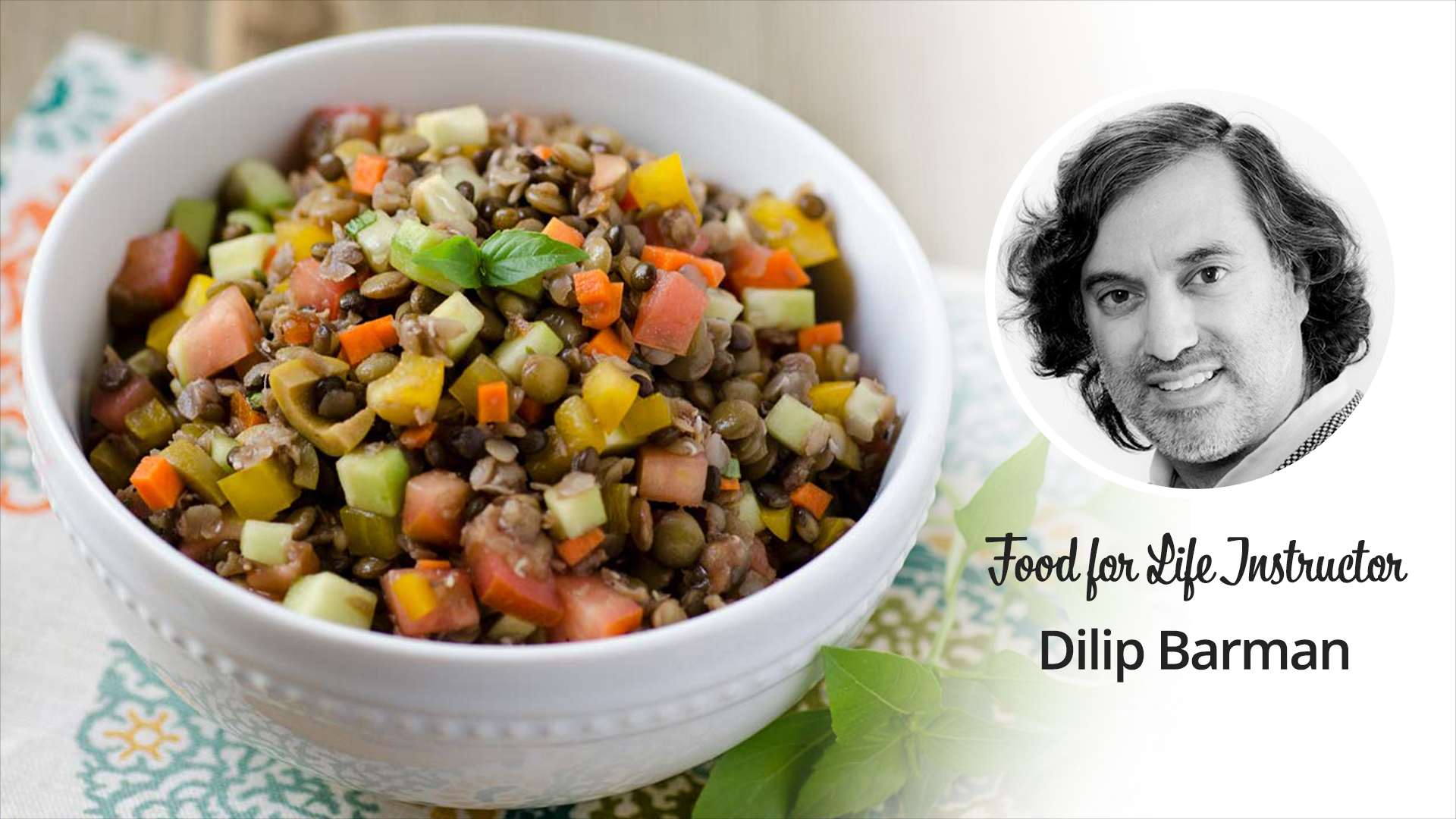 In celebration of Asian American and Pacific Islander Heritage Month, Indian American Food for Life Instructor Dilip Barman shares his experience with plant-based cooking!
Food for Life instructor Dilip Barman has been passionate about enjoying and sharing a plant‐based lifestyle for decades. Last year, he helped found the monthly live online show So Many Cooks in the Kitchen, where a group of Food for Life instructors shares plant-based food preparation and nutrition tips from their own kitchens. The program is simulcast on Facebook Live, YouTube, and Twitter! Dilip is president of the Triangle Vegetarian Society in North Carolina, where he hosts the country's largest vegan Thanksgiving, teaches nutrition in local schools, and publishes articles on plant-based eating. He is the executive producer of the film Code Blue, which features lifestyle medicine to prevent, manage, and reverse chronic diseases.
You can view Dilip's upcoming classes at his Food for Life instructor page!
Check out one of Dilip's favorite recipes, Lentil Cucumber Salad!
Lentil Cucumber Salad
Dilip loves reinventing dishes and utilizing ingredients in different ways. In fact, throughout his 17-year marriage he has never once repeated a dinner! He likes that this dish reimagines lentils as a salad component, rather than as a main course ingredient. Packed with protein and fiber, this dish makes for a great side or even a filling lunch! Dilip's pro tips include adding pomegranate kernels, raw or roasted corn, or cubes of squash.
Makes 4 servings
Ingredients
1 cup brown or green lentils  
1 cup diced tomato  
1 cup peeled and diced cucumber  
1 cup diced orange or red pepper  
1 clove garlic, finely chopped  
1 tablespoon chopped olives  
1 tablespoon fresh basil, chopped  
1/4 cup balsamic vinegar  
Directions
Clean the lentils to make sure they have no stones and pour into a large pot of water.
Boil gently for 20 minutes or until tender. Strain and let cool on a tray in the refrigerator.
In a large bowl, mix the lentils with the remaining ingredients. Season with salt and pepper.
Serve the salad cold.
Source: Dora Stone, chef and photographer, founder of mmmole.com and dorastable.com
Per serving: Calories: 198; Fat: 1.0 g; Saturated Fat: 0.2 g; Calories From Fat: 4%; Cholesterol: 0 mg; Protein: 13.2 g; Carbohydrate: 36.0 g; Sugar: 6.3 g; Fiber: 9.9 g; Sodium: 37 mg; Calcium: 53 mg; Iron: 5.0 mg; Vitamin C: 40.4 mg; Beta-Carotene: 1,966 mcg; Vitamin E: 0.6 mg
Please feel free to tailor Physicians Committee recipes to suit your individual dietary needs.