Blog

Apr 27, 2022
Find Out Why These Food for Life Instructor Training Scholarship Recipients Value the Program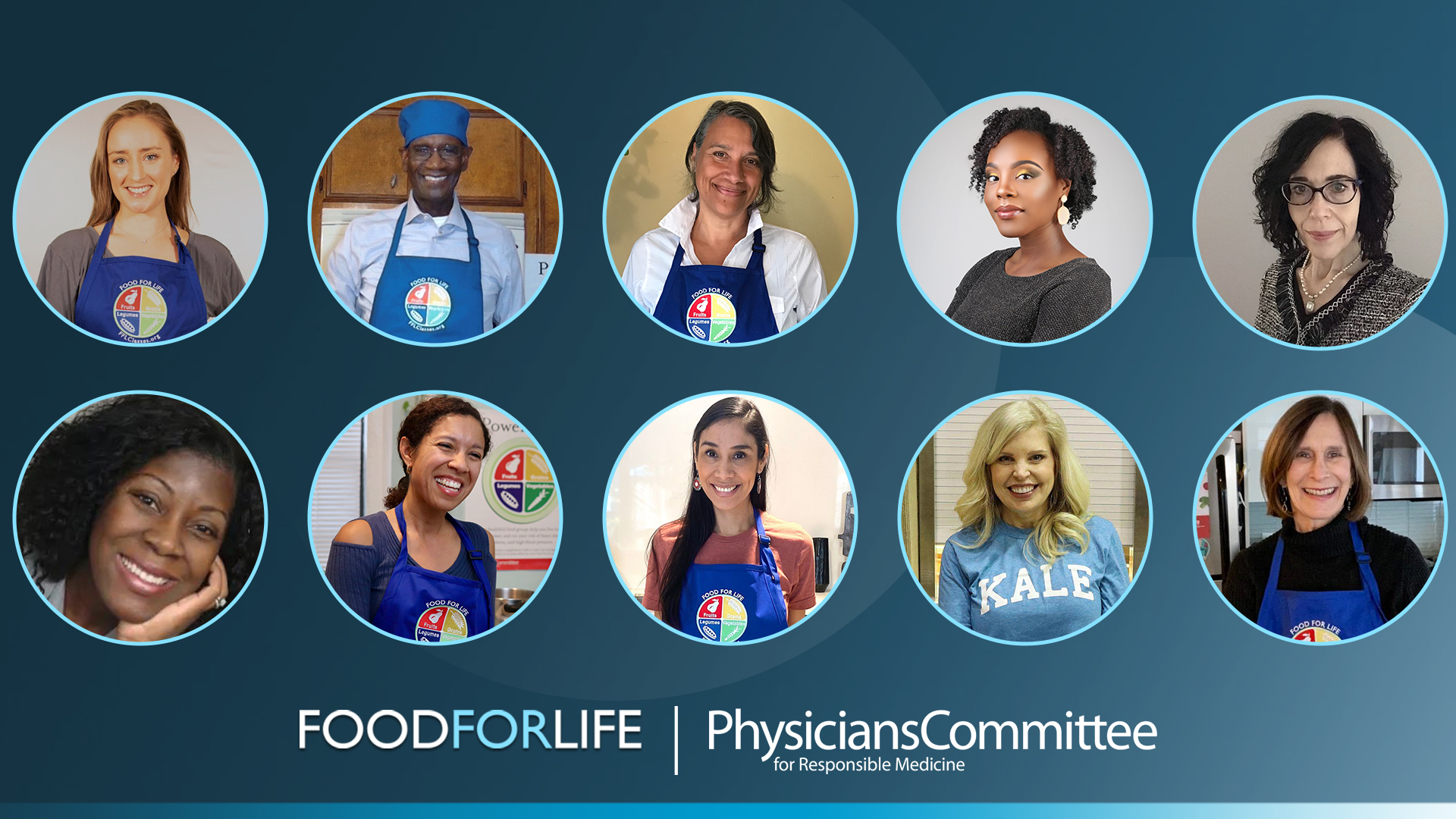 The Physicians Committee's Food for Life Instructor Training offered scholarships for the first time in 2021, and the program is delighted to offer scholarships again in 2022. The eight-week online training is from Sept. 20-Nov. 15.
The scholarship is for those who are financially in need, are 100% vegan, and are committed to teaching the Food for Life nutrition and cooking classes to communities disproportionately impacted by health disparities, including communities of color. If you are interested, apply before the June 1 deadline.
Below, 2021 scholarship recipients share why they value their Food for Life training experience.
"The Food for Life Instructor Training is incredibly comprehensive. You are set up to succeed. The videos, the live trainings, and the support during and after the training is remarkable and deeply appreciated." – Jennifer Baez, MPH | California
"The Food for Life Instructor Training far exceeded my expectations. The step-by-step instructions provided in each class manual give you all the confidence to conduct virtual or in person classes. I was also impressed with the access I had to low-cost professional marketing materials to further promote my classes. The staff was always approachable when I had questions." – Tara Cannon, DNP, MSN, RN, HWC | North Carolina
"The Food for Life Instructor Training gave me an incredible opportunity to level up and to feel more professional and confident when I teach and demonstrate plant-based nutrition information and cooking demos to my community. The program administrators are so competent, able, and available! They make all students feel part of a very special virtual community. I felt fully supported throughout the program and continue to get that support from their excellent mentorship program." – Louise Cohen-Silver, PhD | New York
My goals for participating in the Food for Life Instructor Training were to gain more knowledge and skills in developing plant-based meal practices and educating others on the benefits of plant-based eating. The Food for Life program's instructors and staff enabled me to meet all of my goals by creating a supportive learning environment, which far exceeded my expectations. The variety of information, resources, and diverse perspectives of presenters included in curriculum lessons also exceeded my expectations. I have definitely appreciated the networking opportunities and forums provided to connect with other Food for Life instructors. – Theresa Dozier
"My Food for Life Instructor Training group was truly amazing. The content of the training was invaluable—it provided the structure and information I had been seeking to start spreading the word about the benefits of whole food, plant-based eating in an evidence-based way that makes me feel confident in my messaging. The shared stories, support, and dedication of my fellow trainees was and continues to be inspiring to me. I would recommend this training to anyone interested in becoming an advocate for this plant-based lifestyle." – Alexandra Liles, CPT, CNC | Ohio
"The Food for Life Instructor Training is an excellent program! The Food for Life staff was able to effectively create a supportive community over our Zoom meetings. Being a Food for Life instructor has given me a prestigious title with the benefits of empowering people to make better choices for a healthier life." – Danielle Medina, ACE, AFAA, RYT | New York
"The Food for Life Instructor Training was a wonderful experience. It empowered me with the tools and knowledge to bring healthful and helpful information to my community. The online platform was great and created a sense of community among the instructors and participants. I highly recommend it!" – Kelly Rickard, MBA | Texas 
"The training I received from the online Food for Life Instructor Training changed my life and prepared me to change other people's lives. I am so proud of the materials, videos, meetings, classmates, and the Physicians Committee for Responsible Medicine!" –Charles Smith | Mississippi
"Living a fulfilled and enjoyable life requires having the right tools. In earning my license to teach Food for Life classes I thought, "Now I have the tools I've been needing for a long time!" I highly recommend this training; it's the best whole food, plant-based toolkit I've ever seen!" – Esther Suarez, MA | California
"Simply stated, my Food for Life Instructor Training experience was awesome! As a busy mom of two young boys, I loved the convenience of being able to complete the coursework at my own pace, and I greatly appreciated the quick turnaround with responses to questions I had. The training program also included live presentations/sessions that offered a wealth of information and the opportunity to connect with fellow Food for Life trainees. I could not be more appreciative of my online Food for Life training." – Teena Wilkerson | Maryland