Blog

Apr 24, 2020
12 Vegan Activities To Do at Home This Weekend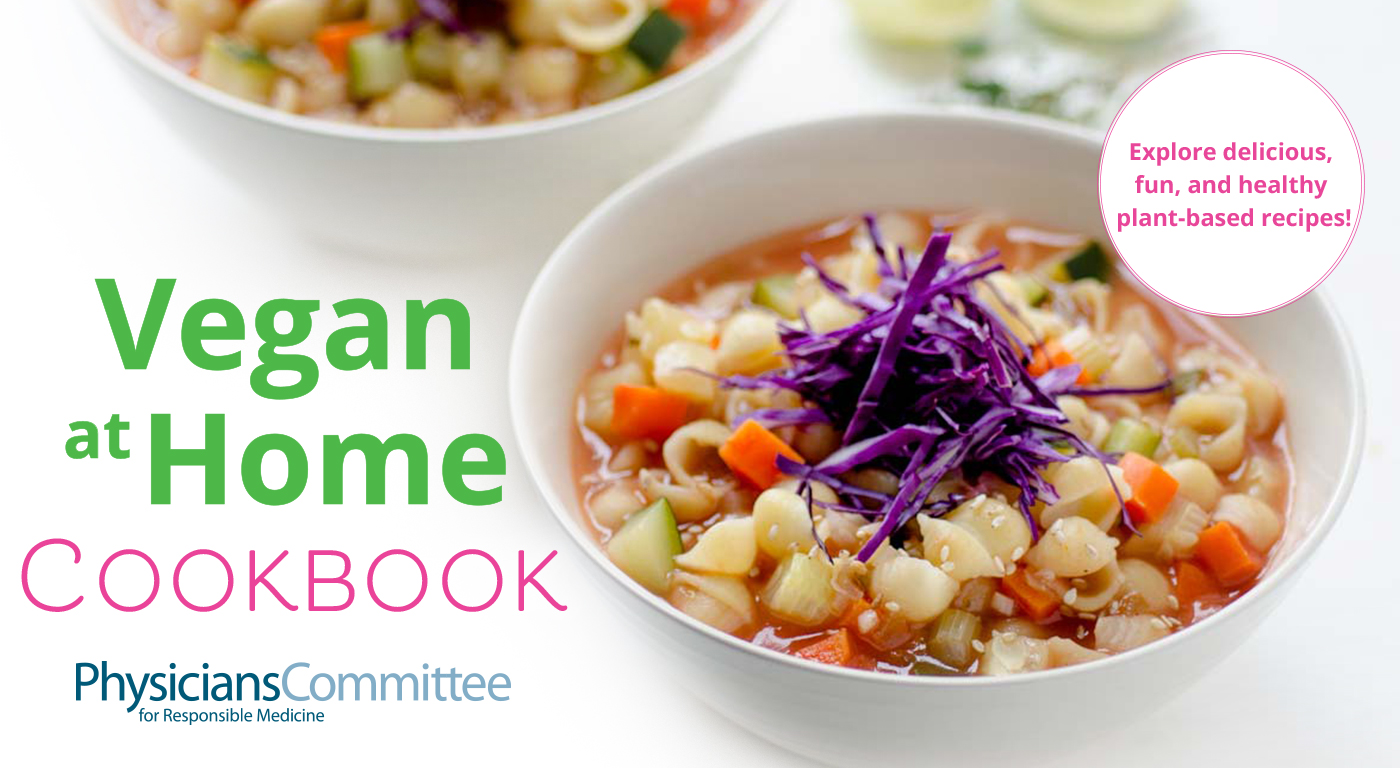 At home this weekend? Try these 12 plant-based activities!
As we all spend more time at home to do our part to stop the spread of COVID-19, many of us are looking for ways to stay busy! Keep reading to see 12 vegan-friendly activities you can do at home this weekend!
Try a new recipe! Download Vegan at Home, our brand new e-cookbook! Our experts share delicious, plant-based recipes, along with their favorite tips for vegan baking, pantry meals, cooking with kids, and much more. Share a copy with friends and family and connect over video calls to make recipes together! Get your copy at the bottom of this page.
Attend the Food Revolution Summit starting Saturday! Neal Barnard, MD, will be joining many of the world's leading nutrition experts at this powerful online summit, hosted by John and Ocean Robbins. Learn all about diet and hormone health, the environment, cancer prevention, brain health, weight management, and much more! Get your free spot now!
Get crafty with the nutrition rainbow! Have you seen rainbow drawings in your neighborhood? Join the fun with our nutrition rainbow coloring page! Talk with your kids about how eating different colored fruits and vegetables can boost our health and color a nutrition rainbow of your own to hang in your window! Don't forget to fuel up with rainbow-themed snacks! 
Catch up on The Exam Room podcast. Hear the latest breaking health news and get the most up-to-date resources and tips from leading nutrition experts. This week, we heard from nutrition researcher and author of The China Study, Dr. T. Colin Campbell about his research on nutrition, viruses, and health. Baxter Montgomery, MD, also joined the show to talk about the effects of prescribing a healthy diet along with state-of-the-art medicine for his patients with COVID-19. Plus, Dr. Barnard and Vanita Rahman, MD, answered listeners' questions! 
Get inspired! Looking for a feel-good video? Check out some of our favorite success stories! In this video, Eric O'Grey shares his moving story of the dog who saved his life and how a plant-based diet helped him go from 15 medications a day to running marathons. In another powerful video, Katherine Lawrence talks about her struggle with infertility and the diet changes she made that changed her life forever! Watch more success story videos on our YouTube channel.
Read. Catching up on reading while you're at home? Dr. Barnard recently released a new book, Your Body in Balance: The New Science of Food, Hormones, and Health! If you're new to a plant-based diet, you might also enjoy Dr. Barnard's The Vegan Starter Kit. You can also read our nutrition factsheets, tips, and other materials for free!
Garden. If you have access to an outdoor space, spring is the perfect time to plant a vegetable garden! It's also a great way to spend time outdoors and relieve stress. Don't have any outdoor space? Try growing fresh herbs inside!
Watch a documentary. Grab a bowl of plant-based popcorn and catch a documentary! Forks Over Knives and The Game Changers are great options on Netflix. You can also watch our free documentary, Healing Diabetes in Indian Country, on YouTube.
Hone your cooking skills. For the first time ever, our Food for Life nutrition and cooking classes are now being offered online, with instructors across the United States and abroad providing cooking demonstrations and teaching participants how plant-based diets can improve health.  You can also join our free 21-Day Vegan Kickstart for hundreds of recipes, tips, cooking demonstrations, and more!
Organize your pantry. Recently stocked up on dry and canned foods? Take some time to organize them! If you're running low on essentials and planning a grocery trip, check out this video from Dr. Barnard and our blog with tips for choosing healthy pantry foods. 
Donate. Looking for ways to help your community? If you are able to, consider donating dry or canned beans, rice, pasta, or other healthful nonperishable foods to your local food bank or other organizations in need!
Take a nutrition education course at NutritionCME.org! Browse our free database of AMA-accredited online courses to learn all about how nutrition plays a role in diabetes, heart disease, inflammation, and more! As an added bonus, physicians, nurses, and dietitians can earn free continuing education credits.
Vegan at Home Cookbook
Download our free e-book with more recipes to get started on a plant-based diet! Fill out the form below and the download link will be delivered to your email inbox.