Recipe
Roasted Pepper and Bean Hummus
5 servings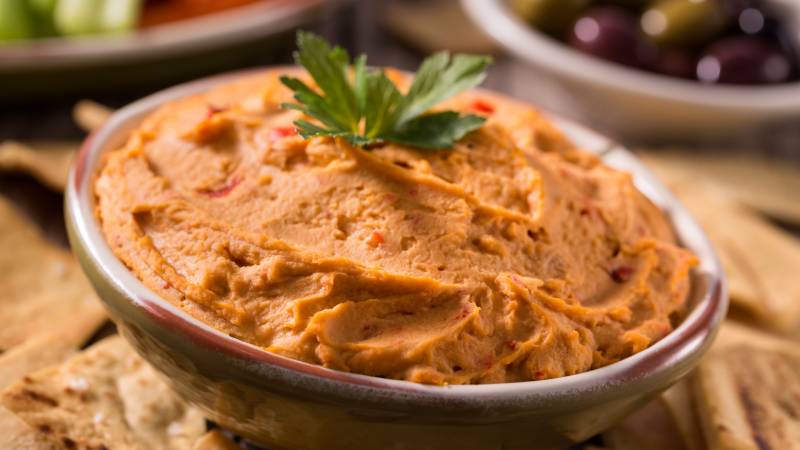 This can be used as spread or dip!
About the Recipe
298 Calories · 12 g Protein · 9 g Fiber
Snack
Ingredients
Makes 5 Servings
red or green peppers, roasted (2)

cooked and drained garbanzo beans (3 cups)

sesame seeds (2 tbsp.)

lemon juice (1/4 cup)

soy sauce (1 tsp.)

cumin powder, roasted (1 tsp.)

garlic paste (1 tsp.)

salt, or to taste (1/2 tsp.)

grounded black pepper (1/2 tsp.)

chili powder (1/4 tsp.)
Directions
Blend peppers, garbanzo beans, and all the other ingredients to make a paste.





Serve with bread, pita, or chapati, or use it as a spread to make sandwiches.




Nutrition Facts
Per serving (1/5 of recipe)
Calories: 298
Fat: 5 g
     Saturated Fat: 2 g
     Calories from Fat: 47%
Cholesterol: 0 mg
Protein: 12 g
Carbohydrates: 29 g
Sugar: 3 g
Fiber: 9 g
Sodium: 553 mg
Calcium: 70 mg
Iron: 3 mg
Vitamin C: 81 mg
Beta Carotene: 742 mcg
Vitamin E: 2 mg
Potassium: 315 mg