Recipe
Creamy White Bean and Artichoke Dip
16 servings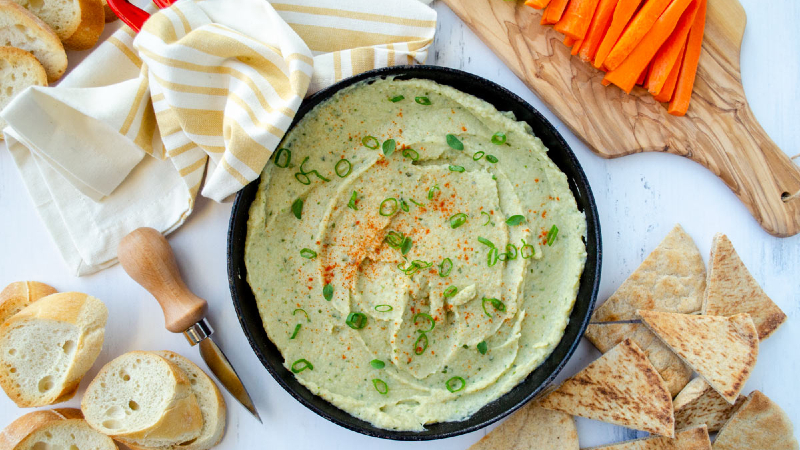 This flavorful dip is packed with herbs and zesty garlic. Serve with whole-wheat pita bread or vegetables.
About the Recipe
38 Calories · 2.4 g Protein · 2.8 g Fiber
Snack
Ingredients
Makes 16 Servings
small white onion, chopped (1)

artichoke hearts, drained (1 (15-ounce) can)

small garlic cloves, passed through a garlic press (1 or 2)

white beans, drained and rinsed (1 (15-ounce) can)

lemon juice (1 tbsp.)

finely chopped scallions (1 tbsp.)

fresh oregano (1 tsp.)

chopped fresh basil (1 tbsp.)

cayenne pepper (pinch)

sea salt (to taste)

black pepper (to taste)
Directions
Gather ingredients. Preheat the oven to 425 F.





Wrap the onion in foil and bake for 20 minutes.





Squeeze each of the artichoke hearts or press them against the bottom of a fine-mesh colander with a spoon to force out as much moisture as possible. Add the onions, artichoke hearts, and all remaining ingredients to a blender or food processor and puree until smooth, but still chunky.





Serve.




Nutrition Facts
Per two tablespoons
Calories: 38
Protein: 2.4 g
Carbohydrate: 7.4 g
Sugar: 0.5 g
Total Fat: 0.2 g
     Calories from Fat: 3.4%
Fiber: 2.8 g
Sodium: 223 mg