Recipe
Pumpkin Spice Muffins
10 to 12 servings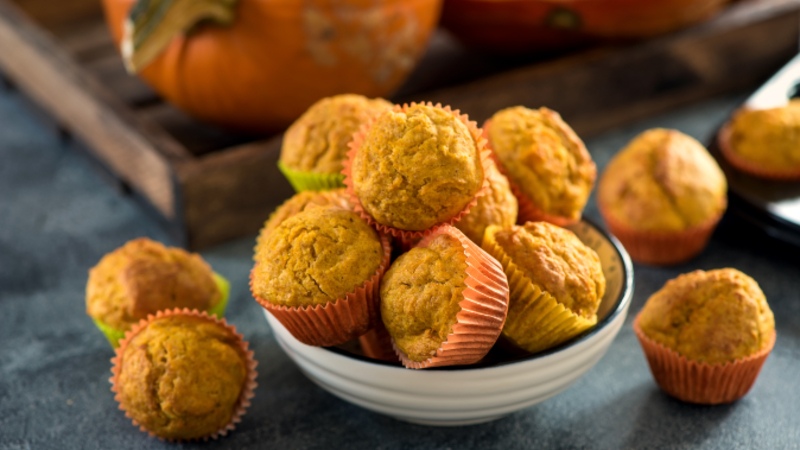 These muffins make a great-tasting, low-fat fall snack!
Ingredients
Makes 10 to 12 Servings
2 c (240 g) whole-wheat flour or whole-wheat pastry flour

1/2 c (101 g) sugar

1 tbsp (15 mL) baking powder

1/2 tsp (2.5 mL) baking soda

1/2 tsp (2.5 mL) iodized salt

1/2 tsp (2.5 mL) cinnamon

1/4 tsp (1.2 mL) nutmeg

1 15-oz (425-g) can pumpkin or 2 c (475 mL)

1/2 c (80 g) raisins
Directions
Preheat oven to 375 F (191 C). Mix flour, sugar, baking powder, baking soda, salt, cinnamon, and nutmeg in a large bowl. Add pumpkin, 1/2 c (120 mL) of water, and raisins. Stir until just mixed. Spoon batter into lined muffin cups, filling to just below the tops.





Bake 25 to 30 minutes, until tops of muffins bounce back when pressed lightly. Remove from oven and let stand 5 minutes. Remove muffins from pan and cool on a rack.





Store cooled muffins in an airtight container.




Nutrition Facts
Per muffin:
Calories: 158 kcal
Fat: 1 g
     Saturated Fat: <0.5 g
     Calories From Fat: 4%
Cholesterol: 0 mg
Protein: 4 g
Carbohydrates: 33 g
Sugar: 16 g
Fiber: 4 g
Sodium: 332 mg
Calcium: 106 mg
Iron: 1.8 mg
Vitamin C: 2.0 mg
Beta-Carotene: 2953 mcg
Vitamin E: 0.6 mg