Recipe
Pumpkin Smoothie
6 servings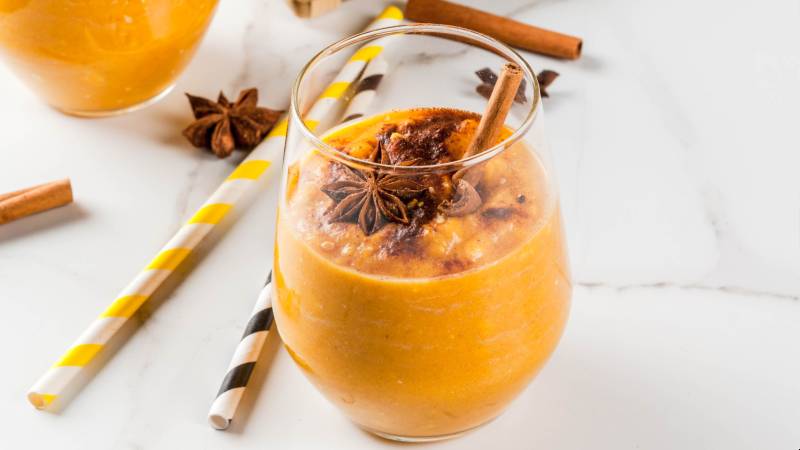 Pumpkin is a wonderful source of vitamin A and beta-carotene, making it a tasty and healthy addition to your diet.
About the Recipe
95 Calories · 3.7 g Protein · 3.1 g Fiber
Smoothie
Ingredients
Makes 6 Servings
pumpkin puree (1 15-oz (425-g) can or 2 c (475 mL))

low-fat nondairy milk (2 c (475 mL))

ice (2 c (460 mL))

maple syrup, or to taste (2 tbsp (30 mL))

vanilla extract, or to taste (3 tsp (15 mL))

pumpkin pie spice, or use a combination of cinnamon, nutmeg, and allspice (3 tsp (15 mL))
Directions
Combine all ingredients in blender.





Blend for 1 to 2 minutes until everything is incorporated. Adjust amounts as needed.




Nutrition Facts
Per serving (1 c):
Calories: 95
Fat: 1.7 g
     Saturated Fat: 0.4 g
     Calories From Fat: 14.5%
Cholesterol: 0 mg
Protein: 3.7 g
Carbohydrate: 16.8 g
Sugar: 8.7 g
Fiber: 3.1 g
Sodium: 51 mg
Calcium: 129 mg
Iron: 2.1 mg
Vitamin C: 3.4 mg
Beta-Carotene: 4,920 mcg
Vitamin E: 1.9 mg