Recipe
Pumpkin Smoothie
6 servings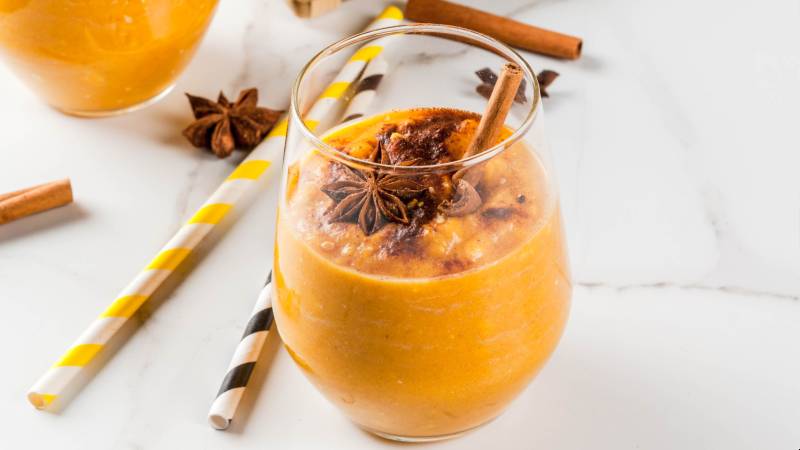 Pumpkin is a wonderful source of vitamin A and beta-carotene, making it a tasty and healthy addition to your diet.
About the Recipe
95 Calories · 3.7 g Protein · 3.1 g Fiber
Smoothie
Ingredients
Makes 6 Servings
pumpkin purée (1 15-ounce can)

plant milk of your choice, or to taste (2 cups)

ice (2 cups)

maple syrup, or to taste (2 tablespoons)

vanilla extract, or to taste (1 tablespoon)

pumpkin pie spice, or use a combination of cinnamon, nutmeg, and allspice (1 tablespoon or to taste)
Directions
Combine all ingredients in blender.





Blend for 1 to 2 minutes until everything is incorporated.




Nutrition Facts
Per serving (1 cup)
Calories: 95
Fat: 1.7 g
     Saturated fat: 0.4 g
     Calories from fat: 14.5%
Cholesterol: 0 mg
Protein: 3.7 g
Carbohydrates: 16.8 g
Sugar: 8.7 g
Fiber: 3.1 g
Sodium: 51 mg
Calcium: 129 mg
Iron: 2.1 mg
Vitamin C: 3.4 mg
Beta-carotene: 4,920 mcg
Vitamin E: 1.9 mg