Recipe
BST ("Bacon," Sprout, and Tomato) Sandwich
2 servings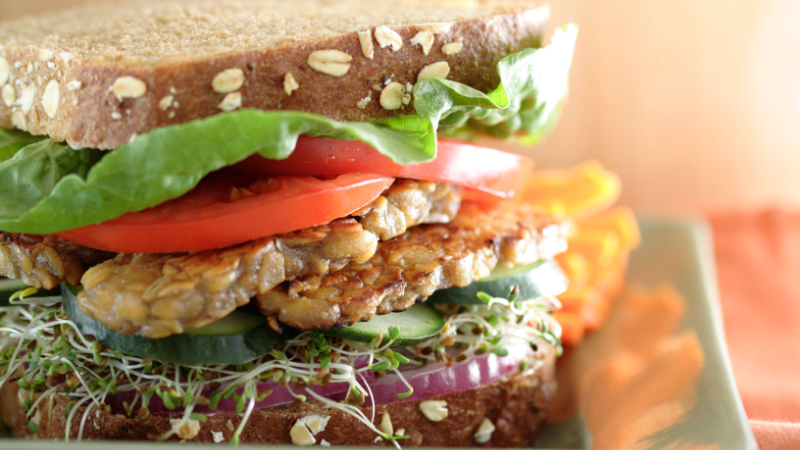 Try this recipe for a plant-based twist on a classic sandwich!
About the Recipe
320 Calories · 20 g Protein · 9 g Fiber
Lunch
You can find tempeh "bacon" at many grocery stores or check out our Facon Bacon recipe.
Ingredients
Makes 2 Servings
1 package or 8 strips tempeh "bacon" or Facon Bacon

1 tomato, thinly sliced

1 c (56 g) sprouts

1/4 c (60 mL) vegan mayonnaise

4 slices whole-wheat bread
Directions
Warm the tempeh bacon over medium heat in a dry saute pan for about 2 minutes per side. Tear the tempeh bacon slices in half and set them aside.





Add vegan mayonnaise to the bread. Place the tomato slices then the tempeh bacon slices on top and press the sandwiches together.




Nutrition Facts
Per serving (1 sandwich)
Calories: 332 kcal
Fat: 8 g
     Saturated Fat: 2 g
     Calories From Fat: 20%
Cholesterol: 0 mg
Protein: 24 g
Carbohydrates: 41 g
Sugar: 8 g
Fiber: 8 g
Sodium: 1200 mg
Calcium: 189 mg
Iron: 4.4 mg
Vitamin C: 10 mg
Beta-Carotene: 324 mcg
Vitamin E: 2.5 mg