Recipe
Tofu Bologna
4 servings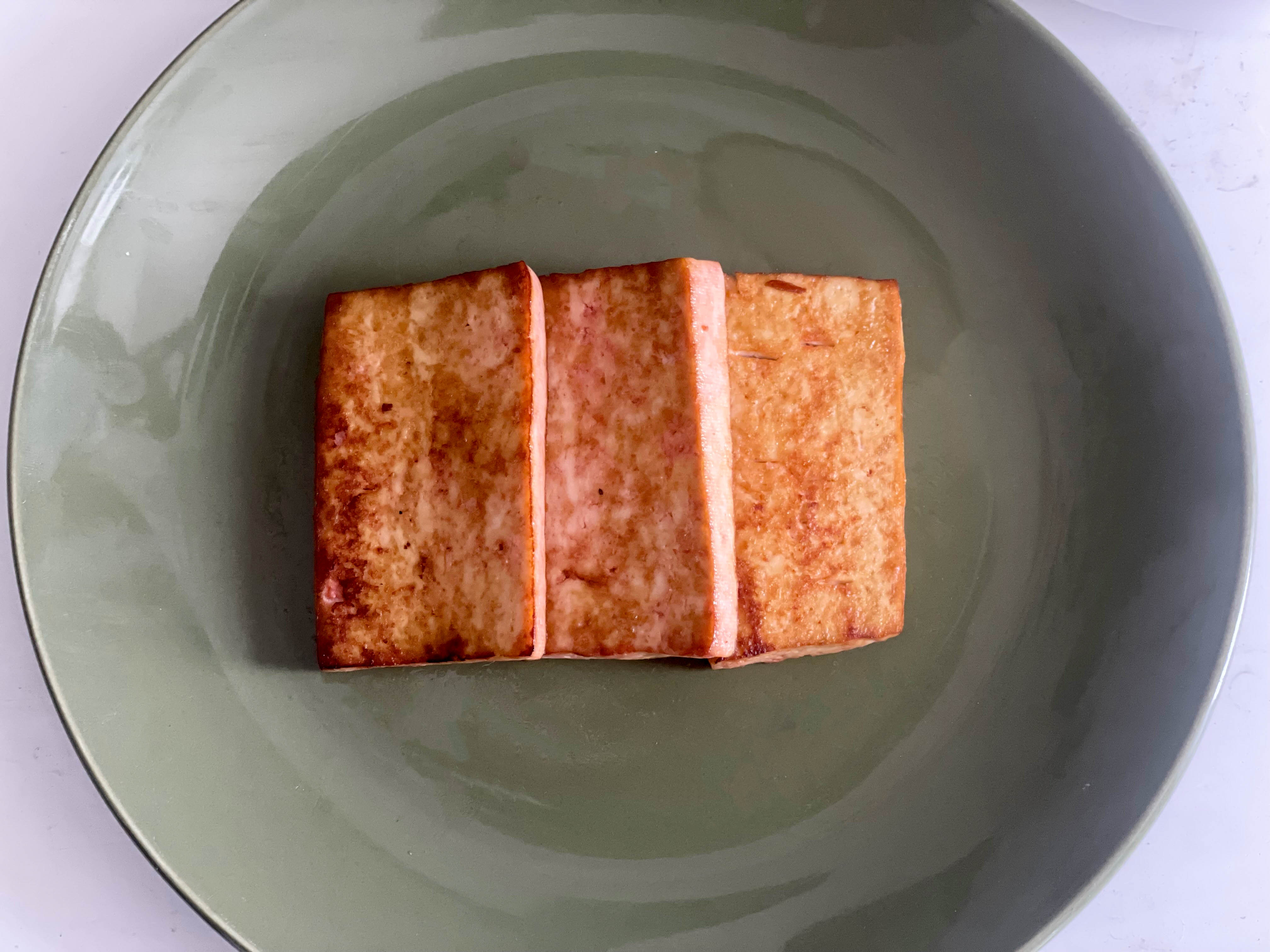 Tofu is a high-protein alternative to meat.
About the Recipe
117 Calories · 12 Protein · 1 Fiber
Lunch
Ingredients
Makes 4 Servings
1 14-oz. block extra-firm tofu, drained and pressed

1/2 cup (120 mL) tamari or soy sauce

3 tbsp (60 g) maple syrup

2 tbsp (30 mL) water

2 tbsp (30 mL) tomato paste

1 tbsp (15 mL) liquid smoke

1 tsp beet root powder (optional)

1/2 tsp paprika

1/2 teaspoon garlic powder

1/2 tsp onion powder

1/4 tsp ground black pepper
Directions
Slice the tofu block in half so that you have 2 smaller squares. Slice the squares into 4 slices to create 8 slices total.





Add the tamari, maple syrup, water, tomato paste, liquid smoke, beet root powder, paprika, garlic powder, onion powder, and pepper to a shallow container with a lid. Whisk to combine.





Add the tofu to the container and tilt the container so that the marinade covers all of the pieces. Marinate for up to 3 hours or overnight, turning the container every now and then to get all of the pieces coated.





Preheat the oven to 425 F and line a baking sheet with parchment paper. Add the marinated tofu to the baking sheet. Bake for 15 minutes, flip the tofu, and bake an additional 15 minutes until the tofu looks like bologna.




Nutrition Facts
Per Serving:
Calories: 117
Total Fat: 5 g
     Saturated Fat: 1 g
     Calories From Fat: 37%
Cholesterol: 0 mg
Protein: 12 g
Carbohydrate: 8 g
Sugar: 6 g
Fiber: 1 g
Sodium: 708 mg
Calcium: 294 mg
Iron: 3 mg
Vitamin C: 1 mg
Beta-Carotene: 74 mcg
Vitamin E: 1 mg