News Release

Sep 25, 2023
Lifesaving Message About the Power of Plants Comes to Bacon Bash in Wisconsin
Food for Life Instructors Offer Free Samples of 'Shiitake Bacon,' Chocolate Mousse With Raspberries and Blueberries, Other Delicious Vegan Treats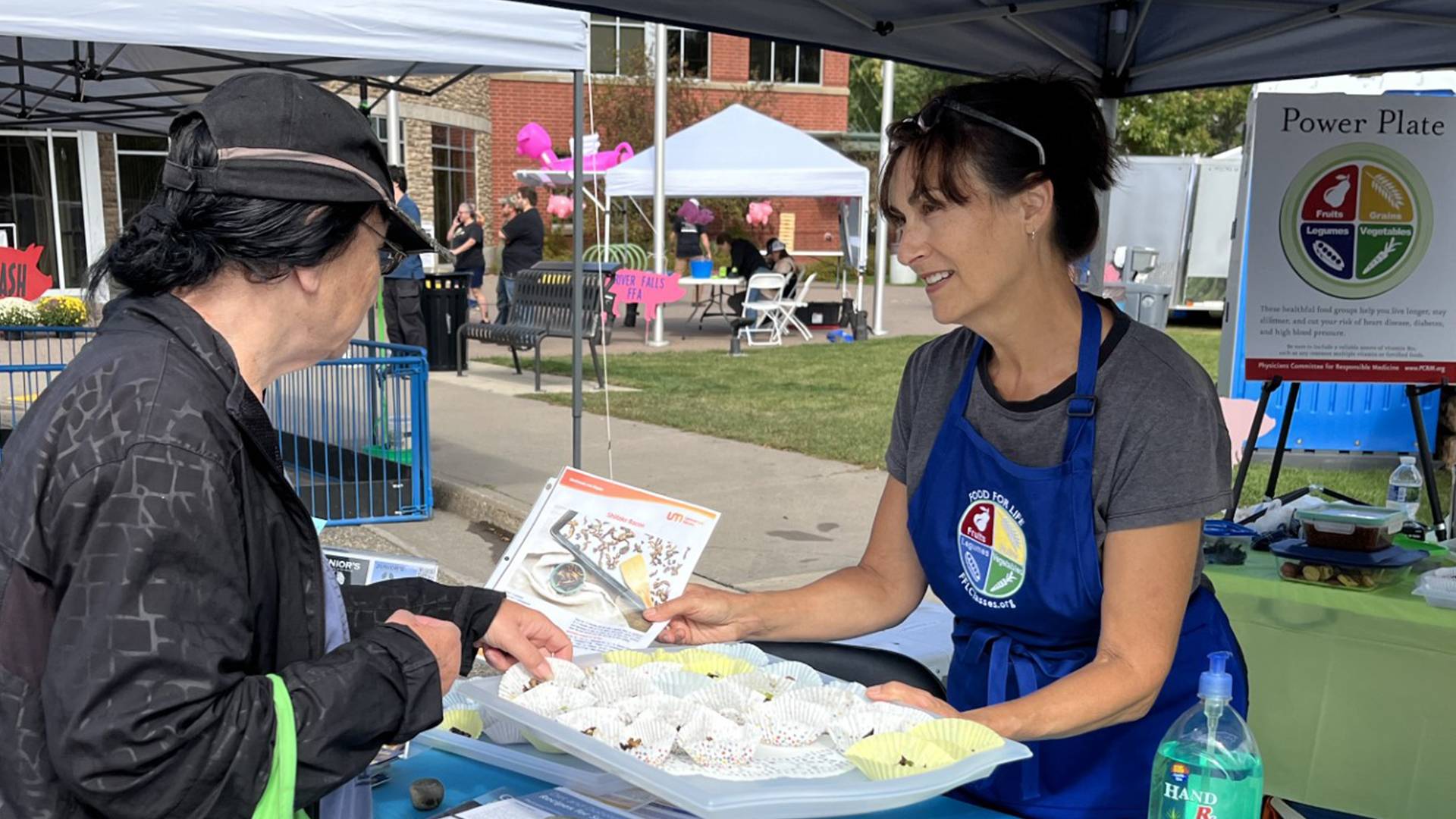 RIVER FALLS, Wis. — Plant-based nutrition experts Elaine Jumes and Jodi Gruhn served up a lifesaving message at the River Falls Bacon Bash. 
The Food for Life cooking instructors participated in the festival's vendor fair on Sept. 23, providing information about the harmful effects of processed meat and the benefits of a plant-based diet. They also offered free samples of delicious vegan fare, including "shiitake bacon" on crackers with hummus, "quinoa bacon bits" on grilled potato wedges with avocado and scallions, chocolate brownies, and chocolate mousse topped with raspberries and blueberries.
The food samples—and the information—were well received by hundreds of festival attendees. 
"People were curious and interested," Jumes said, "and, overall, very open to trying the samples." Gruhn added, "Most were 100% surprised when they found out the delicious brownies contained kidney beans and yellow potatoes. It was so fun to see, especially with the kids."
Jumes, from Sheboygan, co-signed a complaint filed Sept. 12 with the Wisconsin Department of Health Services asking Secretary Designee Kirsten Johnson to cancel Wisconsin's upcoming processed meat festivals or require that they be reimagined with healthy, plant-based fare. Noah Praamsma, a registered dietitian with the Physicians Committee for Responsible Medicine, a national health advocacy group of 17,000 physicians, also signed the complaint. 
Should a cancellation or reimagination not occur, Jumes offered to be a vendor at the festivals. Organizers of the Bacon Bash took her up on the offer.
"Wisconsinites love festivals like the Bacon Bash not because of any particular food items served, but because they get to hang out and have fun with family, friends, and the whole community," she said. "We're not trying to take that away from them. We're just trying to get information about the harm caused by processed meat into their hands so they can make informed decisions." 
As a vendor at the Bacon Bash, Jumes and Gruhn shared information on how a plant-based diet can promote weight loss, and reduce the risk of heart disease and high blood pressure, along with colon cancer. 
Processed meat is the last thing Wisconsinites need. Nearly 1 in 3 adults in Wisconsin has high cholesterol, hypertension, and/or obesity, all leading indicators for the development of heart disease. In addition to the 30% of adults who are obese, 36% are overweight.
The World Health Organization has determined that consuming processed meat increases the risk of colorectal cancer and has classified it as carcinogenic to humans. Just 50 grams (or approximately 1.5 ounces) of processed meat—a hot dog or a few slices of bacon—consumed daily increases colorectal cancer risk by 18%. The World Cancer Research Fund and the American Institute for Cancer Research say that "there is strong evidence" that consumption of processed meat causes colorectal cancer.
 
A Physicians Committee billboard was installed on Highway 14, north of McCoy Road, in Madison, asking the Wisconsin Department of Health Services to cancel the state's processed meat festivals. The billboard, located about 2 miles north of Johnson's office, directs viewers to MeatHarmsHealth.org, which warns of the health risks of consuming processed meat.  
As for the River Falls Bacon Bash, Jumes said it's the modern-day equivalent to what a cigarette smoking festival might have looked like 60 years ago before the U.S. surgeon general recognized cigarette smoking as carcinogenic. "It would never happen today," she said, "because too many people are informed about the harm caused by smoking."
 
Two girls from River Falls, Wis. thank Food for Life instructor Jodi Gruhn for the delicious, plant-based samples she helped prepare and pass out at the Bacon Bash.
Media Contact
Kim Kilbride
202-717-8665
kkilbride[at]pcrm.org
Founded in 1985, the Physicians Committee for Responsible Medicine is a nonprofit organization that promotes preventive medicine, conducts clinical research, and encourages higher standards for ethics and effectiveness in education and research.