News Release

Oct 23, 2020
Following Physicians' Campaign, Medical College of Georgia Halts Animal Use for Surgery Training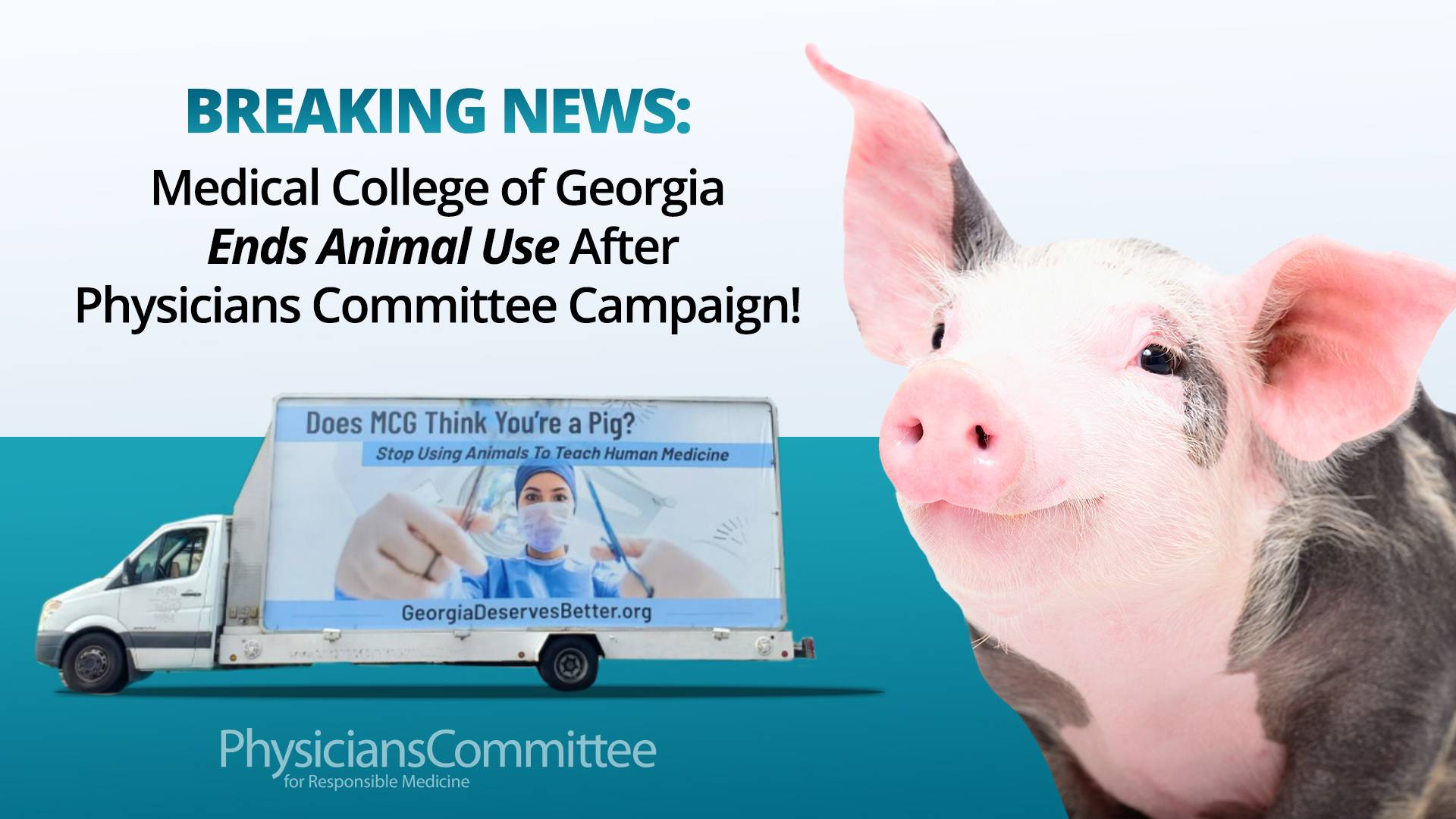 AUGUSTA, Ga.—Following a letter to Augusta University (AU) and the Medical College of Georgia (MCG) signed by a group of Georgia doctors and the posting of three billboards urging a change, the university has announced an immediate end to the use of live animals in its general surgery residency program. In January, the Physicians Committee for Responsible Medicine—a national nonprofit with more than 12,000 doctor members—filed a federal complaint concerning this animal use. 
MCG, which previously used live pigs to train general surgery residents, now joins regional programs at Emory University, Mercer University, and WellStar Atlanta in exclusively using nonanimal training methods
The Physicians Committee has pointed out that, compared to humans, pigs have smaller torsos, lighter limbs, and thicker skin. There are also important differences in the anatomy of the head and neck, internal organs, rib cage, blood vessels, and the airway. Instead of animals, human-based medical simulators and human cadavers are widely used. The simulators, many of which AU owns, accurately replicate human anatomy and physiology and can include layers of lifelike skin, fat, and muscle. 
"We applaud the leadership at the Medical College of Georgia for making the important decision to end this use of live animals," said John Pippin, MD, director of academic affairs for the Physicians Committee. "General surgery residents and their future patients will all benefit from this switch to superior training methods."
To interview Dr. Pippin, to see the billboard artwork or route, or to see a copy of the letter, please contact Reina Pohl at 202-527-7326 or rpohl [at] pcrm.org. 
Media Contact
Reina Pohl, MPH
202-527-7326
rpohl[at]pcrm.org
Founded in 1985, the Physicians Committee for Responsible Medicine is a nonprofit organization that promotes preventive medicine, conducts clinical research, and encourages higher standards for ethics and effectiveness in education and research.