News Release

Oct 3, 2019
Doctors Group Petitions FDA To Require Breast Cancer Warning Label on Cheese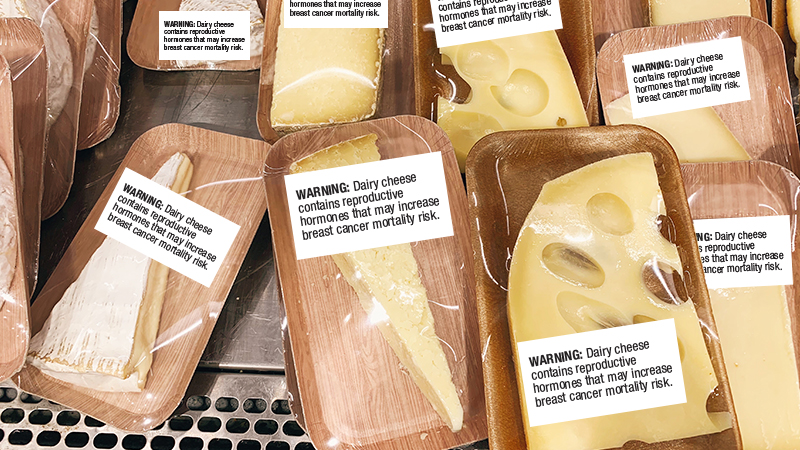 WASHINGTON—"Dairy cheese contains reproductive hormones that may increase breast cancer mortality risk." That's the warning label the Physicians Committee for Responsible Medicine—a nonprofit with more than 12,000 doctor members—is petitioning the Food and Drug Administration to require cheese manufacturers to prominently display on all dairy cheese products. The petition is being submitted on Oct. 3, as Breast Cancer Awareness Month begins.
Dairy products contain traces of estrogens from cows, and as milk is converted to cheese, the estrogens are more concentrated. While they are only traces, they appear to be biologically active in humans, increasing breast cancer mortality.
The Life After Cancer Epidemiology study found that, among women previously diagnosed with breast cancer, those consuming one or more servings of high-fat dairy products (e.g., cheese, ice cream, whole milk) daily had a 49 percent higher breast cancer mortality, compared with those consuming less than one-half serving daily.
"Instead of cheese manufacturers like Kraft slapping a pink ribbon on products like Philadelphia Cream Cheese and Macaroni & Cheese, as they have done during previous Breast Cancer Awareness Months, they should be adding warning labels," says Physicians Committee president Neal Barnard, MD, author of The Cheese Trap and Your Body in Balance. "We want women to be aware that dairy cheese could put them at risk of dying from breast cancer."
The petition cites several studies linking consumption of cheese and other high-fat dairy products to increased risk of breast cancer.
A 2017 study funded by the National Cancer Institute that compared the diets of women diagnosed with breast cancer to those without breast cancer and found that those who consumed the most American, cheddar, and cream cheeses had a 53 percent increased risk for breast cancer. The authors say that components in dairy such as insulin-like growth factor (IGF-1) and other growth hormones may be among the reasons for the increased risk for cancer.
According to the Centers for Disease Control, breast cancer is among the most common causes of death in women. In 2016, the latest year for which incidence data are available, 245,299 new cases of female breast cancer were reported, and 41,487 women died of breast cancer in the United States.
"To ensure that Americans understand the potential significant risks, and resulting long-term costs, of consuming dairy cheese products, the FDA should ensure that the notice above is prominently placed on product packaging and labeling for all dairy cheese products," says the petition.
Media Contact
Michael Keevican
202-527-7367
mkeevican[at]pcrm.org
Founded in 1985, the Physicians Committee for Responsible Medicine is a nonprofit organization that promotes preventive medicine, conducts clinical research, and encourages higher standards for ethics and effectiveness in education and research.