Blog

May 25, 2021
Recipe of the Week: Tofu Hekka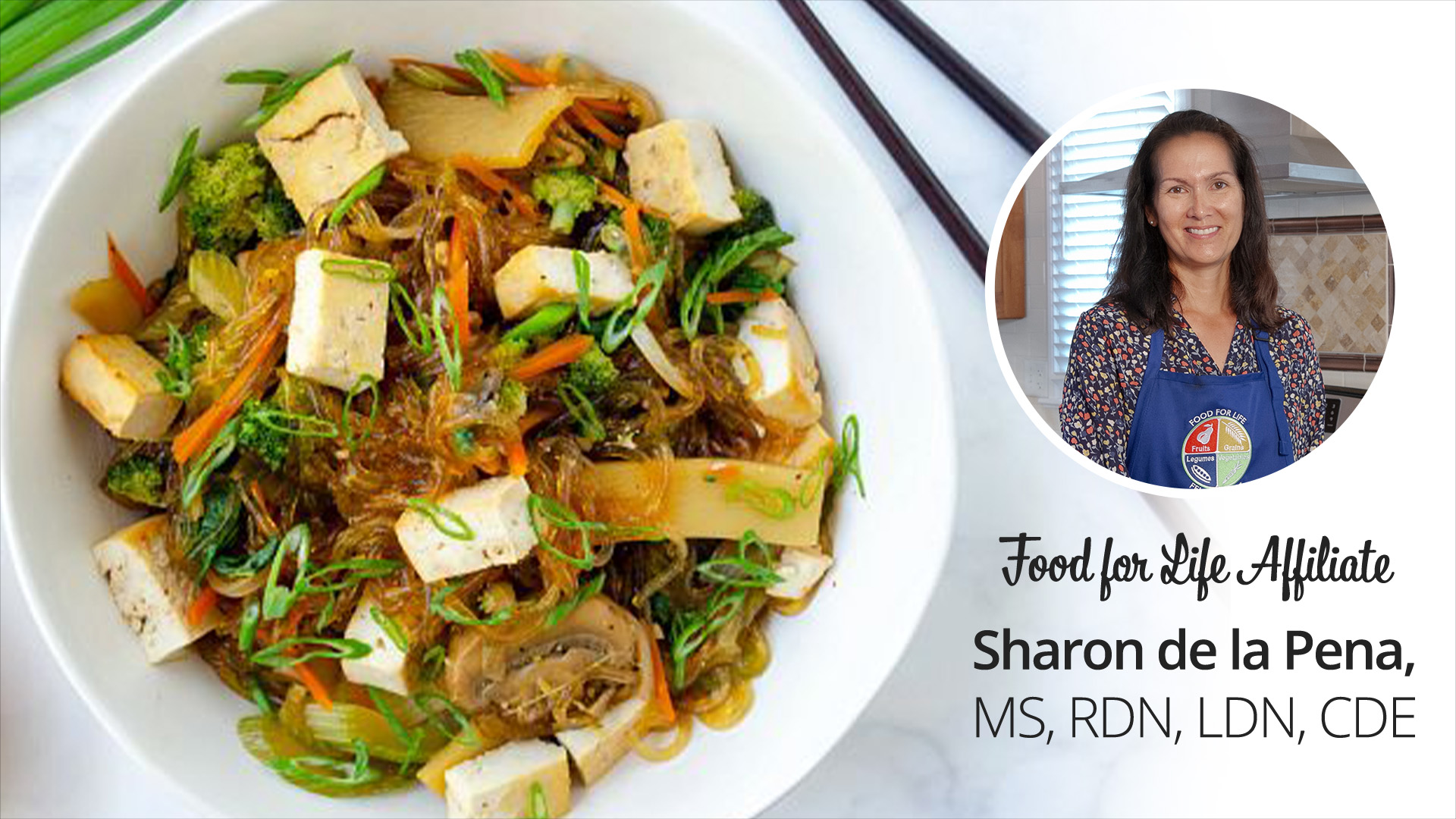 In celebration of Asian American and Pacific Islander Heritage Month, Sharon de la Pena, MS, RDN, LDN, CDE, shares her experience working with Native Hawaiians and traditional diets to bring good health.
Sharon de la Pena is a registered dietitian and certified diabetes educator who works for the Ho'ola Lahui Hawai'i, Kauai Community Health Center, a licensed Food for Life program affiliate. Ho'ola Lahui Hawai'i serves everyone but has a specific focus on serving Native Hawaiians and their families. Sharon started her plant-based journey 10 years ago to lead by example and help her patients live healthier lifestyles. The traditional Hawaiian diet consisted of taro, sweet potato, greens, breadfruit, and seaweed. Today, the typical diet is a blend of cuisines from China, Korea, Japan, Philippines, Puerto Rico, and Portugal, which formed a "local" food style unique to Hawai'i. Sharon adapts favorite local recipes such as the plate lunch (white rice with processed meats like hot dog and sausage served with a mayonnaise-based macaroni salad), spam musubi (often eaten for breakfast or a snack), and the loco moco (a local favorite—two hamburger patties served over white rice with a fried egg on top and slathered in gravy) into tasty plant-based meals in her nutrition and cooking classes. 
Currently, Ho'ola Lahui Hawai'i offers nutrition cooking classes via Zoom. The Ho'ola Fitness Center Facebook page lists the upcoming classes. 
Check out one of Sharon's favorite recipes, Tofu Hekka!
Tofu Hekka
This tofu hekka recipe is a take on a dish that Sharon's grandmother would cook during her childhood. Hekka is a Hawai'i version of a Japanese sukiyaki. It is traditionally made with chicken. Sharon's grandma had a huge wok that they would take to the beach to have a large family cookout. Grandma would chop all the vegetables so perfectly and always said it was important to have an odd number of ingredients for good luck. Hekka has the savory flavors of a typical Japanese dish. This is a simple recipe, and you can easily sub any vegetables that you have on hand.
Makes 6 servings
Ingredients
1 block firm or extra-firm tofu, cut into cubes  
1 package of Saifun bean threads  
1 onion, cut into half-moon strips  
1/2 cup carrots, julienned  
4 sticks celery, sliced diagonally  
1 clove garlic, minced  
1 tablespoon chopped ginger  
1 8-ounce can bamboo shoots  
4 ounces canned mushrooms  
1/2 bunch watercress, chopped  
2 to 3 green onions, chopped diagonally  
1 cup broccoli florets  
For the sauce: 
1/4 cup sugar  
3/4 cup soy sauce  
3/4 cup vegetable broth
Directions
Combine ingredients for sauce in a medium-sized bowl. Add tofu to sauce and marinate 15 to 20 minutes.
Soak bean threads in warm water for 10 minutes. Drain and cut into 3-inch lengths.
Add 2 tablespoons of water to a large wok. Heat the wok and cook onion until translucent.
Add carrot and celery. Cook 2 minutes.
Add garlic and ginger.
Add sauce (but not tofu), bamboo shoots, mushrooms, and broccoli.
Add bean threads and simmer for 5 minutes.
Add watercress and green onion and cook for 5 minutes.
Add tofu and cook until heated through.
Source: Food for Life affiliate Sharon de la Pena
Per serving: Calories: 247; Fat: 3.7 g; Saturated Fat: 0.5 g; Calories From Fat: 12.7%; Cholesterol: 0 mg; Protein: 11.6 g; Carbohydrate: 44.5 g; Sugar: 12 g; Fiber: 4.7 g; Sodium: 1211 mg; Calcium: 101 mg; Iron: 3.4 mg; Vitamin C: 21.7 mg; Beta-Carotene: 1367 mcg; Vitamin E: 0.9 mg 
Please feel free to tailor Physicians Committee recipes to suit your individual dietary needs.