Blog

Dec 6, 2022
Food for Life instructor gets kids excited about learning culinary skills by passing on what she learned in her own childhood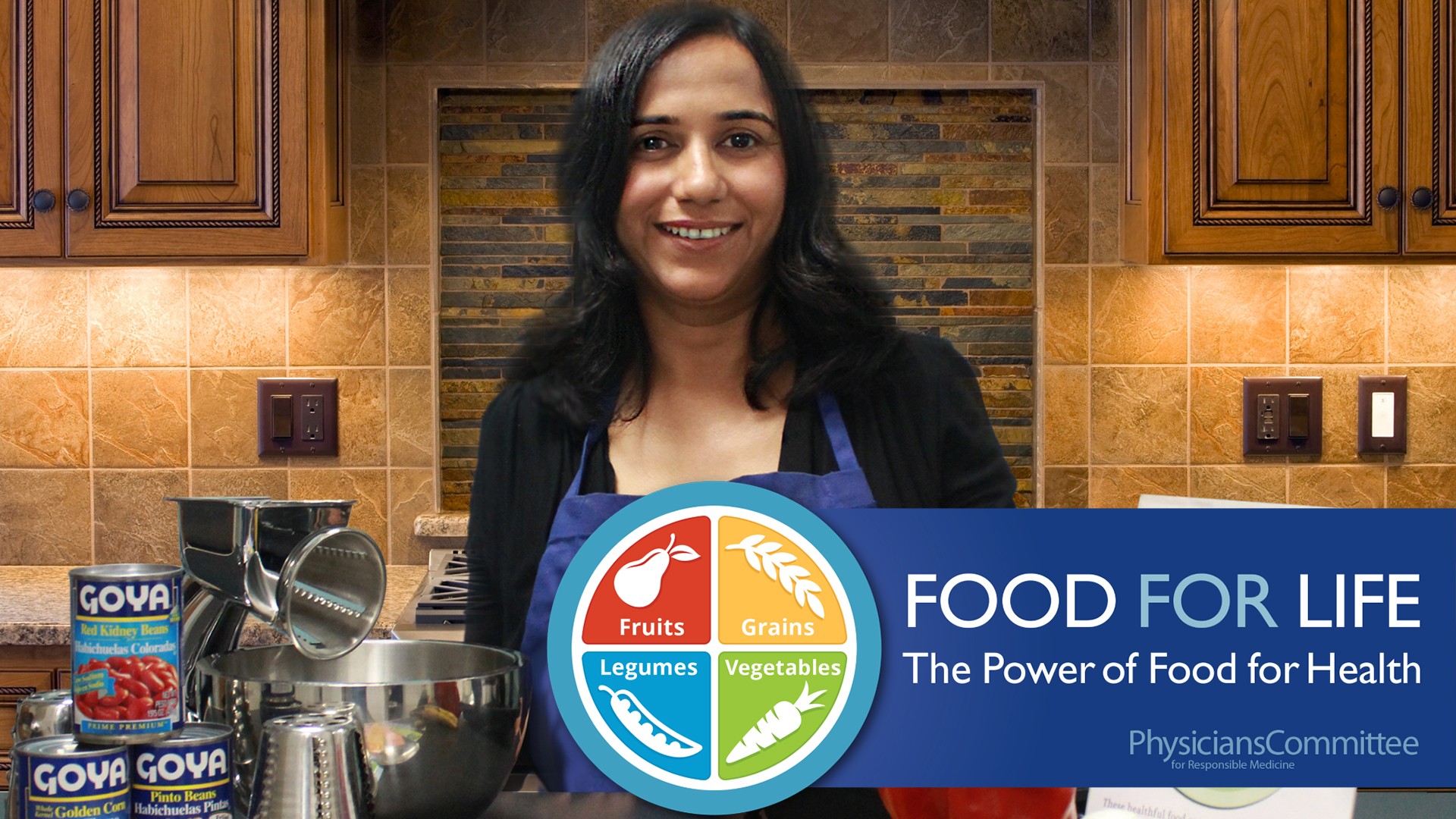 Sapna Von Reich was 11 when her mom turned over family cooking duties to her and her older sister, Rita, during summer vacations from school. Von Reich grew up in Bhopal in Madhya Pradesh, India, where vegetarian dishes, such as lentils, rice, and homemade chapati—whole-wheat Indian tortillas—were staples.
"We would make a whole meal," she said. "It was amazing."
Fast forward a few decades, and Von Reich is now teaching others, including children, some of the same kitchen lessons her mother taught her.
"Cooking, to me, is a survival skill," she said. "That's why it's important to teach kids to cook when they're young." 
Although she's been teaching cooking classes since 2003, for the past decade, she's focused on passing along the benefits of eating a whole food, plant-based diet, as well as the techniques for making it delicious.
And the kids she teaches baking, snack-making, and nutrition classes to near Fort Collins, Colo., love it. 
"I introduce them to fresh, seasonal fruits and vegetables, which some of them have never tasted," she said. "They get so excited when I bring fresh mangoes, papayas, and pomegranates to classes and show them how to peel, cut, and enjoy them."
Von Reich's pivot from a vegetarian diet to a vegan one happened in 2010 after her parents, Subhash and Pritam, who still ate dairy products and oil at the time and both suffered from chronic diseases, transformed their health on a three-week vegan retreat in India. 
Inspired by her parents' experiences and encouraged by her younger sister, Archana, who is vegan, Von Reich enrolled in the 21-Day Vegan Kickstart. At the end of it, she was convinced of the benefits. She lost 10 pounds, her chronic headaches went away, and her energy skyrocketed.
She soon became a certified Food for Life instructor and updated her cooking classes from being mostly vegetarian to being solely whole food, plant-based. 
"When I switched to all-vegan [classes]," she said, "people would walk in saying, 'What's with the Indian kebabs and no meat?' But they'd walk out saying, 'I can do this.'"
Von Reich is also a certified instructor in two other plant-based nutrition programs. She teaches at three community centers near her home, as well as a couple online classes each week. Often, there's a waitlist to get into her classes.
During the week of Christmas, she'll be teaching 6- to 12-year-olds about plant-based eating in a Food for Life class. There, they'll learn about "Bang-Up Breakfasts," "In-Between Meals," and "Rainbow Lunches," among other topics.
Asked whether kids are resistant to exploring plant-based eating, she said it's actually the opposite. 
"Honestly," she said, "when you make a mac and cheese with vegetables and potatoes, they've never seen the process before" and don't realize it's not the typical way of making it. In that sense, they're like a blank canvas. 
Now a mother to a teenager and a young adult herself, Von Reich is grateful to her own mom for handing down her passion for the kitchen and cooking, the things that she has spent two decades building her career around. 
"All of the credit goes to my mom," she said. "She grew us up with a love of good food."
More on Nutrition for Kids