Blog

Jun 1, 2016
Celebrating Six Years of the 21-Day Vegan Kickstart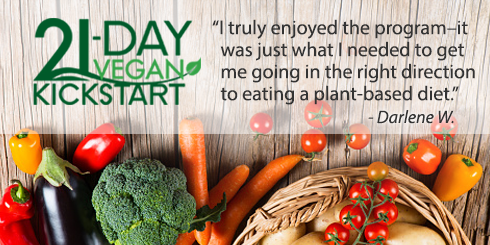 Are you our 1 millionth Kickstarter?
Since 2010, the Physicians Committee's free 21-Day Vegan Kickstart program has helped more than 480,000 people in 144 countries across the world test-drive a healthy, plant-based diet. And now we're looking for our 1 millionth participant. 
The Kickstart—which combines healthy recipes and a free meal plan with online support, celebrity tips, and educational webcasts—is based on the idea that it takes three weeks to build a habit. So for 21 days, we encourage participants to drop the meat, dairy products, eggs, sugar, and highly processed foods from their diets and focus instead on the four healthy food groups: fruits, vegetables, whole grains, and legumes. 
Throughout the three-week program, many people report that they feel healthier and more energetic almost from the start. Within weeks of eating a low-fat, high-fiber diet, many participants start seeing serious health benefits: Extra weight falls off without counting calories, and cholesterol levels often begin to drop. Most people also report that throughout the program, their taste buds change and they lose their cravings for animal products and highly processed foods, setting them up for long-term success. Studies show that people who consume plant-based diets lower their risk for heart disease, type 2 diabetes, obesity, and other chronic conditions.
So how effective is it? Thirty percent of Kickstart participants who started the program as omnivores in 2015 still follow a vegan diet today. And across the board, nearly all participants significantly reduced their meat intake, while increasing the amounts of fruits and vegetables in their diets. On average, participants in 2015 consumed 1.81 servings of vegetables before starting the program, and they now eat 2.69 per day a year later.
Are you ready to kickstart your own health? The free Kickstart program runs for 21 days beginning the first day of every month. And starting today, we're unveiling a new and improved program with an easy-to-follow meal plan, step-by-step recipe photos, and several new inspiring coaches, including Moby, Kim Williams, M.D., and Garth Davis, M.D.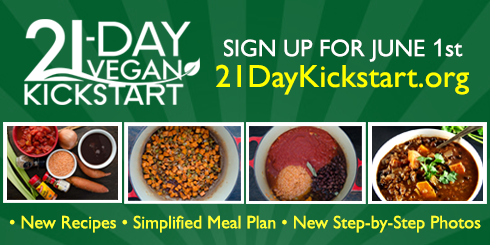 Want to dip your toe in before getting started? Check out our recipe for Sweet Potato Lentil Chili from the program:
Sweet Potato Lentil Chili 
Makes 6 servings
Red lentils work nicely to thicken this chili, while the sweet potato gives a mellow, smooth contrast to the spices. 
Splash of water
1 3/4 cups onions, diced
1 cup celery, diced
2 - 2 1/2 cups orange-fleshed sweet potatoes, peeled and cut in 1 inch cubes
3 large cloves garlic, minced
1 teaspoon sea salt
Ground black pepper to taste
2 teaspoons chili powder
1 teaspoon paprika
1/2 teaspoon freshly grated nutmeg
1/2 teaspoon cumin
1/4 teaspoon cinnamon
1/2 teaspoon crushed red pepper flakes (or to taste)
1 1/4 cups dry red lentils
2 1/2 cups water
1 – 28-ounce can crushed tomatoes
1 – 14-ounce can black or kidney beans, rinsed
1 bay leaf
3 tablespoons freshly squeezed lime juice
Lime wedges (for serving)
In large pot on medium heat, add water, onions, celery, sweet potatoes, garlic, salt, pepper, and spices, and stir through. 
Cover and cook for 6 to 8 minutes, stirring occasionally; reduce heat if onions are sticking to bottom of pot. Rinse lentils. 
Add to pot with water, tomatoes, beans, and bay leaf, and stir to combine. Increase heat to bring to a boil. 
Reduce heat to low, cover, and simmer for 25 minutes or until sweet potatoes are softened, stirring occasionally. Stir in lime juice and serve portions with lime wedges.
Cooking Note:  If you only have whole or diced tomatoes, use a hand blender to "crush" them:  First pour off some liquid from can into pot, then use a hand blender to puree tomatoes directly in the can.
Per serving:
Calories: 306
Fat: 1.4 g
Saturated Fat: 0.3 g
Calories from Fat: 3.9
Cholesterol: 0 mg
Protein: 18.5 g
Carbohydrates: 58.6
Sugar: 9.7 g
Fiber: 15.1 g
Sodium: 451 mg
Calcium: 136 mg
Iron: 7.4 mg
Vitamin C: 31 mg
Beta-Carotene: 5386 mcg
Vitamin E: 1.8 mg
Source: Eat, Drink & Be Vegan by Dreena Burton of www.PlantPoweredKitchen.com.