Blog

Nov 17, 2023
54 New Food for Life Plant-Based Nutrition Instructors From Across the Globe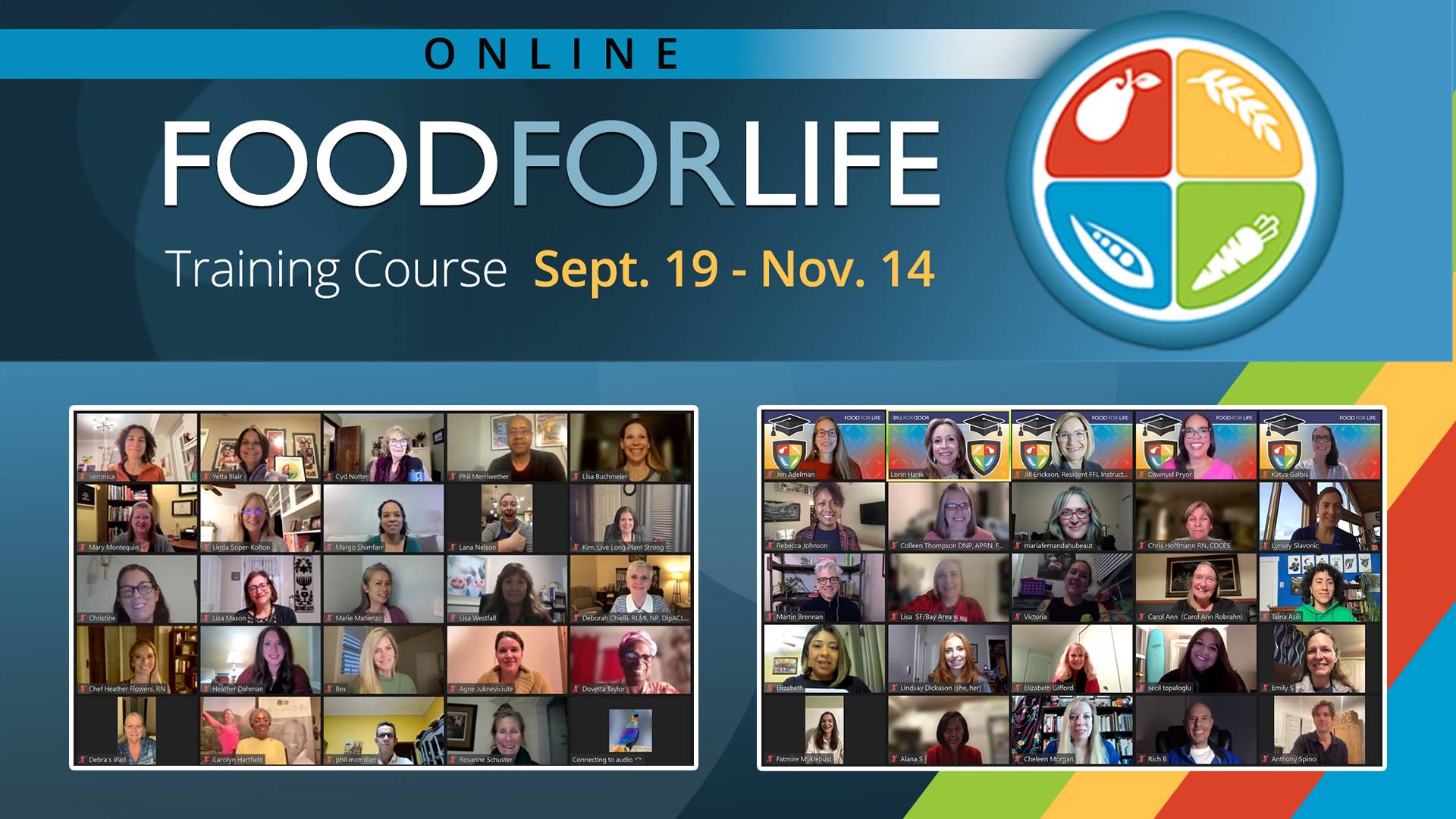 Fifty-four new instructors, including five physicians — one of whom is a bariatric surgeon — six nurses, and five professional chefs have just joined the Physician Committee's Food for Life plant-based nutrition education and cooking class program.
The new instructors, with a dozen languages spoken among them, just completed eight intensive weeks of training and will soon start teaching classes in their communities.
The graduating class includes international instructors in the Bahamas, Lithuania, France, and Spain. In the United States, Alaska will have an instructor for the first time in recent years. And, a new Food for Life institution, Pure Health Experience (Casa McMillan), an artisan bakery in Murcia, Spain, was added, as well.
Deborah Chielli, a certified nurse practitioner from Frederick, Md., said "This was a well-paced, powerful, inspiring program, facilitated by an amazing, uplifting team."
Likewise, Heather Flowers, a registered nurse and professional chef from Cantonment, Fla., said "This program far exceeded my expectations. I am looking forward to great success in my culinary business and the opportunity to change lives with the knowledge I learned."
And, Linda Soper Kolton, a professional chef in Stratford, Conn., lauded the resources and support she received during Food for Life training. "Glad to have completed it," she said, "but (I'm) almost sad it's over."
The Food for Life training program awarded scholarships and grants to 17 instructors who demonstrated both a financial need and a commitment to reach communities with the greatest health disparities.
Scholarship and grant recipients include Margo Shimfarr, from Liberty County, Texas, who wants to be a force for change in her community. She plans to focus on teaching the program to low-income families who live in food deserts. "The number of overweight Texans is high and is expected to continue to climb," she said. "My county ranks higher than the state average in almost all health markers, including diabetes, breast cancer, heart disease, stroke, and endocrine diseases."
Maria Fernanda Hubeaut plans to teach courses primarily in Spanish. And she's looking forward to bringing the program's concepts to the disabled young adults she co-teaches in a Spanish-speaking "adult transition program" in Kingston, N.Y.
And Lisa Books-Williams, from Pleasanton, Calif., plans to "vegucate" marginalized populations, including senior citizens, and those who use the services of public assistance programs, such as food pantries. "I will go wherever I need to go to spread the joys of a plant-based diet," she said.
The Food for Life program now has 403 instructors and institutions in 18 countries and in 48 U.S. states, plus the District of Columbia. Food for Life is an award-winning nutrition education and cooking class program that provides an innovative approach to diet-related chronic diseases. Since 2001, Food for Life has been a pioneer in delivering hands-on information about the direct role of plant-based nutrition in health and disease prevention to communities around the world.
To learn more about the Food for Life program and to find a class near you, visit PCRM.org/FFL.