Recipe
Vegan French Toast
8 servings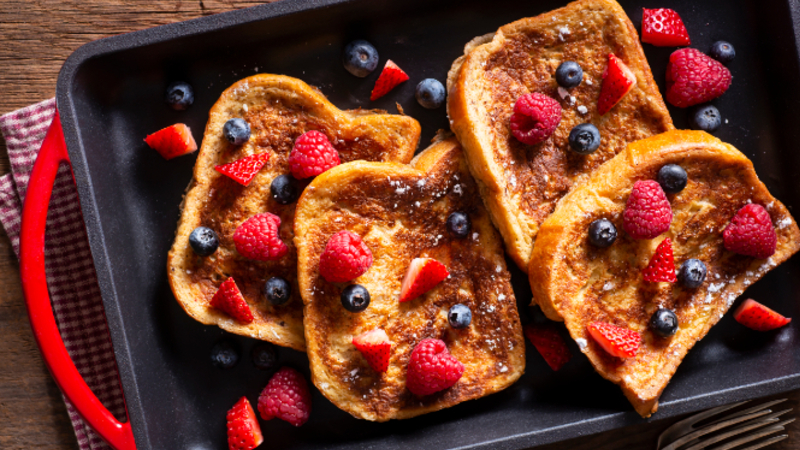 Tofu is extremely versatile. In this recipe, it helps give a crispy coating to this delicious vegan French toast!
Ingredients
Makes 8 Servings
firm tofu (1 cup)

soy milk (1 cup)

flour (2 tbsp.)

maple syrup (2 tbsp.)

vanilla extract (1 tsp.)

cinnamon (1/8 tsp.)

salt (1/8 tsp.)

whole-wheat bread (8 slices)

vegetable oil spray (as needed)
Directions
In a blender, process tofu, soy milk, flour, syrup, vanilla, cinnamon, and salt until very smooth.





Pour into a flat, shallow dish and soak bread slices 1 minute on each side.





Transfer carefully to a vegetable-oil-sprayed skillet. Cook first side until lightly browned, about 3 minutes. Then turn and cook second side until browned.




Nutrition Facts
Per serving (1 slice)
Calories: 143
Fat: 3.8 g
     Saturated Fat: 0.6 g
     Calories From Fat: 7.4%
Cholesterol: 0 mg 
Protein: 7.8 g 
Carbohydrate: 21.2 g 
Sugar: 6.8 g 
Fiber: 2.4 g 
Sodium: 209 mg 
Calcium: 125 mg 
Iron: 2 mg
Vitamin C: 0.2 mg
Beta-Carotene: 1 mcg 
Vitamin E: 0.7 mg