Recipe
Strawberry Spinach Salad
4 servings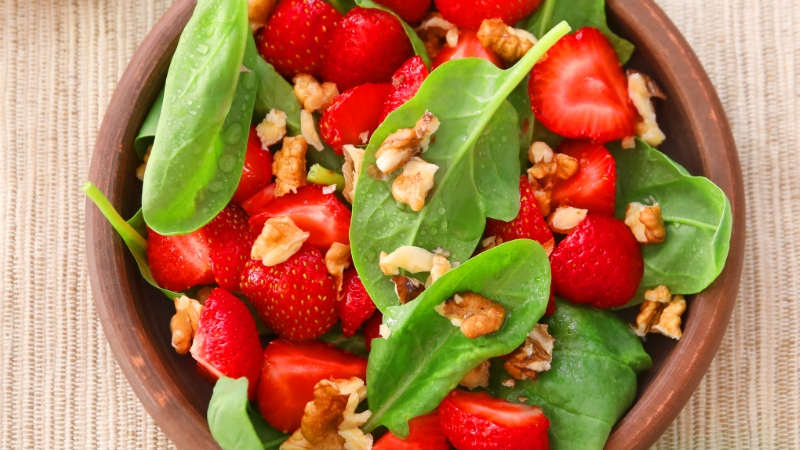 Try this easy summer salad to add extra color to your plate!
Ingredients
Makes 4 Servings
6 c (180 mL) baby spinach

1 apple, cored and diced

4 tbsp (40 g) red onion, diced

1/2 c (87 g) pomegranate seeds

1 1/2 c (225 g) strawberries, sliced

4 tbsp (368 g) sliced almonds

1/4 c (60 mL) low-fat nondairy plain yogurt

2 tbsp (30 mL) apple cider vinegar

1/4 c (80 mL) all-fruit raspberry jam

2 tsp (10 mL) Dijon mustard

1/8 tsp (0.6 mL) iodized salt
Directions
Place baby spinach, apple, red onion, pomegranate seeds, strawberries, and almonds in a large salad bowl.





In a small bowl, whisk together yogurt, apple cider vinegar, raspberry jam, Dijon mustard, and salt.





Just before serving, pour dressing over the salad and toss.





Note: You can use walnuts or pecans in place of almonds.




Nutrition Facts
Per serving (1/4 of recipe):
Calories: 161 kcal
Fat: 4 g
     Saturated Fat: <0.5 g
     Calories From Fat: 21%
Cholesterol: 0 mg
Protein: 4 g
Carbohydrates: 25 g
Sugar: 21 g
Fiber: 6 g
Sodium: 180 mg
Calcium: 104 mg
Iron: 2.1 mg
Vitamin C: 50 mg
Beta-Carotene: 2563 mcg
Vitamin E: 2.9 mg