Recipe
Sofritas Tofu
4 servings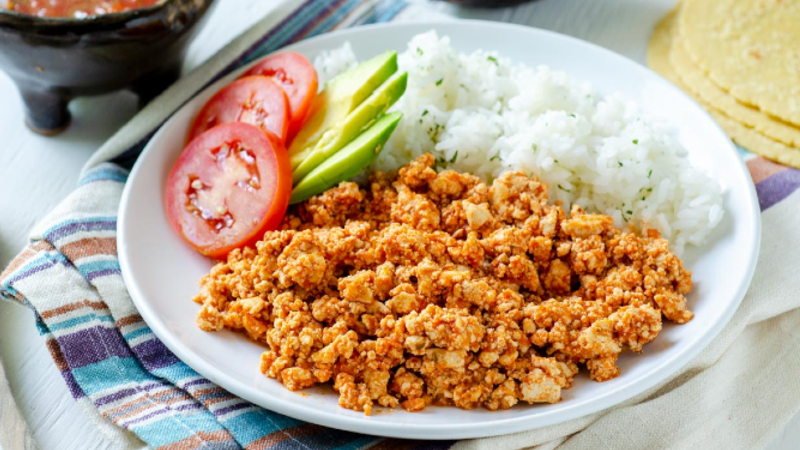 This flavorful sofritas recipe was created by DC Central Kitchen and is served in school cafeterias throughout the Washington, D.C., area! It pairs well with brown rice with cilantro and lime!
Ingredients
Makes 4 Servings
14 oz (397 g) extra-firm tofu

1 1/3 c (320 mL) low-sodium vegetable broth

1 1/2 tbsp (22.5 mL) tomato paste, canned, salt-free

3/4 tsp (3.8 mL) adobo fresco

1 tsp (5 mL) garlic powder

1/3 tbsp (5 mL) brown sugar, unpacked

2 tsp (10 mL) ground cumin

1 tsp (5 mL) onion powder

1/2 tsp (2.5 mL) ground black pepper

1 tsp (5 mL) dried oregano leaves

1/4 tsp (1.2 mL) cinnamon

1/2 tsp (2.5 mL) iodized salt
Directions
Cut tofu into 1-inch (2.50-cm) cubes and transfer to colander. Allow tofu to drain for 25-30 minutes until most of the water has been removed.





Use hands to crumble tofu into small pieces (should resemble scrambled egg).





In a large pot over medium high heat, saute tofu for approximately 1 minute.





Place remaining ingredients in blender and blend until smooth.





Add sauce to pan with tofu and mix well.

Allow to simmer for approximately 2 minutes, stirring occasionally.

Cover and cook for an additional 5 minutes.





Serve with rice if desired.




Nutrition Facts
Per serving:
Calories: 126
Carbohydrate: 6.1 g
Protein: 12.2 g
Total Fat: 7.4 g
     Calories From Fat: 49.1%
     Saturated Fat: 1.27 g
Iron: 3.46 mg
Cholesterol: 0 g
Fiber: 1.3 g
Calcium: 346.36 mg
Vitamin A: 7.37 mcg
Sodium: 546 mg
Vitamin C: 1.94 mg