Recipe
Sofritas Tofu
4 servings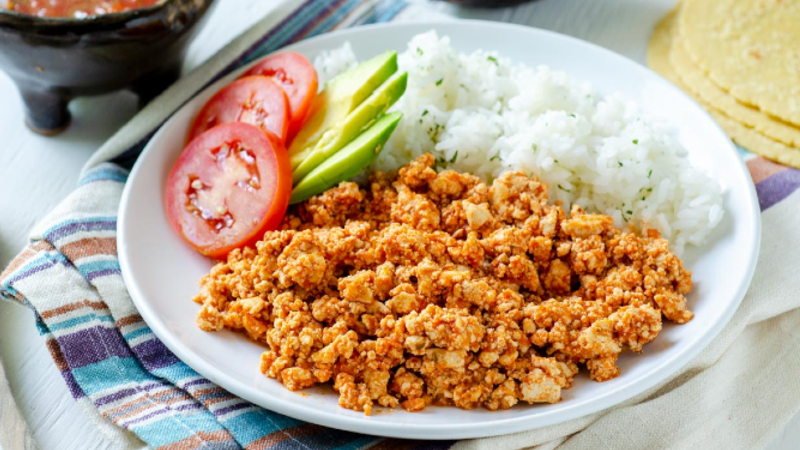 This flavorful sofritas recipe was created by DC Central Kitchen and is served in school cafeterias throughout the Washington, D.C., area!
Ingredients
Makes 4 Servings
Tofu, extra firm (14 oz or 1 package)

Vegetable oil (3/4 tsp)

Vegetable broth, low sodium (1 1/3 cup)

Tomato paste, canned, salt-free (1 ½ tbsp)

Adobo fresco (3/4 tsp)

Garlic powder (1 tsp)

Brown sugar, unpacked (1 tsp)

Cumin, ground (2 tsp)

Onion powder (1 tsp)

Black pepper, ground (1/2 tsp)

Oregano leaves, dried (1 tsp)

Cinnamon, ground (1/4 tsp)

Salt (1/2 tsp)
Directions
Cut tofu into 1-inch cubes and transfer to colander. Allow tofu to drain for 25-30 minutes until most of the water has been removed.





Use hands to crumble tofu into small pieces (should resemble scrambled egg).





In a large pot over medium-high heat, add oil and saute tofu for approximately 1 minute.





Place remaining ingredients in blender and blend until smooth.





Add sauce to pan with tofu and mix well.

Allow to simmer for approximately 2 minutes, stirring occasionally.

Cover and cook for an additional 5 minutes.





Serve with 4 ounces of Cilantro Lime Rice.




Nutrition Facts
Per serving:
Calories: 126
Carbohydrate: 6.1 g
Protein: 12.2 g
Total Fat: 7.4 g
     Calories From Fat: 49.1%
     Saturated Fat: 1.27 g
Iron: 3.46 mg
Cholesterol: 0 g
Fiber: 1.3 g
Calcium: 346.36 mg 
Vitamin A: 7.37 mcg
Sodium: 546 mg
Vitamin C: 1.94 mg