Recipe
Porotos Granados
4 servings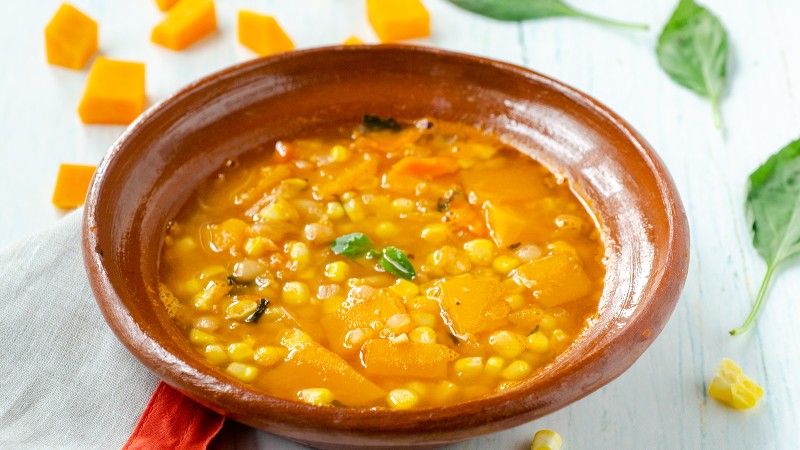 About the Recipe
404 Calories · 22 g Protein · 20 g Fiber
Lunch
Gluten-free · Nut-free · Soy-free
This recipe is traditionally made with fresh cranberry beans. If you have access to them, add them to the pot when you pour in the broth. You can also use cannellini beans.
Ingredients
Makes 4 Servings
onion (1)

garlic cloves (2)

carrot (1/2)

ears of corn (2)

bunch fresh basil (1/4)

paprika (1 1/2 tsp)

dry oregano (1 tsp)

Great Northern or cannellini beans (4 cups)

butternut squash (1)

vegetable broth (2 cups)
Directions
Heat a large skillet to medium heat. Add 1/4 cup (60 mL) of water or broth. Stir in 1 cup of diced onion and minced garlic and cook until the onion is tender and translucent, 4 minutes.





Add 1/3 cup of sliced carrots, corn (kernels cut), and 2 tablespoons of chopped basil and cook until the corn is tender, 2 minutes. Stir in paprika (pimentón dulce) and oregano, and mix to combine. Pour in broth and 2 1/2 cups of cubed butternut squash. Reduce heat to low and simmer until the butternut squash is tender but firm, about 15 minutes. In the last 5 minutes of cooking time, pour in the previously drained and rinsed beans. Season to taste with salt and pepper. Serve.




Nutrition Facts
Per Serving:
Calories: 404
Total Fat: 2 g
     Saturated Fat: 0.3 g
     Calories From Fat: 4%
Cholesterol: 0 mg
Protein: 22 g
Carbohydrate: 83 g
Sugar: 9.3 g
Fiber: 20 g
Sodium: 94 mg
Calcium: 273 mg
Iron: 9 mg
Vitamin C: 38 mg
Beta-Carotene: 15,186 mcg
Vitamin E: 5 mg