Recipe
Perfect Pancakes
4 servings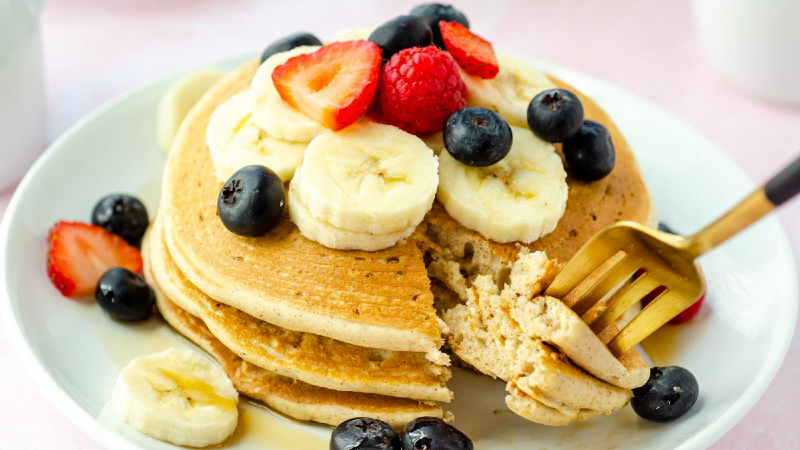 These pancakes are always a crowd-pleaser!
About the Recipe
194 Calories · 5 g Protein · 2 g Fiber
Breakfast
Ingredients
Makes 4 Servings
1 c (120 g) flour

1 tbsp (15 mL) baking powder

1/2 tsp (2.5 mL) ground cinnamon

1 c (240 mL) low-fat nondairy milk

2 tbsp (30 mL) pure maple syrup

1 banana, sliced (optional)

1 c (148 g) blueberries (optional)
Directions
Whisk flour, baking powder, and cinnamon in a medium bowl until well combined. Stir in milk and maple syrup (can substitute applesauce or pumpkin puree). Let batter rest for 10 minutes.





Meanwhile, heat a nonstick skillet. Check batter. If it's very thick and heavy, add more milk as needed to thin. Pour 1/4 c (60 mL) of batter for each pancake. When bubbles appear, slide a spatula underneath and gently flip. Optional: Add banana slices or berries into the batter. Cook another 2-3 minutes.





Serve pancakes with syrup, if desired. If you haven't already added the fruit to the batter, serve the fruit on top.





Note: Use multiple kinds of berries for added colors and textures. Just be sure to slice them if they are large as in the case of strawberries.




Nutrition Facts
Per pancake (1/4 of recipe):
Calories: 174 kcal
Fat: 1 g
     Saturated Fat: <0.5 g
     Calories From Fat: 4%
Cholesterol: 0 mg
Protein: 4 g
Carbohydrates: 38 g
Sugar: 6 g
Fiber: 2 g
Sodium: 395 mg
Calcium: 296 mg
Iron: 2.3 mg
Vitamin C: 0 mg
Beta-Carotene: 0 mcg
Vitamin E: 0 mg