Recipe
Mango Bean Salad
5 servings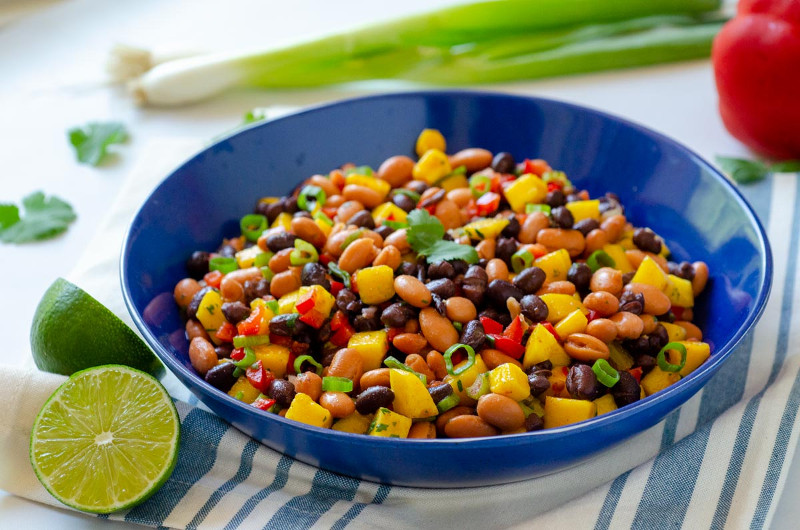 To make this easy-to-prepare salad more filling, try it tucked into a whole-grain tortilla with spinach or your favorite leafy green.
About the Recipe
186 Calories · 10 g Protein · 11 g Fiber
Lunch
Gluten-free · Nut-free
Serve with optional corn tortilla for gluten-free option.
Ingredients
Makes 5 Servings
cubed fresh mango (1 1/2 cups or 1 mango)

diced red bell pepper (1 cup)

black beans, rinsed and drained (1 15-ounce can)

pinto beans, rinsed and drained (1 15-ounce can)

salsa, or more if desired (1/4 cup)

sliced chives or green onion (2 tbsp.)

freshly squeezed lime juice (2 1/2 tbsp.)

pure maple syrup or agave nectar (1 tsp.)

ground cumin (1/2 tsp.)

ground allspice (1/8 tsp.)

sea salt, plus more to taste (1/2 tsp.)

minced cilantro (2 tbsp.)
Directions
In a large bowl, combine all the ingredients and stir to combine.





Taste, and if you'd like more heat and zip from the salsa, add a little more, up to another 1/4 cup.





Serve, or refrigerate (covered) for several hours until ready to serve.





Mango Note: If not serving right away, reserve the mango and add just before serving. This will preserve its freshness and flavor.

Salt Note: The amount of salt you use may depend on the brand of salsa. Start with 1/2 teaspoon, as it's always easy to add extra later.




Nutrition Facts
Per serving (1/5 of recipe)
Calories: 186
Protein: 10 g
Carbohydrate: 36 g 
Sugar: 8 g
Total Fat: 1 g
     Calories from Fat: 5%
Fiber: 11 g
Sodium: 562 mg