Recipe
Caldo Verde
4 servings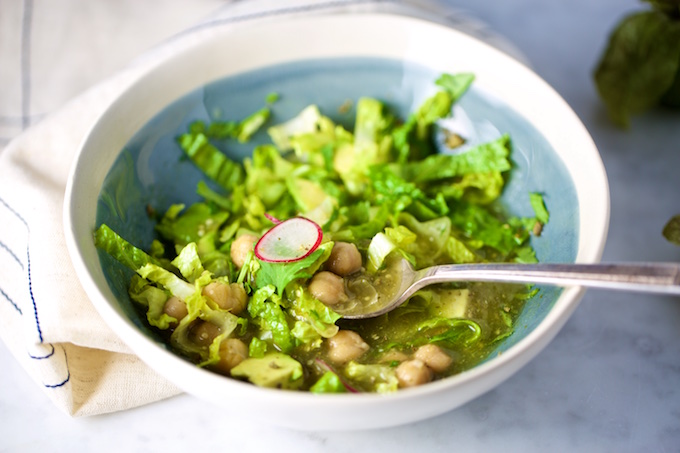 This soup is made with chickpeas instead of corn. It is super rich, easy, and perfect for leftovers or for cold days in the winter.
About the Recipe
184 Calories · 9.8 g Protein · 8.7 g Fiber
Lunch
Ingredients
Makes 4 Servings
green tomatillos, peeled and washed (10)

onion, sliced (1/4)

garlic (4 cloves)

chopped cilantro (1 cup)

water (2 cups)

salt (1 teaspoon)

cooked chickpeas (1 1/2 cups)

whole serrano chili (1)

lettuce, shredded (2 pieces)

radishes, chopped (4)

chopped cilantro (1/4 cup)

dried oregano (to taste)

diced avocado (to taste)

pumpkin seeds (to taste)

baked corn chips (to taste)
Directions
Put the tomatillos, onion, garlic, cilantro, and water in a large pot. Cover and simmer until the tomatillos are fully cooked (light green and very soft).





With a food processor or blender, grind all the vegetables together with the salt.





Return to the pot and add the chickpeas and the serrano chili. Slowly cook and if the mixture is very thick, add a half cup more water.





Serve in a bowl and finish with lettuce, radishes, cilantro, oregano, avocado, pumpkin seeds, and corn chips (optional).




Nutrition Facts
Per serving
Calories: 184
Fat: 2.3 g
     Saturated Fat: 0.3 g
     Calories from Fat: 10.6%
Cholesterol: 0 mg
Protein: 9.8 g
Carbohydrate: 35.1 g
Sugar: 15.8 g
Fiber: 8.7 g
Sodium: 653 mg
Calcium: 90 mg
Iron: 3.6 mg
Vitamin C: 77.8 mg
Beta-Carotene: 1,812 mcg
Vitamin E: 1.6 mg