Recipe
Arugula and Pear Salad
2 servings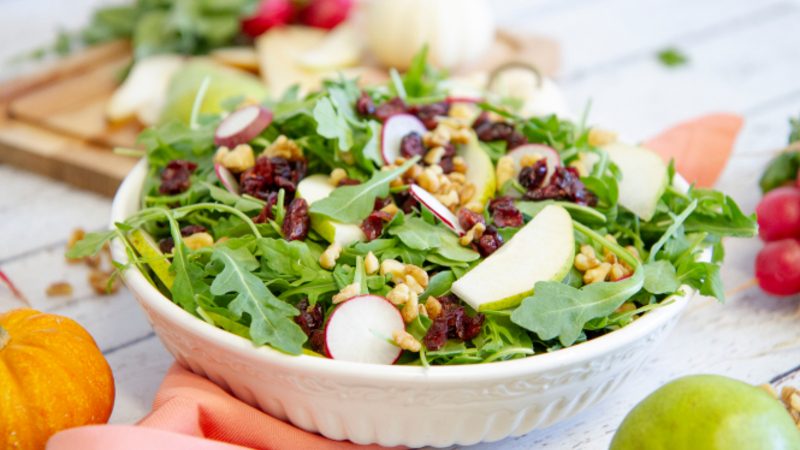 This recipe is simple, but full of flavor! You'll enjoy the sweet, clean crispness of the Asian pears coupled with the acidity of the balsamic glaze, the spiciness of the radishes, and the robustness of the cashews.
Ingredients
Makes 2 Servings
balsamic vinegar (6 tbsp (90 mL))

pears (Asian pears work best), chopped (2)

arugula (4 c (80 g))

radishes, thinly sliced (2)

walnuts, chopped (2 tbsp (30 mL))

dried cranberries (2 tbsp (20 g))

Coarse sea salt ()
Directions
Over medium heat, simmer the balsamic vinegar until it reduces by half, creating a glaze. Immediately spoon the glaze over the pears and toss them.





Toss the arugula, radishes, dried cranberries, and walnuts together and then top with the balsamic pears and a very small sprinkle of coarse sea salt.

Note: Asian pears work best in this recipe.




Nutrition Facts
Per serving
Calories: 226 kcal
Fat: 5 g
     Saturated Fat: 0.5 g
     Calories From Fat: 17%
Cholesterol: 0 mg
Protein: 3 g
Carbohydrates: 39 g
Sugar: 33 g
Fiber: 7 g
Sodium: 26 mg
Calcium: 101 mg
Iron: 1.5 mg
Vitamin C: 14 mg
Beta-Carotene: 601 mcg
Vitamin E: 0.8 mg