News Release

May 23, 2023
'Winners Don't Drink Milk' Proclaim Billboards Warning That Milk Can Wreck Your Health Ahead of Indy 500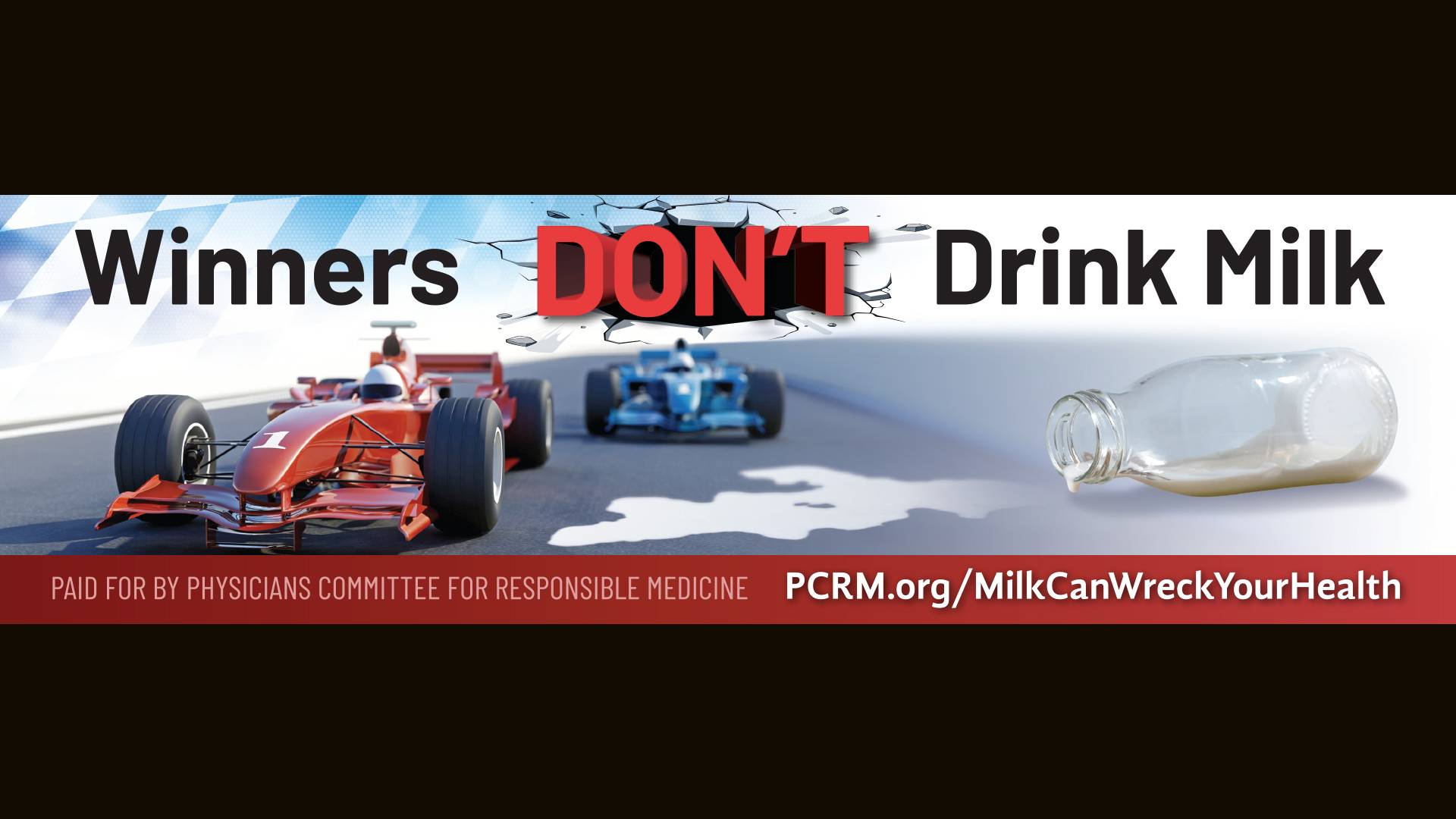 INDIANAPOLIS—"Winners Don't Drink Milk," proclaim three billboards that went up near the Indianapolis Motor Speedway ahead of the Indianapolis 500 on May 28. The billboards, sponsored by the Physicians Committee for Responsible Medicine, mock the phrase "Winners Drink Milk," used by the American Dairy Association Indiana, Inc., for the marketing campaign in which a bottle of cow's milk is given to the winning driver of the Indy 500. The doctors group also wrote to Douglas Boles, president of the Indianapolis Motor Speedway, to urge him to provide the winner with plant milk or water instead of cow's milk.
"Winners don't drink milk. That's the message Indianapolis 500 should be sending to its millions of viewers instead of promoting cow's milk, which can increase the risk of prostate and breast cancers, among other health problems," wrote the Physicians Committee in a letter to Douglas Boles, president of the Indianapolis Motor Speedway. "This year, the Indianapolis 500 should ditch the dairy-industry marketing tactic of giving the winner a bottle of milk and instead provide a healthful alternative like plant milk or water."
The letter was also sent to Richard Thomas, president of the American Dairy Association Indiana, Inc., and Indiana State Health Commissioner Kris Box, MD, FACOG.
The tradition of the Indy 500 winner drinking milk dates to 1936 when a cameraman captured Louis Meyer sipping from a bottle of buttermilk. "It is understood that an executive in the dairy industry saw the footage and enthusiastically requested that milk … be made available to the winner each year," according to the Indianapolis Motor Speedway.
Research shows that dairy products including milk increase prostate cancer risk, recurrence, and mortality. High intakes of dairy products including whole and low-fat milk increase the risk for prostate cancer, according to a meta-analysis that looked at 32 studies.  In another study, men who consumed three or more servings of dairy products a day had a 141% higher risk for death due to prostate cancer compared to those who consumed less than one serving.  
Drinking milk also increases breast cancer risk. A study found that women who consumed 1/4 to 1/3 cup of cow's milk per day had a 30% increased chance for breast cancer. One cup per day increased the risk by 50%, and 2-3 cups were associated with an 80% increased chance of breast cancer.
Scientific evidence also shows that milk and other dairy products increase the risk of ovarian cancer, asthma, cognitive decline, heart disease, and early death, and offer little if any protection for bone health. Many Americans also suffer from lactose intolerance, which causes bloating, diarrhea, and gas.
A recent review by the Physicians Committee that compares the nutrient content of dairy and nondairy milks concluded that there is no apparent health rationale for recommending cow's milk over plant-based milks.
Media Contact
Michael Keevican
202-527-7367
mkeevican[at]pcrm.org
Founded in 1985, the Physicians Committee for Responsible Medicine is a nonprofit organization that promotes preventive medicine, conducts clinical research, and encourages higher standards for ethics and effectiveness in education and research.