News Release

May 27, 2022
Ohio Cities With Record-Breaking Heat Urged to Go Meat-Free to Fight Climate Change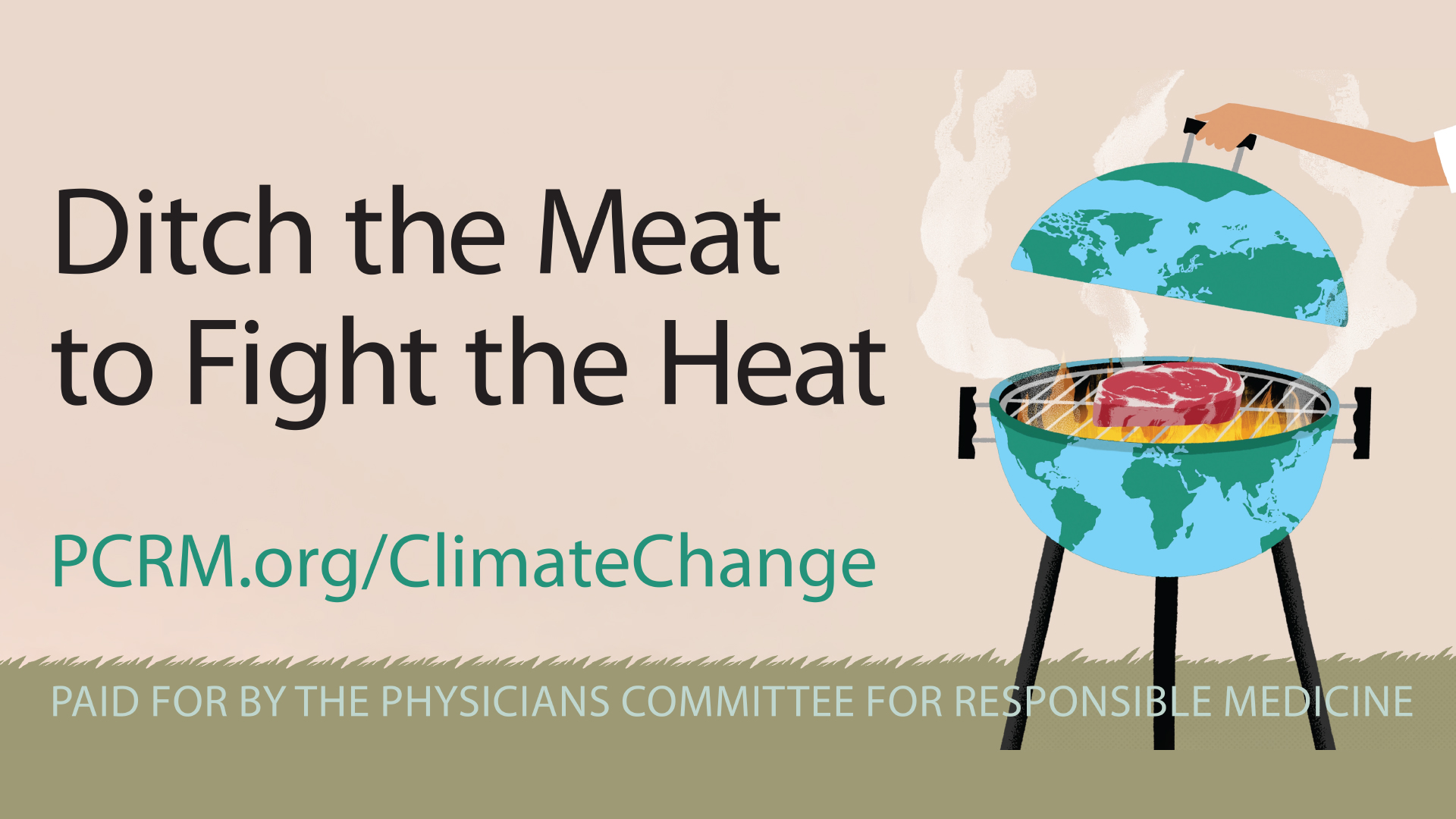 "Ditch the Meat to Fight the Heat," urge billboards the nonprofit Physicians Committee for Responsible Medicine has placed in Akron and Toledo, Ohio, in advance of Memorial Day, the unofficial beginning of summer and grilling season. Eating less meat helps curb meat production, which releases potent planet-warming greenhouse gases. Akron and Toledo recorded their warmest year on record in 2021.
The doctors group has also written to Akron Mayor Dan Horrigan and Toledo Mayor Wade Kapszukiewicz and asked them to encourage residents to go meat-free on Mondays starting on Memorial Day, Monday, May 30, and moving forward, to help reduce their carbon footprint, as well as stay healthy.
The billboards, which direct viewers to PCRM.org/ClimateChange, are at the following locations:
Akron: Bowery Street on the north side 100 feet east of Center Street facing east
Toledo: The intersection of Erie and Monroe Streets
The findings are from the NOAA National Centers for Environmental Information "State of the Climate: National Climate Report for 2021," which found that the following cities set records for their warmest year in 2021: Akron, Ohio; Baltimore, Md.; Bismarck, N.D.; Boston, Mass.; Buffalo, N.Y.; Del Rio, Texas; Erie, Pa.; Milwaukee, Wisc.; Montpelier, Vt.; Sault Ste. Marie, Mich.; and Toledo, Ohio. Research from The Weather Channel also shows that Akron and Toledo had their warmest year in 2021.
"Akron's record-breaking heat is, in part, a consequence of America's meat-eating habit, which all cities must take urgent steps to break," wrote Physicians Committee Director of Nutrition Education Susan Levin, MS, RD, CSSD, in a letter to Akron Mayor Dan Horrigan. "One simple step cities and individuals can take to reduce their carbon footprint, and stay healthy, is going meat-free. That's why we are urging Akron to set an example for cities across America by encouraging residents to try Meat-Free Mondays beginning this Memorial Day, Monday, May 30, and moving forward, and to test out a vegan diet for 21 days with the Vegan Kickstart." Toledo Mayor Wade Kapszukiewicz received a similar letter.
In 2017, Mayor Horrigan signed an executive order pledging to reduce the City of Akron's carbon footprint.
After health, environmental concerns are the next most prominent factor leading to reduced meat consumption, according to a recent Gallup Poll: seven in 10 say concerns about the environment are behind their avoidance of meat.
Shifting diets from meat and other animal products to plant-based diets has a high potential for reducing carbon footprints and mitigating climate change, as well as improving human health, according to Climate Change 2022: Mitigation of Climate Change, a new report from the United Nations' Intergovernmental Panel on Climate Change. The authors say that studies demonstrate that a shift to plant-based diets rich in pulses, nuts, fruits, and vegetables could lead to substantial reduction of greenhouse gas emissions as compared to current dietary patterns in most industrialized countries.
A study published last year shows just how critical cutting meat production is in reducing greenhouse gas emissions. The study found that 57% of global greenhouse gas emissions from food production come from meat and dairy products. Beef contributes the most global greenhouse gas emissions, according to the study.
A vegan diet based on fruits, vegetables, grains, and beans is also best for human health, helping to prevent or reverse conditions such as obesity, type 2 diabetes, heart disease, and helping to reduce the risk of breast, colorectal, and prostate cancers.
Media Contact
Michael Keevican
202-527-7367
mkeevican[at]pcrm.org
Founded in 1985, the Physicians Committee for Responsible Medicine is a nonprofit organization that promotes preventive medicine, conducts clinical research, and encourages higher standards for ethics and effectiveness in education and research.