News Release

Feb 16, 2022
New Bill Requires Healthful Hospital Food, Aims to Tackle Health Disparities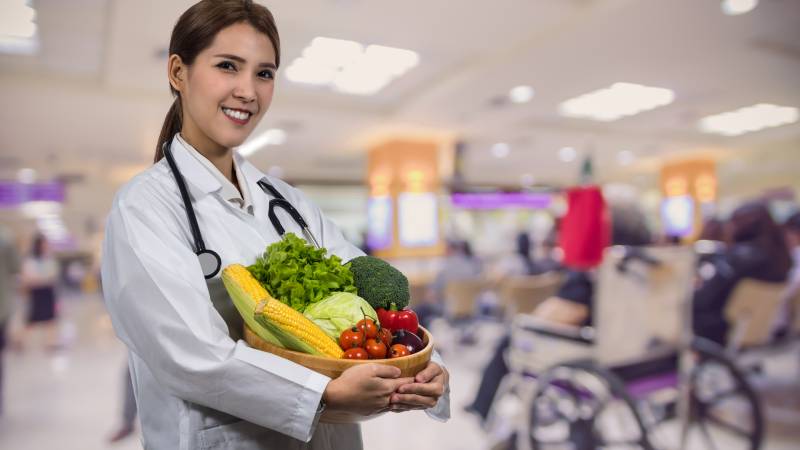 WASHINGTON, D.C.—A new bill requires D.C. hospitals to serve healthful foods, including vegan meals, eliminate cancer-causing products, such as sausage and bacon, and reduce sugar-sweetened beverages. Introduced in the D.C. Council, the Healthy Hospitals Amendment Act of 2022 takes aim at the alarming colon cancer and breast cancer mortality figures among African Americans by using hospitals as places for learning new healthful eating habits.
Introduced by Ward 3 D.C. Councilmember Mary Cheh, along with Councilmembers Janeese Lewis George, Charles Allen, and Brooke Pinto, the Act states, "(1) Hospitals shall make available to patients, staff, and visitors, at all times, a variety of healthful foods, including vegetarian and 100% plant-based meals, and meals that are low in saturated fat, sodium, and added sugars, and shall ensure that all patients, staff, and visitors are made aware of these options through appropriate menu listings, signage, or other means; (2) Hospitals shall eliminate processed meats from all menus; (3) Hospitals shall provide and promote healthful beverages…"
"The Healthy Hospitals Act provides physicians and patients a 'teachable moment' to discuss the importance of good nutrition in fighting heart disease, cancer, stroke, and diabetes, which are among the top five causes of death in D.C.," says D.C. native Vanita Rahman, MD, clinical director at the Barnard Medical Center and nutrition researcher for the Physicians Committee for Responsible Medicine—a D.C. nonprofit of more than 17,000 doctors. 
"Doctors and health care providers have long advised us that nutrition is essential to health, and we're finally seeing healthy food be taken seriously as an important part of healthcare," says Councilmember Cheh. "Go into a hospital and you will see sugary drinks, processed meats, and foods high in added sugars, sodium, and saturated fat—the very same foods we know are making us sick."
The World Health Organization has determined that processed meat is a major contributor to colorectal cancer, classifying it as "carcinogenic to humans." Processed meat is also linked to death from heart disease, stroke, and type 2 diabetes.
Many of these ailments disproportionately affect the Black community. In the District, Black residents die of cancer 50% more frequently than white residents. Obesity and type 2 diabetes also take an extraordinarily high toll.
Research shows the health benefits of adopting a plant-based diet for high blood pressure, heart disease, type 2 diabetes, and breast, colorectal, and prostate cancers, all chronic diseases that, due to multiple socioeconomic factors, disproportionately affect Black Americans.
The Healthy Hospitals Act is likely to be a welcome change among patients. According to a recent Pew Research Center survey, the number of African Americans who identify as vegan or vegetarian is more than double the overall number of Americans who identify as such.
"Black Americans are increasingly adopting a plant-based diet for health, social justice, ethical, and/or spiritual reasons," says Jennifer Paul, MPH, RDN, nutrition program coordinator at the Physicians Committee.
In June 2017, the American Medical Association passed a Healthy Food Options in Hospitals resolution that calls on U.S. hospitals to improve the health of patients, staff, and visitors by providing plant-based meals. The American College of Cardiology made similar recommendations in Planting a Seed: Heart-Healthy Food Recommendations for Hospitals. 
The Physicians Committee encourages the D.C. Council to pass this legislation without delay. This legislation is similar to a measure passed in California in 2018 ensuring plant-based hospital meals, as well as legislation passed in the New York State Legislature in 2019.
Media Contact
Leslie Raabe
202-527-7319
lraabe[at]pcrm.org
Founded in 1985, the Physicians Committee for Responsible Medicine is a nonprofit organization that promotes preventive medicine, conducts clinical research, and encourages higher standards for ethics and effectiveness in education and research.