News Release

Sep 18, 2018
Gov. Jerry Brown Makes Plant-Based Meals the Law in California Hospitals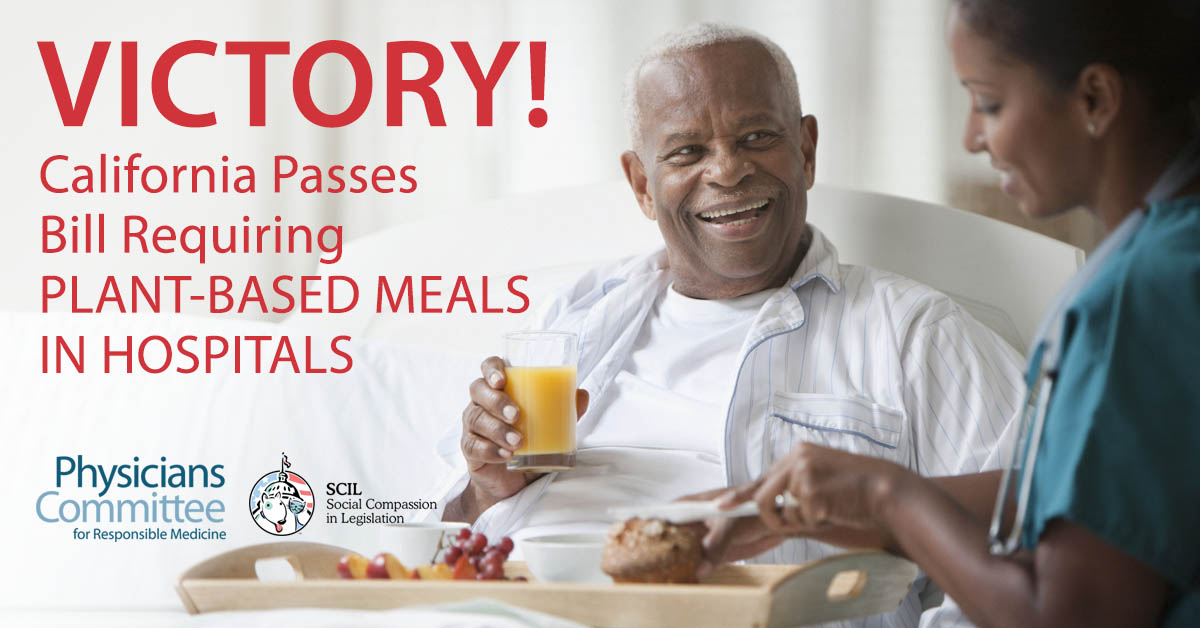 SACRAMENTO—The Physicians Committee—a nonprofit with 12,000 doctor members—applauds California Gov. Jerry Brown for signing into law a landmark bill that guarantees patients a healthful plant-based option at every meal. Sen. Nancy Skinner (D-Berkeley) authored Senate Bill 1138, which was co-sponsored by the Physicians Committee and Social Compassion in Legislation.
"Whether to protect animals, our climate or our health, those of us who choose to eat a vegan diet can celebrate today with Gov. Brown's signing of SB 1138," says Sen. Skinner. "SB 1138 ensures that people in hospitals, healthcare facilities, or prison have access to plant-based meals."
SB 1138 will require licensed California health care facilities and state prisons to make available plant-based meal options containing no animal products or by-products, including meat, poultry, fish, dairy, or eggs.
"We are elated that Gov. Brown sees the value in requiring plant-based meals in prisons and medical facilities," says Judie Mancuso, president and founder of Social Compassion in Legislation, which co-sponsored the bill. "Plant-based foods are key to better health outcomes, fighting climate change, and reducing the number of animals in our food production."
In June 2017, the American Medical Association passed a Healthy Food Options in Hospitals resolution that calls on U.S. hospitals to improve the health of patients, staff, and visitors by providing plant-based meals. The American College of Cardiology made the same recommendation in Planting a Seed: Heart-Healthy Food Recommendations for Hospitals.
"Thanks to Sen. Nancy Skinner and Gov. Jerry Brown for passing this historic law that will provide plant-based options to hospital patients looking to fight heart disease, diabetes, and obesity—or who simply want a more healthful meal," says Physicians Committee president Neal Barnard, M.D., F.A.C.C. "Now, it's time for California hospitals to start putting into practice the plant-based meals recommended by the American Medical Association and the American College of Cardiology."​
The Physicians Committee's Healthy Food in Health Care web page provides quantity plant-based recipes, tips for implementing plant-based meals, and case studies of hospitals championing healthy food.
St. Joseph Health System in Sonoma County, Calif., reports, "Vegetarian entrées cost about 50 percent less than meat entrées." The hospital projects saving $5,000 a year by serving more meat-free meals.
Media Contact
Jeanne Stuart McVey
202-527-7316
jmcvey[at]pcrm.org
Founded in 1985, the Physicians Committee for Responsible Medicine is a nonprofit organization that promotes preventive medicine, conducts clinical research, and encourages higher standards for ethics and effectiveness in education and research.
More on Healthy Hospitals