News Release

Jul 7, 2023
Doctors Urge Children's Hospital of Georgia to Stay Fast Food Free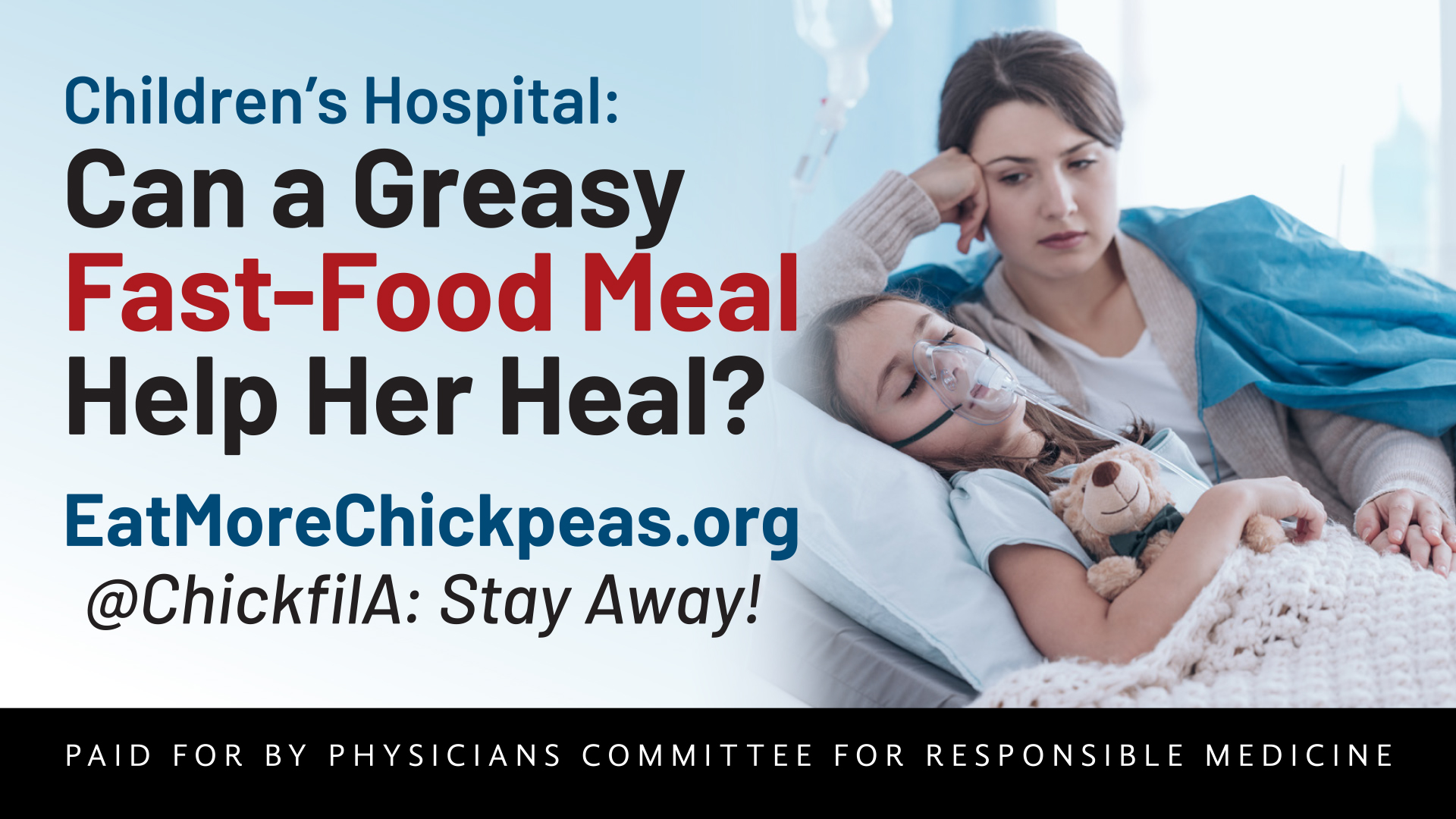 AUGUSTA, Ga.—As reported by the Augusta Chronicle, three billboards will call attention to a proposed Chick-fil-A restaurant in the Children's Hospital of Georgia. The billboards will be installed near the hospital during the week of July 10, remaining posted until Aug. 6. According to the Augusta Press, the hospital plans to add a Chick-fil-A  restaurant in the fall, and this fast-food outlet will replace the McDonald's restaurant that closed in July of 2021.
The Physicians Committee, the nonprofit health group that is sponsoring the billboards, will also file a complaint with the director of Georgia's East Central Health District, Lee Merchen, MD. The Physicians Committee is a health organization with 17,000 doctor members including 314 physicians in Georgia. Dr. Paula Rothman, MD, of Atlanta is the Georgia spokesperson.
The billboards will mock the Chick-fil-A slogan with the URL EatMoreChickpeas.org. 
"Young patients need tasty plant-based meals that will help them heal," says Stephanie McBurnett, RDN, LDN a registered and licensed dietitian nutritionist with the Physicians Committee. "High-fat fast food can contribute to the rising rates of obesity and type 2 diabetes that we are now seeing in children and teens." 
A Chick-fil-A deluxe sandwich has 490 calories and 22 grams of fat, including 6 grams of saturated fat, which is the "bad fat" linked to heart disease.
"If the Children's Hospital of Georgia would like to be a place of wellness and healing, it should provide only affordable, plant-based options that can help people prevent diabetes, reduce high blood pressure and maintain a healthy weight, among other benefits," adds Ms. McBurnett. "Greater availability of tasty plant-based options like black bean burgers, roasted sweet potatoes, and veggie chili would benefit the health of visitors, patients, and staff."
In its complaint filed with the director of the East Central Health District, Lee Merchen, MD, the Physicians Committee points to a  study published in Preventive Medicine Reports showing that in adolescents, fast-food consumption can lead to "…higher BMI, body fat, low-density lipoprotein cholesterol, triglycerides, glucose, insulin, HOMA-IR, and MetS cluster score." 
By contrast, Dr. Allison J. Wu of Boston Children's Hospital and colleagues recently published a study that shows the benefits of a plant-based diet. The study in Preventing Chronic Disease found that providing plant-based family food packages improved body mass index among children and teens requiring food assistance. 
The American Medical Association (AMA) has issued a policy urging health care facilities to provide healthful food, including plant-based meals. "Our AMA hereby calls on all health care facilities to improve the health of patients, staff, and visitors by: (a) providing a variety of healthy food, including plant-based meals, and meals that are low in saturated and trans fat, sodium, and added sugars; (b) eliminating processed meats from menus; and (c) providing and promoting healthy beverages." 
Some hospital administrators express skepticism about the acceptability of healthful meals. But in a pilot program, 60% of hospital patients chose the plant-based option if it was listed as the chef's special, and 95% of participants said they enjoyed the healthful meals. The program was initiated by the mayor of New York City, Eric Adams, who often inspires others with his story of reversing diabetes with a plant-based diet. 
As reported by the Washington Post, the Physicians Committee monitors fast food in hospitals and publishes a list of hospitals that host fast food at www.MakeHospitalsHealthy.org. About 24 hospitals in the U.S. host a Chick-fil-A.
In 2015, The Augusta Chronicle reported on the controversy over the McDonald's restaurant inside the Children's Hospital of Georgia, mentioning a report issued by the Physicians Committee. In order to better understand the financial relationship, the Physicians Committee obtained the hospital's contract with McDonald's via the Georgia Open Records Act in 2014. The McDonald's closed in July of 2021.
A study published in the journal Circulationfound that people who eat fast food once a week increase their risk of dying from coronary heart disease by 20%. Two to three fast-food meals a week increase the risk by 50%. Four or more fast-food meals a week increase the risk of dying from heart disease by nearly 80%.
In addition to benefiting visitors and patients, increasing plant-based options would also benefit the hospital's hard-working staff. A study published in the in the American Journal of Lifestyle Medicineshows that during the COVID-19 pandemic, overweight hospital workers at Sibley Memorial Hospital in Washington, D.C., were able to lose weight, lower blood pressure, and otherwise improve their health by following a plant-based diet.
Media Contact
Jeanne Stuart McVey
202-527-7316
jmcvey[at]pcrm.org
Founded in 1985, the Physicians Committee for Responsible Medicine is a nonprofit organization that promotes preventive medicine, conducts clinical research, and encourages higher standards for ethics and effectiveness in education and research.
More on Healthy Hospitals