News Release

Jul 9, 2020
Doctors Call on Dietary Guidelines To Ditch Dairy To Fight Racial Health Disparities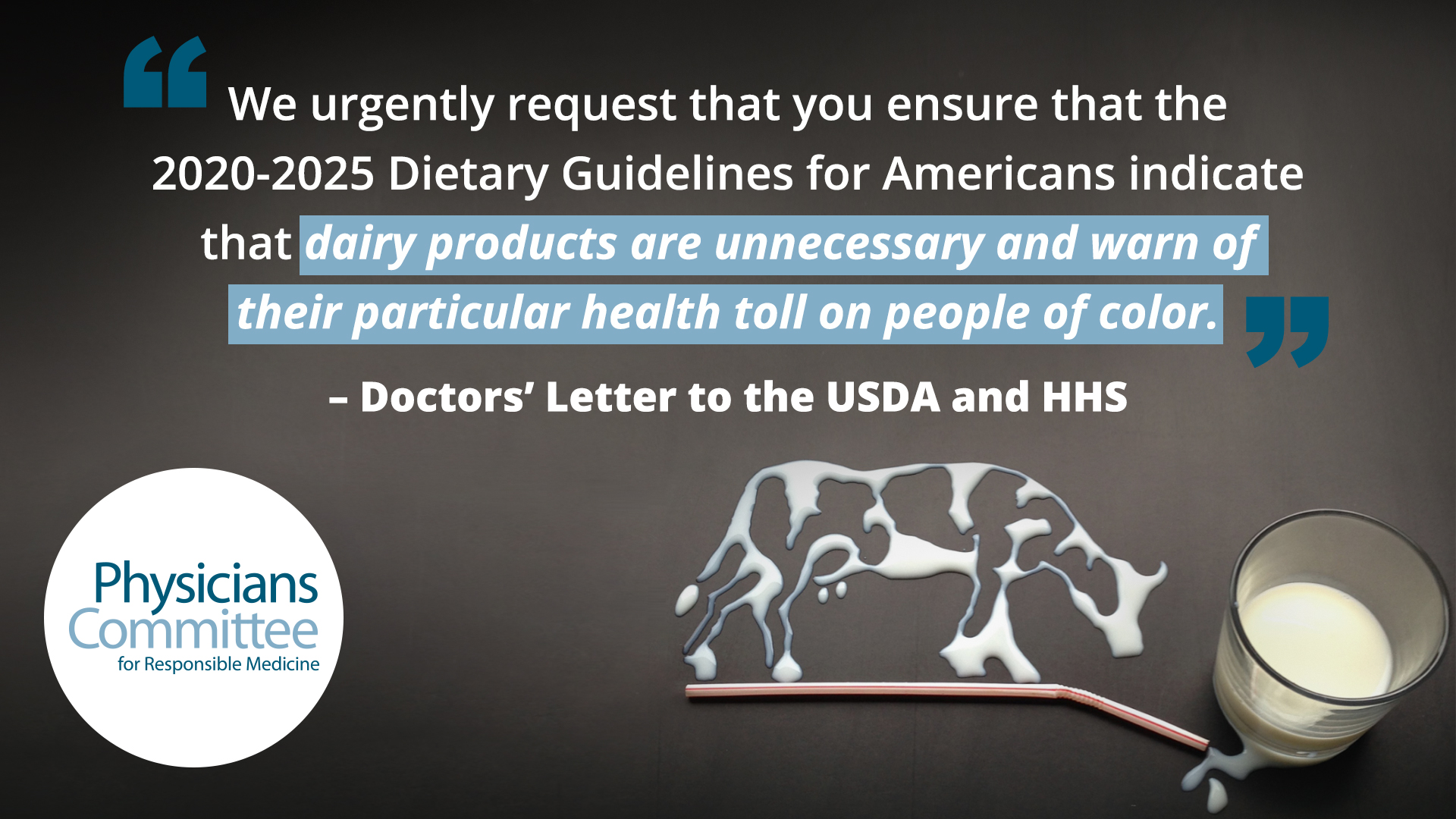 WASHINGTON—Doctors, nurses, and dietitians have joined the Physicians Committee for Responsible Medicine—a nonprofit with more than 12,000 doctor members—in co-signing a letter that calls on the U.S. Department of Agriculture and Department of Health and Human Services to "ensure that the 2020-2025 Dietary Guidelines for Americans indicate that dairy products are unnecessary and warn of their particular health toll on people of color."
In the letter, sent to USDA Secretary Sonny Perdue and HHS Secretary Alex Azar on July 9, the health care professionals write: "Unhealthful foods contribute to a wide range of health problems, many of which take a particular toll in Black and Latinx communities. Federal nutrition policy, including the Dietary Guidelines for Americans, has played a role in exacerbating these disparities." 
Doctors who signed the letter include Kim Allan Williams Sr., MD, who was the first Black president of the American College of Cardiology, pediatrician Yamileth Cazorla-Lancaster, DO, and family medicine doctor Rosa Kinkaid, MD.  
The Dietary Guidelines Advisory Committee (DGAC) is expected to release its scientific report on July 15. The USDA and HHS will use the DGAC's report to develop the 2020-2025 Dietary Guidelines for Americans.
In June, the DGAC previewed the scientific report in a public webcast. The DGAC said high-fat dairy is associated with type 2 diabetes. The DGAC also said that Americans should avoid saturated fat to fight heart disease, but didn't specify that the top source of saturated fat in the American diet is dairy products.
The DGAC also failed to indicate that scientific evidence shows that milk and other dairy products increase the risk of asthma, breast, ovarian, and prostate cancers, cognitive decline, and early death, and offer little if any protection for bone health.
In 2018, the American Medical Association passed a resolution recognizing that lactose intolerance is common among many Americans, especially African Americans, Asian Americans, and Native Americans, and recommending that the Dietary Guidelines for Americans indicate that "dairy products are optional."
According to the U.S. Department of Health and Human Services Office of Minority Health, African American adults are 60% more likely than non-Hispanic white adults to have been diagnosed with diabetes by a physician, 20% more likely to die from heart disease, three times more likely to die from asthma related causes, and have the highest mortality rate of any racial and ethnic group for all cancers combined and for most major cancers. Hispanic/Latino adults are 1.7 times more likely than non-Hispanic white adults to have been diagnosed with diabetes by a physician.
People who eat a healthful diet that includes a variety of fruits, vegetables, grains, and legumes need no other beverage than water, because they receive plenty of calcium, protein, phosphorus, zinc, vitamins A and D through their diet. The only essential nutrient that is not obtained reliably from these foods alone is vitamin B12, which is found in all pediatric and adult multivitamins and is easily supplemented.
"To describe cow's milk as required or as the default option reflects racial bias that is presumably unintended but is nonetheless inappropriate and harmful to public health," say the authors of the letter.
Media Contact
Michael Keevican
202-527-7367
mkeevican[at]pcrm.org
Founded in 1985, the Physicians Committee for Responsible Medicine is a nonprofit organization that promotes preventive medicine, conducts clinical research, and encourages higher standards for ethics and effectiveness in education and research.