News Release

Sep 4, 2019
Doctors' Billboards Circulate at Brown Convocation
Animal Use for Doctor Training Challenged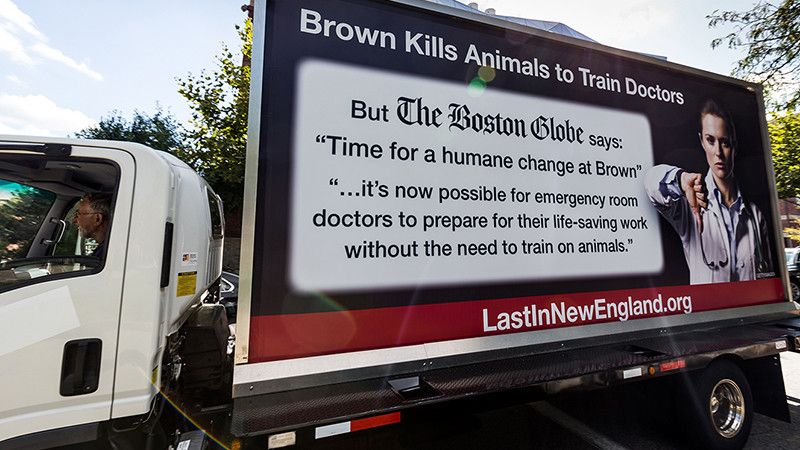 PROVIDENCE, R.I.—The Physicians Committee for Responsible Medicine, a nonprofit with more than 12,000 doctor members, is behind the three mobile billboards circulating Brown University's campus today during the university's convocation. Quoting a recent piece from the editorial board at The Boston Globe, the billboards feature a doctor giving a thumbs down and state: "Brown kills animals to train doctors. But The Boston Globe says: 'Time for a humane change at Brown. […] it's now possible for emergency room doctors to prepare for their life-saving work without the need to train on animals.' LastInNewEngland.org."
Emergency medicine residents at Brown are instructed to cut into live pigs, including making incisions in the animal's throat to insert a breathing tube. At the end of each training session, the animals are killed.
A survey of emergency medicine residencies in the United States and Canada has found that 97 percent, or 261 of 270, do not use animals for training. Instead, these programs employ only nonanimal methods, such as human-based medical simulators and cadavers. All other emergency medicine residencies in New England exclusively use human-relevant training methods, including Boston University, Yale-New Haven Medical Center, Dartmouth-Hitchcock Medical Center, and Massachusetts General Hospital.
Rhode Island Hospital, where the training takes place, is home to the Lifespan Medical Simulation Center, a state-of-the-art facility that could provide the tools to replace this animal use. Human-patient simulators and skills trainers feature layers of lifelike skin, fat, and muscle, accurately replicating human anatomy and allowing for repeated practice.
"This use of live animals makes the emergency medicine residency at Brown University the last in New England," said John Pippin, MD, FACC, Physicians Committee director of academic affairs. "Modernizing this training by switching to human-relevant methods would allow future patients to rest assured that their doctors were properly trained, using the best technologies available."
From 10:00 a.m. to 6:00 p.m., the three billboards will pass the Van Wickle Gates on Prospect Street approximately twice per hour.
To speak with Dr. Pippin or for a detailed billboard route, please contact Reina Pohl at 202-527-7326 or rpohl [at] pcrm.org.
Media Contact
Reina Pohl, MPH
202-527-7326
rpohl[at]pcrm.org
Founded in 1985, the Physicians Committee for Responsible Medicine is a nonprofit organization that promotes preventive medicine, conducts clinical research, and encourages higher standards for ethics and effectiveness in education and research.