News Release

Sep 25, 2019
Doctor-Led Protest Confronts McDonald's in Northside Hospital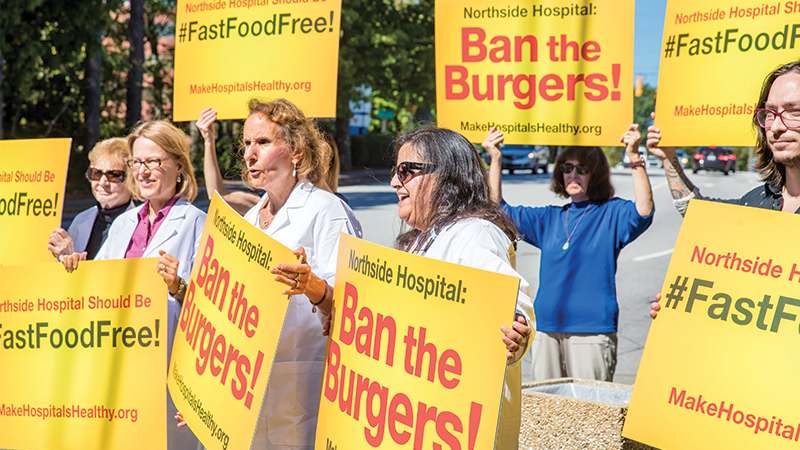 ATLANTA—Northside Hospital currently hosts a McDonald's restaurant and Atlanta-based physician Paula Rothman, MD, and three other local physicians led a protest with signs urging the hospital to go #FastFoodFree. The protest took place Aug. 29 at 11 a.m. to 12 p.m., and it was sponsored by the Physicians Committee for Responsible Medicine—a nonprofit with 12,000 doctor members including 294 in Georgia.
The Physicians Committee also filed a complaint on Aug. 28 with Georgia Department of Public Health commissioner Kathleen E. Toomey, MD, MPH. As part of her diabetes mitigation program, Dr. Toomey should advise Northside Hospital to offer affordable plant-based meals that can help people reduce or even eliminate diabetes medications. Earlier this month, Physicians Committee wrote directly to Northside's CEO, but did not receive a response.  
"For patients, visitors, and staff, greasy fast food should be replaced with tasty and affordable plant-based options that can prevent and even reverse diabetes, heart disease, and high blood pressure, among other benefits," says Susan Levin, MS, RD, of the Physicians Committee. "In Georgia, the rates of diet-related diseases like heart disease are too high, and Northside Hospital can help save lives by promoting fruits, veggies, beans, and whole grains."
Several hospitals have recently closed McDonald's restaurants including Grady Hospital in Atlanta, The Medical Center, Navicent Health in Macon, and Ben Taub Hospital in Houston. According to the Physicians Committee's ongoing survey, provided to the public at www.MakeHospitalsHealthy.org, about 10 hospitals host McDonald's restaurants.
A study published in the journal Circulation  found that people who eat fast food once a week increase their risk of dying from heart disease by 20 percent. Two to three fast-food meals a week increase the risk of premature death by 50 percent. Four or more fast-food meals a week increase the risk of dying from heart disease by nearly 80 percent. 
Research from the Black Women's Health Study found that eating two or more servings a week of restaurant hamburgers increases the risk of diabetes by 40 percent and that two or more servings of fried chicken a week increases the risk of diabetes by 68 percent.
Patients and health care providers are often concerned that healthful foods are more expensive, but St. Joseph Health System in Sonoma County, Calif., reports, "Vegetarian entrées cost about 50 percent less than meat entrées." The hospital projects saving $5,000 a year by serving more meat-free meals.
Media Contact
Jeanne Stuart McVey
202-527-7316
jmcvey[at]pcrm.org
Founded in 1985, the Physicians Committee for Responsible Medicine is a nonprofit organization that promotes preventive medicine, conducts clinical research, and encourages higher standards for ethics and effectiveness in education and research.
More on Healthy Hospitals