News Release

Nov 17, 2023
California Student Succeeds in Landmark Lawsuit Challenging Big Dairy's Stranglehold on School Meals, Speech
A first, LAUSD acknowledges right to speak out against dairy as a matter of free speech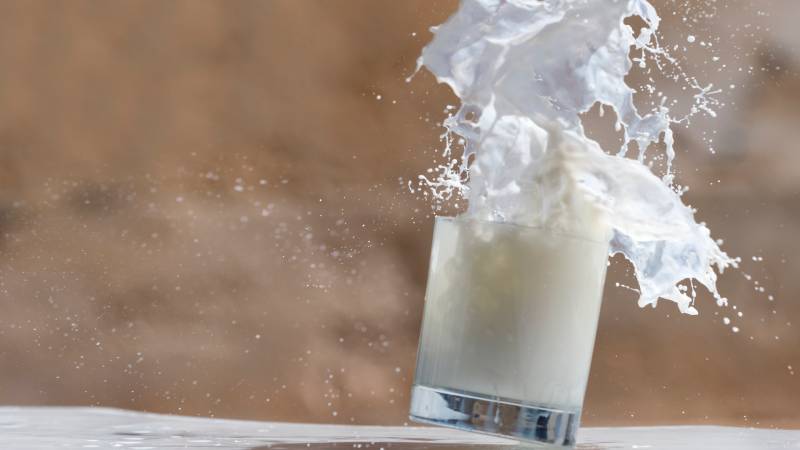 LOS ANGELES — In the first legal settlement of its kind, the Los Angeles Unified School District has settled a lawsuit brought by a 2023 graduate and the Physicians Committee for Responsible Medicine, a nonprofit medical ethics organization, who sued the school system on May 3, 2023, for violating Marielle Williamson's free speech right to criticize dairy products after she was told she could not share literature explaining that the dairy industry harms human health, animals, and the environment. A landmark agreement, the settlement acknowledges students' right to criticize dairy in school.
"Dairy products are bad for health, the environment, and animals, and now students are free to say so loudly and clearly," said Deborah Press, associate general counsel at the Physicians Committee. "This is a huge win for free speech advocates and for critics of dairy in schools who, until today, had been silenced by the threat of censure if there was a perceived criticism of dairy products." The Physicians Committee is also working with LAUSD to offer non-dairy milk to students seeking alternatives.
Williamson, at the time a senior at Eagle Rock High School, was told by her school that she could not share information about plant-based milk or be critical of the dairy industry in the school cafeteria unless she provided pro-dairy content, as well.
Press and colleagues filed the free speech lawsuit on Williamson's behalf in federal court on May 3. Williamson sued her school district and the U.S. Department of Agriculture for violating her First Amendment right to share information at school critical of the dairy industry and raising health concerns about dairy consumption. Dairy products are the leading source of saturated ("bad" fat), a major contributor to greenhouse gas emissions, and the cause of health problems ranging from gastrointestinal disturbances to prostate and breast cancer.
Williamson said of the settlement, "I am very grateful we were able to reach an agreement with LAUSD that enshrines the free speech rights that led to challenging school policies. The changes ensure that other students who want to speak openly about dairy have the ability to do so. I'm also excited that these permanent changes will create an improved system that focuses on what is better for both student health and student voices."
A federal law says that any school participating in USDA's school lunch program "shall not directly or indirectly restrict the sale or marketing of fluid milk products by the school (or by a person approved by the school) at any time or any place." The USDA interprets that statutory language to mean that cafeteria displays, printed material, and layout may not promote beverages other than dairy milk in a way that may detract from dairy milk sales. Even water may not be offered on the lunch line in a way that might interfere with a student taking milk.
By law, "fluid milk," or cow's milk, must be offered at every school lunch and breakfast served under the National School Lunch Program and the School Breakfast Program.
In its lawsuit, the Physicians Committee explained that the school district unconstitutionally discriminated on the basis of viewpoint by prohibiting Williamson from distributing information highlighting dairy's negative impacts, while school-sanctioned dairy promotions—such as "Got Milk?" ads in the morning announcements—pervade Williamson's school. The government may not prohibit student speech simply based on its viewpoint.
Approximately 75% of the LAUSD student population is Latino/Hispanic. Because about 50% of Mexican Americans experience lactose intolerance, messages like "Got Milk?" convey to certain students that their schools' programs are not meant for them.
In 2018, the American Medical Association passed a resolution encouraging the USDA to "recognize that lactose intolerance is a common and normal condition among many Americans, especially African Americans, Asian Americans, and Native Americans, with a lower prevalence in whites, often manifesting in childhood." The resolution called for legislation to modify the National School Lunch Act to eliminate the need for a doctor's note for a child to receive cow's milk alternatives in school.
"As a result of our settlement, LAUSD has issued new guidance to parents on how to obtain soy milk in the lunch line and a memorandum to school principals and food service personnel stressing a student's right to criticize dairy," Press said.
Media Contact
Leslie Raabe
202-527-7319
lraabe[at]pcrm.org
Founded in 1985, the Physicians Committee for Responsible Medicine is a nonprofit organization that promotes preventive medicine, conducts clinical research, and encourages higher standards for ethics and effectiveness in education and research.
More on Healthy School Food