News Release

Jun 7, 2023
Billboard Warns Macon Bacon Fans to 'Keep Bacon Off Your Plate' to Fight Cancer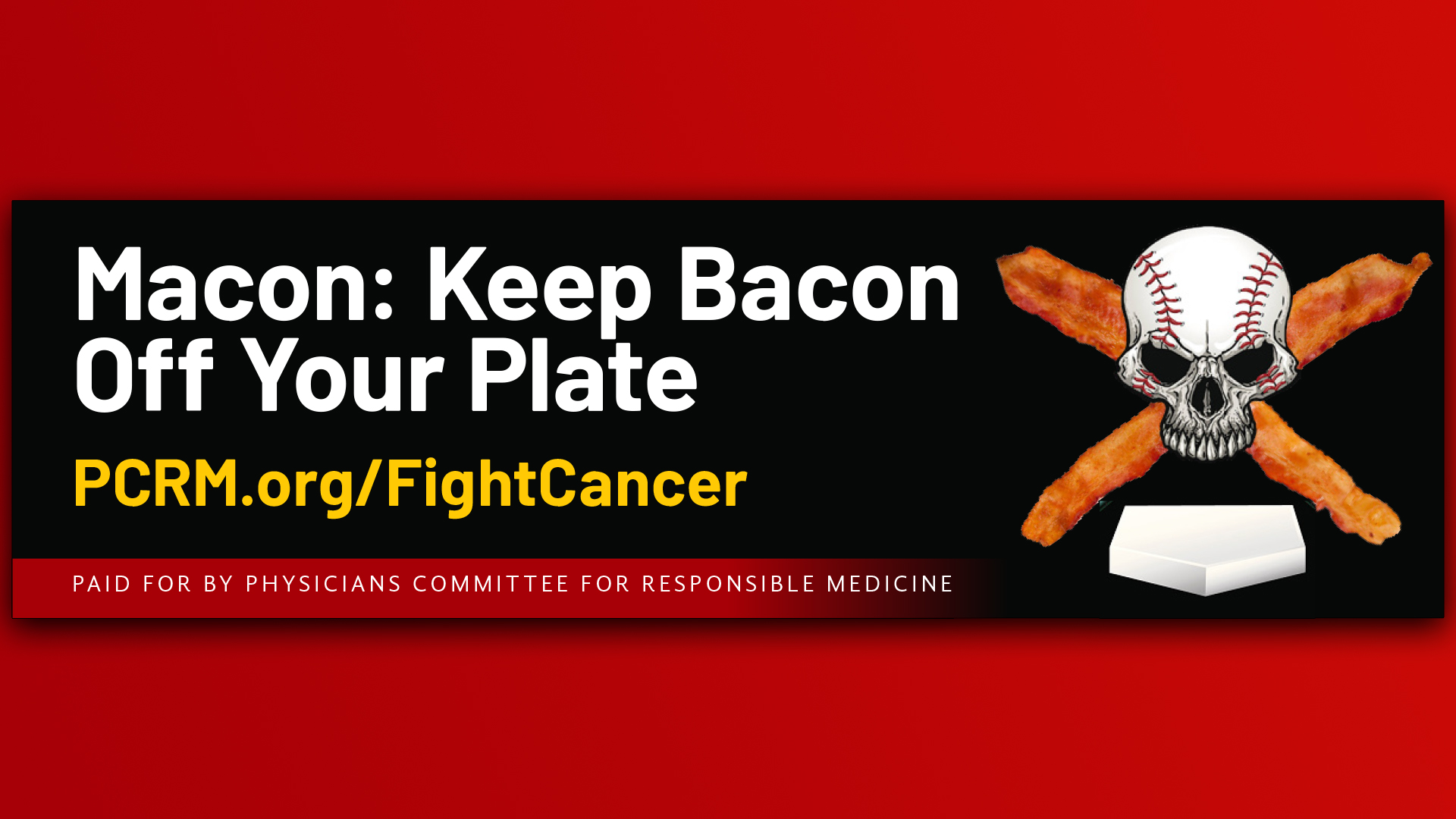 MACON, Ga. — "Keep Bacon Off Your Plate" to fight cancer warns a new bacon-and-baseball-themed billboard aimed at the fans of the Macon Bacon baseball team in Georgia. The Physicians Committee for Responsible Medicine, which sponsored the billboard, also wrote to Macon Bacon's president and requested that he change the team's name to Macon Facon Bacon and promote healthful plant-based bacon alternatives.
The billboard is located at on I-16 .1 mile west of Coliseum Drive: https://goo.gl/maps/LX4Mpje2KArPYrNc9. 
"Macon Bacon's glorification of bacon, a processed meat that raises the risk of colorectal cancer and other diseases, sends the wrong message to fans," wrote Anna Herby, DHSc, RD, CDCES, nutrition education program manager for the Physicians Committee for Responsible Medicine in a letter to Brandon Raphael, president of the Macon Bacon. "I urge you to update the team's name to Macon Facon Bacon and promote plant-based bacon alternatives, such as Facon Bacon or Mushroom Bacon, that will help your fans stay healthy. As for Kevin, Macon Bacon's mascot, he can reveal that he is actually plant-based bacon."
Macon Bacon's menu included 6 Degrees of Kevin Bacon, Bacon Wrapped Bacon, Steak Cut Bacon, Bacon Cheeseburger, Bacon Dog, Bacon Loaded Cheese Fries, Bacon Loaded Mac N Cheese, and Bacon Chips.
The World Health Organization has determined that consuming processed meat, such as bacon, increases the risk of colorectal cancer and has classified it as "carcinogenic to humans." Just 50 grams of processed meat—a few slices of bacon—consumed daily increases colorectal cancer risk by 18%. The World Cancer Research Fund and the American Institute for Cancer Research say that "there is strong evidence" that consumption of processed meat causes colorectal cancer.
In 2023, there will be an estimated 4,880 new cases of colorectal cancer in Georgia and an estimated 1,640 deaths from colorectal cancer, according to the American Cancer Society.
Colorectal cancer is striking Americans at a younger age, and processed meat, like bacon, plays a role. A study published by the American Cancer Society earlier this year found that the proportion of individuals with newly diagnosed colorectal cancer who were younger than 55 years old has almost doubled, from 11% in 1995 to 20% in 2019. The National Cancer Institute says, "There's mounting evidence linking an unhealthy diet—in particular, one high in processed meat and fat, and low in fruits and vegetables—to early-onset colorectal cancer."
Bacon and other processed meat are also linked to cardiovascular disease and death, according to a study that found people eating more than 150 grams of processed meat per week increased their risk of heart disease and death by 46% and 51%, respectively, when compared to those who did not eat processed meat.
Plant-based diets can reduce the risk of colon cancer. In a recent study, men who ate the most plant-based foods had a 22% reduced risk of colon cancer, compared with those who ate the least.
Media Contact
Michael Keevican
202-527-7367
mkeevican[at]pcrm.org
Founded in 1985, the Physicians Committee for Responsible Medicine is a nonprofit organization that promotes preventive medicine, conducts clinical research, and encourages higher standards for ethics and effectiveness in education and research.