Good Science Digest

Oct 24, 2018
Congressional Briefing Calls for Investments in Human-Based Alzheimer's Research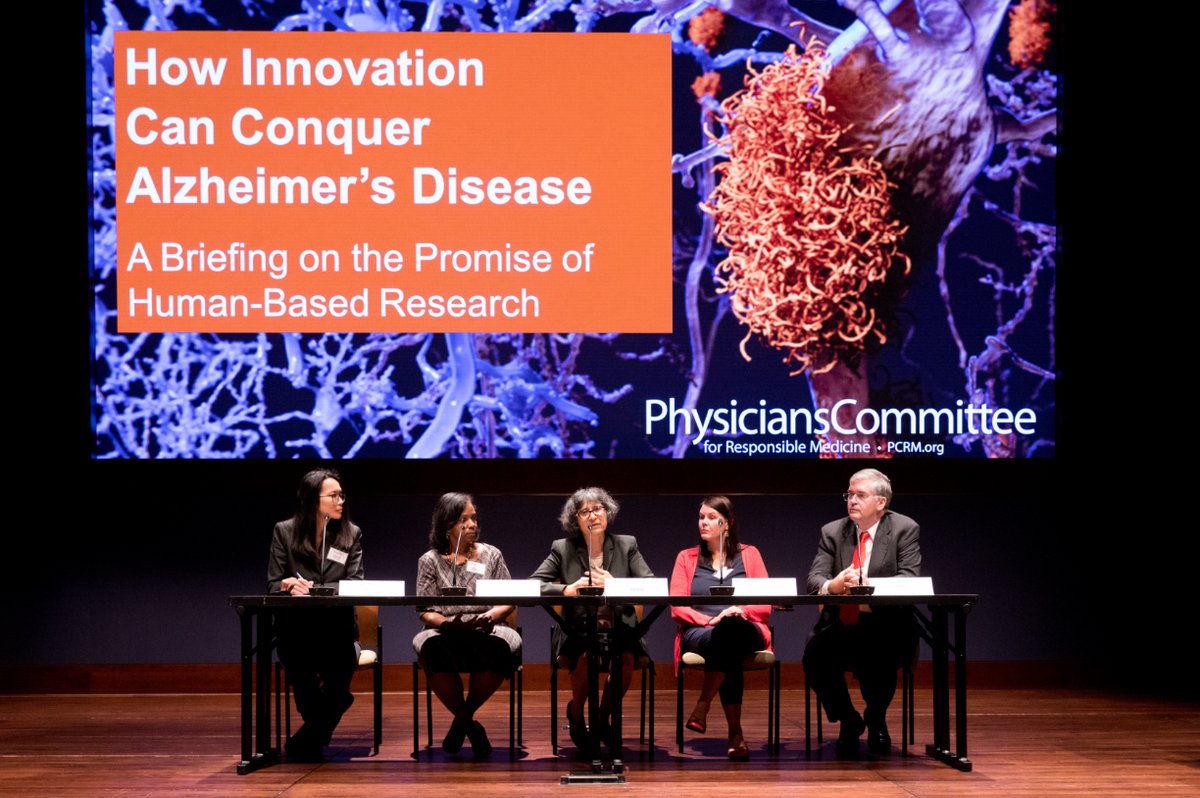 In late September, the Physicians Committee hosted a congressional briefing in cooperation with Congressman Earl Blumenauer (D-Ore.) to showcase the promise of human-based methods in improving Alzheimer's disease research. Over 25 staffers from about 21 congressional offices attended our informative lunchtime briefing, where we highlighted the cutting-edge work of human-based researchers and patient advocates to begin a conversation with lawmakers on the need for human-based approaches.
While animal studies have repeatedly failed to predict human responses to treatment, the National Institutes of Health (NIH) continues to fund Alzheimer's research in animals. In fact, 99.6 percent of Alzheimer's drugs that succeed in animal experiments later fail when tested in humans. The disease remains the sixth leading cause of death in the United States and affects more than 5.6 million Americans. Countless more Americans' lives are affected indirectly by the disease, through caring for a friend or family member afflicted with Alzheimer's.
NIH has set an ambitious goal to treat and prevent Alzheimer's by 2025; however, it is crucial that innovative non-animal scientific approaches be considered and that government agencies support this paradigm shift to reach that goal.
The urgency of finding interventions to effectively prevent and treat the disease was reflected throughout the briefing in each presentation. In addition to the Physician Committee's own Ann Lam, Ph.D., who gave an enlightening introduction and background on the issue, four guest speakers joined us to offer their perspective and expertise. The speakers presented on the context and magnitude of the Alzheimer's research problem and outlined the promise of human-based approaches.
Stephanie Monroe, J.D., from Us Against Alzheimer's, spoke on her experience working to address the disparate impact of Alzheimer's on African-American communities and the need to fund more studies in diverse human populations with comorbid conditions.
Yasmin Mossavar-Rahmani, Ph.D., R.D., C.D.N., from Albert Einstein College of Medicine, presented her plan to test nutrition-based lifestyle interventions to reduce Alzheimer's risk in a clinical trial to be conducted in New York.
Helena Hogberg, Ph.D., from Johns Hopkins Bloomberg School of Public Health, discussed her team's work in developing 3-D miniature models of the human brain from human-derived stem cells.
Lastly, George Perry, Ph.D., from the University of Texas at San Antonio, presented novel findings on the origins of the disease discovered in his human brain tissue studies.
All in all, the presentations emphasized the need to focus Alzheimer's research on humans and not animals to make discoveries that can help people prevent Alzheimer's disease and help researchers find a cure.
The event concluded with a stimulating panel discussion exploring how to better support the use and training of these human-based methods, emphasizing the necessity of dedicated funding specifically for human-based studies in NIH's annual budget. Attendees left the event informed about why we must invest in human-based research approaches and empowered to support progress toward finding a treatment.
Not only did the briefing occur during World Alzheimer's Month, but it also came at the same time as the largest ever federal funding increase for Alzheimer's disease research. With a total annual budget of $2.3 billion, Congress and NIH have made Alzheimer's research a priority.
The Physicians Committee is looking forward to building on a successful briefing and the momentum of this funding increase to continue pushing for dedicated NIH funding for research using human-based approaches. We called for it at our briefing, and now we will continue to work with our allies both in and out of Congress to make it a reality.