Exam Room Podcast

Jun 1, 2020
Football Star to Plant-Based Sensation: The Gabriel Miller Story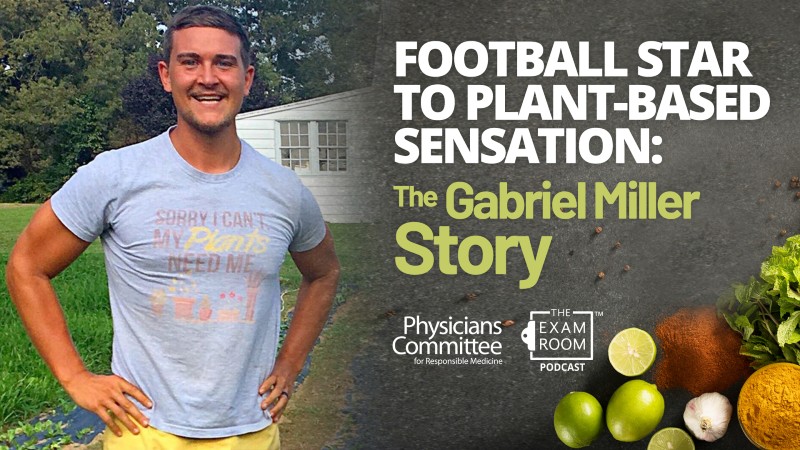 Gabriel Miller dreamed of running onto the field Sunday afternoons in the fall as a player in the NFL. It seemed as though that dream was on the verge of coming true until a freak injury cut short his college football career.
With one goal snatched away the 19-year-old set a new goal for himself, to be able to walk without the use of a walker. He was facing a lifetime of surgeries and debilitating pain unless he lost a significant amount of weight. There was only one problem. After eating the standard American diet for years as a football player, he really had no clue how to do it. 
Then he had an epiphany. It was one word, really. Plants.
On this episode of The Exam Room™ podcast, Gabriel joins "The Weight Loss Champion" Chuck Carroll to share what led him down that healthier path that didn't include countless medical procedures and unrelenting pain.
Although he may not have achieved riches in the NFL, he has found abundant prosperity by sharing his story and helping others overcome their own health obstacles. This is one remarkable conversation.
Plus, Jasmol Sardana, DO, joins the show as Chuck opens up the Doctor's Mailbag to answer your health and nutrition questions.
Is it better to get too much sodium or too little?
Is orange juice actually healthy?
Are agave and maple syrup healthier than sugar?
Are there foods people with eczema should avoid?
What can be used for salad dressing that is low in fat and vegan? 
More on Exam Room Podcast