Exam Room Podcast

Dec 24, 2019
365 Days of Health: Five Biggest Stories of 2019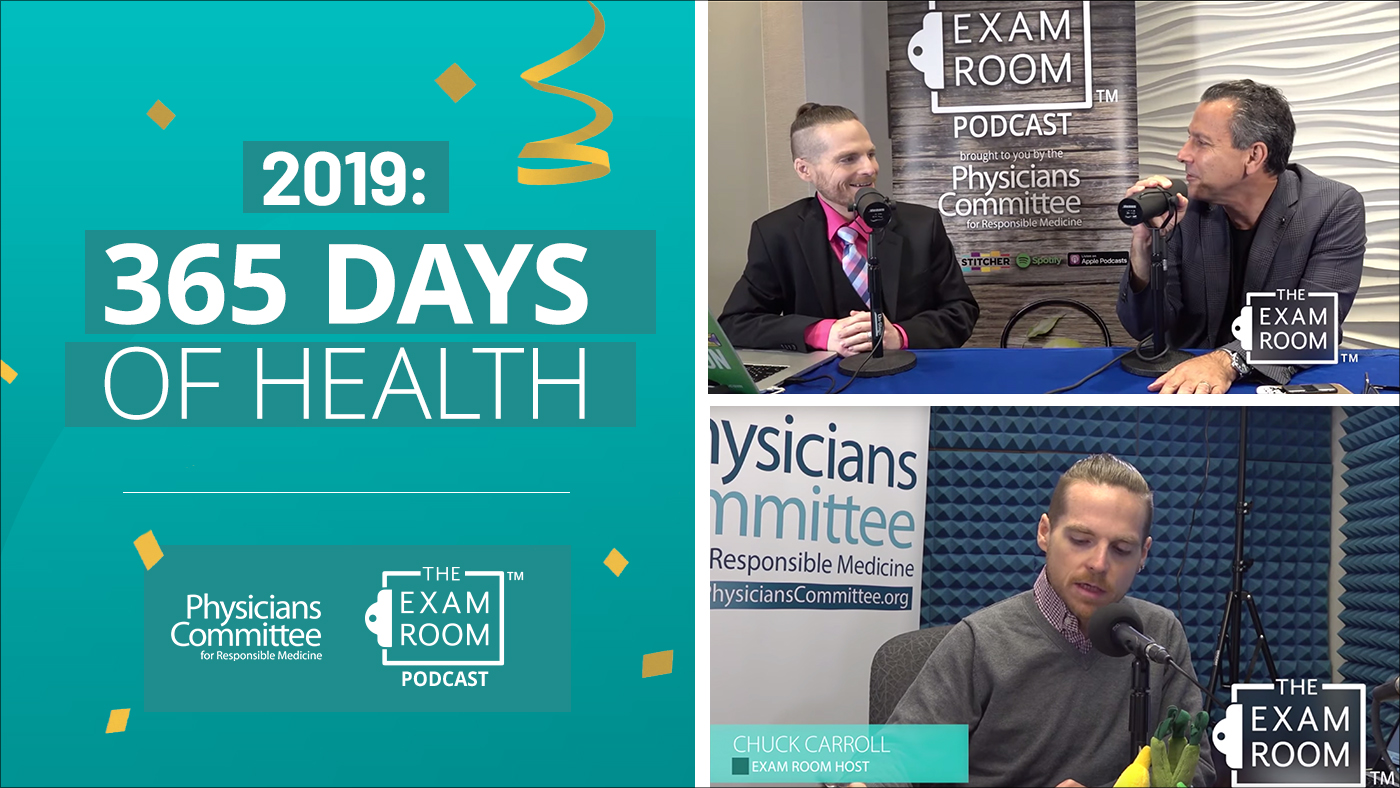 What a year 2019 has been! Evidence showing the link between disease and diet continues to mount, which means that researchers are more confident than ever that key to leading a long and healthy life begins with the food on our plate.
On this very special edition of The Exam Room™ podcast, "The Weight Loss Champion" Chuck Carroll looks back at the five biggest stories on the show from the past year.
5.) The final 365 days of the decade were dominated by questions about the health and complexion of our skin and the foods that help keep us looking young and vibrant. Plant-based dermatologist Dr. Niyati Sharma was kind enough to offer advice on everything from dry skin to wrinkles to acne!
4.) 2019 was also the year of the vegan athlete with the release of The Game Changers documentary. Elite athletes in virtually every major sport are now turning to a plant-based diet to get a leg up on their competition. Everyone from tennis phenom Venus Williams to NBA superstar Kyrie Irving and Formula 1 Racing champion Lewis Hamilton are ditching meat and dairy to take their game to the next level. Dr. Jim Loomis, a former team internist in the NFL and Major League Baseball, joined Chuck to explain what their new diets are doing to give their body a big boost!
3.) The year also saw renewed scrutiny of dairy. It's been said for decades that milk does a body good, but newly released studies have shown that its effects are doing far more harm than help. Oncology dietitian Alison Tierney joined the show to present data showing rather than promoting healthy teeth and strong bones, the proteins and fat in dairy are actually promoting cancer!
2.) 2019 will soon give way to 2020 and before we know it the calendar will reset to 2021 and then 2022. An undeniable truth is that time marches on and we all grow older. Aging is a natural part of life, but can also be one of the most stressful. Many of us fear memories beginning to fade with time as forgetfulness creeps in and worries of Alzheimer's disease enter our mind. But Dr. Neal Barnard joined Chuck with powerful research showing that we can give our brains a big boost! All it takes is a willingness to make small changes and eliminate certain foods from our diet and replacing them with major memory enhancing nutrients! Dr. Barnard has the science behind it all!
1.) The most popular show of the year focused on a problem that we all will face at some point in our life, food addiction. What is it about certain food that makes it impossible to put the fork down? Why are we compulsively driven to eat even when we're not hungry? Dr. Barnard returned for a fascinating conversation with Chuck, a recovering food addict himself, to show exactly how our brains are wired to get hooked on high fat and sugary foods. In fact, the addiction can be so strong that the same medication used to treat opioid overdoses can be used to curb chocolate cravings! 
More on Exam Room Podcast