Blog

Feb 26, 2021
Recipe of the Week: Homemade Vegan Style Cornbread Dressing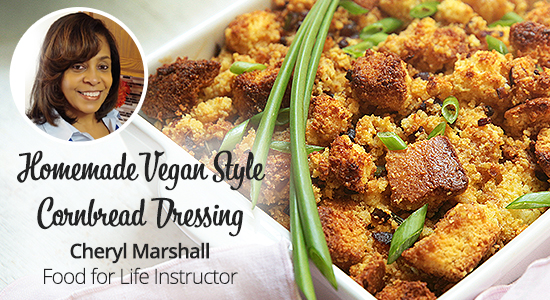 Food for Life instructor Cheryl Marshall shares a delicious recipe for Homemade Vegan Style Cornbread Dressing!
This February, the Physicians Committee's Recipe of the Week gets a takeover! Our Food for Life instructors are celebrating Black History Month with recipes that honor African American culinary traditions across the United States. Cheryl Marshall, a certified health coach from Delaware, has taught the principles of a plant-based diet for more than 20 years, including raising her four children on a plant-based diet. Cheryl is also the founder of VegUcan Health & Wellness LLC, an organization designed to encourage healthy habits and long-lasting lifestyle changes. She understands firsthand how the power of food will significantly improve one's health and well-being and enjoys inspiring progressive change in others, while simultaneously embarking on a personal journey of self-improvement and empowerment!
You can view Cheryl's upcoming classes at her Food for Life instructor page!
Check out Cheryl's recipe for Homemade Vegan Style Cornbread Dressing!
Homemade Vegan Style Cornbread Dressing

An historical version of what is now known as fusion cooking, cornbread is often a staple on African American dinner plates. Corn or "maize" originated in the Americas and was brought to West and Central Africa. Cornmeal later became a primary food ration for enslaved Africans during the middle passage of the transatlantic slave trade and once they reached the United States. Already familiar with corn from their African origins, they were able to harness that knowledge and apply it to making dishes commonly enjoyed today throughout the United States, including cornbread and later cornbread dressing. 
This aromatic and hearty dish is a southern classic–without the buttermilk, egg, or butter and all of the cholesterol! Use defatted soy flour and vegetable broth instead of oil to keep it low in fat. This dish is packed to the brim with protein and flavor!
Makes 8-10 servings
Ingredients
1 pound cornmeal 
1/2 pound soy flour 
2 cups soy milk 
1 teaspoon sea salt 
1/2 tablespoon onion powder 
1/2 tablespoon garlic powder 
3/4 cup nutritional yeast 
1 1/2 tablespoons sage 
1/3 cup oil or vegetable broth 
1 small onion diced 
2 stalks celery, diced 
1/4 cup tamari, liquid aminos or low-sodium soy sauce 
1/2 cup water 
Directions
Preheat oven at 350 F.
Mix cornmeal, soy flour, soy milk, salt, and seasonings in large mixing bowl.
Add 1/3 cup of oil to cornmeal mix.
Pour mixture into a lightly greased 9-by-13-inch casserole dish.
Place in the oven and let bake for 30 to 45 minutes, or until a knife blade comes out clean from the center of the cornbread.
Once done let stand for 15 minutes and break the cornbread up with a mixing spoon.
Saute the diced veggies and add tamari.
Add veggies to cornbread and mix. If moisture is needed, add up to 1/2 cup water to mixture.
Spread mixture out in pan and bake again for 15 to 20 minutes, remove, and let cool, then serve!
Per serving: Calories: 342; Fat: 2.7 g; Saturated Fat: 0.4 g; Calories from Fat: 6.8%; Cholesterol: 0 mg; Protein: 25.4 g; Carbohydrate: 57.0 g; Sugar: 5.7 g; Fiber: 10.3 g; Sodium: 559 mg; Calcium: 150 mg; Iron: 5.6 mg; Vitamin C: 1.2 mg; Beta-Carotene: 94 mcg; Vitamin E: 0.2 mg
Please feel free to tailor Physicians Committee recipes to suit your individual dietary needs.