Recipe
Zucchini Noodles With Garlic-Roasted Tomato Sauce
4 servings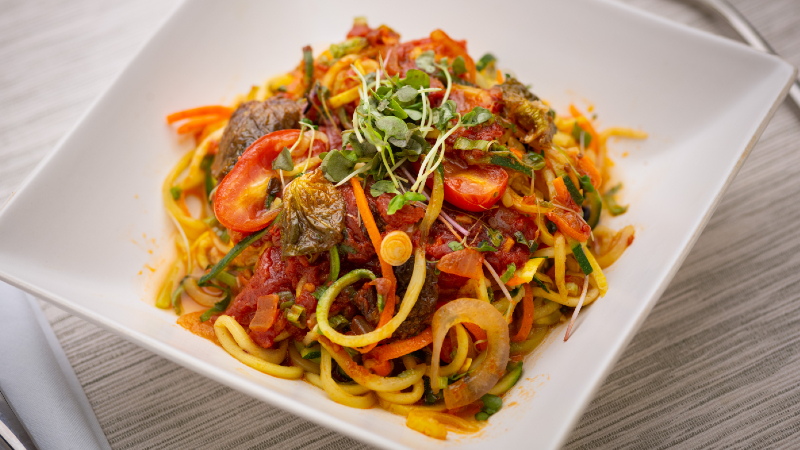 These zucchini and squash noodles are packed with flavor and are a delicious gluten-free alternative to pasta!
About the Recipe
177 Calories · 3.11 g Protein · 3.85 g Fiber
Dinner
Gluten-free · Nut-free
This recipe was developed as part of the Physicians Committee's Universal Meals program, which follows a simple set of guidelines that meet a wide range of dietary needs! Universal Meals are free of animal-derived ingredients, gluten-containing grains, and common allergens.
Ingredients
Makes 4 Servings
green zucchini squash (2 medium)

yellow squash (2 medium)

shallots (2 medium)

chopped garlic (1 tbsp.)

cherry tomatoes, halved (10)

olive oil (4 tbsp.)

salt (to taste)

pepper (to taste)

fresh basil (to taste)
Directions
First, wash and dry the squash and zucchini. Then, cut off the stems and cut the squash and zucchini in half. Use a vegetable spiralizer to turn the squash and zucchini into spaghetti-shaped noodles.





Peel and cut shallots into thin rounds.





Add olive oil (if using) to a 24-inch skillet and heat until smoky. If you prefer, omit the oil by replacing it with water or by using a nonstick pan. Turn heat down to medium and add shallots, garlic, and zucchini and squash noodles.





Stir with a wooden spoon for 2 minutes. Add cherry tomatoes. Cook for 5 minutes while stirring.





Finish with seasoning and fresh basil and serve hot in a bowl with fresh basil and scallions.




Nutrition Facts
Per serving
Calories: 177
Fat: 14.39 g
     Saturated Fat: 2.04 g
     Calories From Fat: 71.44%
Cholesterol: 0 mg
Protein: 3.11 g
Carbohydrate: 12.22 g
Sugar: 6.64 g
Fiber: 3.85 g
Sodium: 9 mg
Calcium: 79 mg
Iron: 1.39 mg
Vitamin C: 26.33 mg
Beta-Carotene: 916 mcg
Vitamin E: 2.45 mg