Recipe
Roasted Brussels Sprouts With Apples
6 servings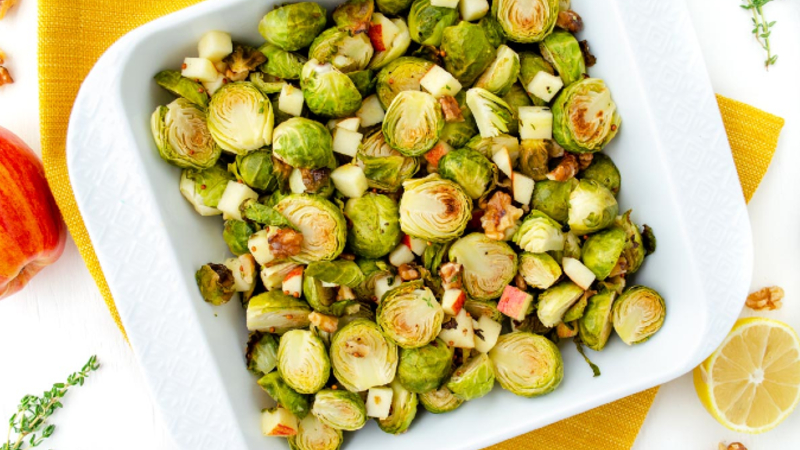 This dish showcases the flavors of autumn with Brussels sprouts, apples, maple syrup, and thyme!
About the Recipe
106 Calories · 4.9 g Protein · 5 g Fiber
Side Dish
Brussels sprouts and other cruciferous vegetables are packed with phytochemicals that may help reduce the risk of certain types of cancer.
Ingredients
Makes 6 Servings
Brussels sprouts, washed, ends trimmed (2 pounds)

Gala apple, diced (2/3 cup)

walnuts, toasted (1/4 cup)

whole-grain mustard (1 tsp.)

lemon juice, freshly squeezed (2 tbsp.)

unsweetened applesauce (2 tbsp.)

maple syrup (2 tsp.)

fresh thyme, chopped (1 tsp.)

salt (to taste)

pepper (to taste)
Directions
Preheat oven to 425 F. Line a sheet tray with parchment paper. Cut Brussels sprouts in half and season with salt and pepper. Place cut-side down on the parchment sheet. Bake for 15-20 minutes or until the Brussels sprouts are tender and golden brown.





While the Brussels sprouts are cooking, combine the mustard, lemon juice, applesauce, maple syrup, and thyme in a small bowl to make the dressing. Whisk to combine. Season with salt and pepper to taste.





Remove the Brussels sprouts from the oven and let cool slightly. In a large bowl, combine the Brussels sprouts, walnuts, and diced apples and toss them with the dressing. Serve warm.




Nutrition Facts
Per serving
Calories: 106
Fat: 4 g
     Saturated Fat: 0.47 g
     Calories from Fat: 31.9%
Cholesterol: 0 mg
Protein: 4.9 g
Carbohydrate: 16.4 g
Sugar: 6.3 g
Fiber: 5 g
Sodium: 44 mg
Calcium: 67 mg
Iron: 2.1 mg
Vitamin C: 102.3 mg
Beta-Carotene: 755 mcg
Vitamin E: 0.78 mg