Recipe
Roasted Brussels Sprouts With Apples
6 servings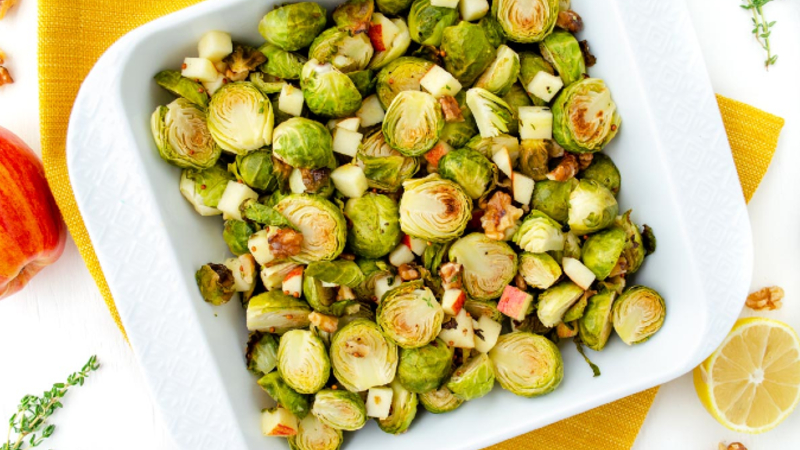 This dish showcases the flavors of autumn with Brussels sprouts, apples, maple syrup, and thyme!
About the Recipe
106 Calories · 4.9 g Protein · 5 g Fiber
Side Dish
Brussels sprouts and other cruciferous vegetables are packed with phytochemicals that may help reduce the risk of certain types of cancer.
Ingredients
Makes 6 Servings
Brussels sprouts, washed, ends trimmed (2 pounds (907 g))

Gala apple, diced (1)

walnuts, toasted (1/4 c (25 g))

whole-grain mustard (1 tsp (5 mL))

lemon juice, freshly squeezed (2 tbsp (30 mL))

unsweetened applesauce (1/8 c (30 mL))

maple syrup (2/3 tbsp (10 mL))

fresh thyme, chopped (1 tsp (5 mL))

Iodized salt ()

Ground black pepper ()
Directions
Preheat oven to 425 F (246 C). Line a sheet tray with parchment paper. Cut Brussels sprouts in half and season with salt and pepper, if desired. Place cut-side down on the parchment sheet. Bake for 15-20 minutes or until the Brussels sprouts are tender and golden brown.





While the Brussels sprouts are cooking, combine the mustard, lemon juice, applesauce, maple syrup, and thyme in a small bowl to make the dressing. Whisk to combine. Season with salt and pepper to taste.





Remove the Brussels sprouts from the oven and let cool slightly. In a large bowl, combine the Brussels sprouts, walnuts, and diced apples and toss them with the dressing. Serve warm.




Nutrition Facts
Per serving
Calories: 106
Fat: 4 g
     Saturated Fat: 0.47 g
     Calories From Fat: 31.9%
Cholesterol: 0 mg
Protein: 4.9 g
Carbohydrate: 16.4 g
Sugar: 6.3 g
Fiber: 5 g
Sodium: 44 mg
Calcium: 67 mg
Iron: 2.1 mg
Vitamin C: 102.3 mg
Beta-Carotene: 755 mcg
Vitamin E: 0.78 mg