Recipe
Rainbow Sushi
4+ servings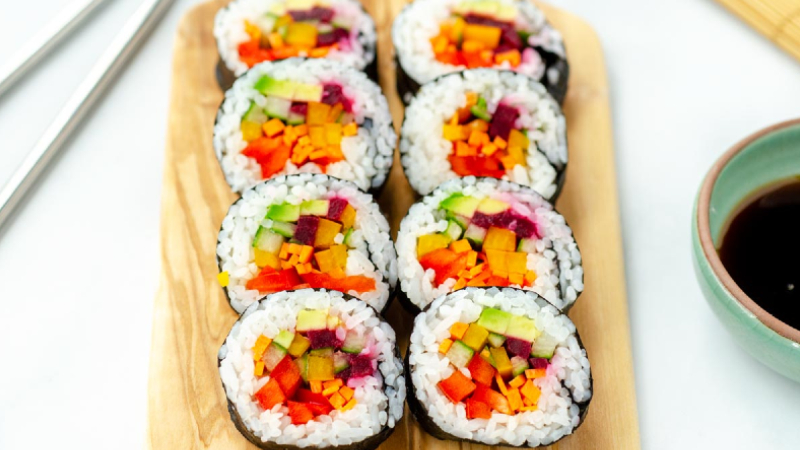 The brightly colored vegetables used in this sushi are loaded with cancer-fighting antioxidants!
Ingredients
Makes 4+ Servings
1 1/2 c (285 g) cooked rice or quinoa

1 red bell pepper, sliced

2 beets, sliced or shredded

1 cucumber or zucchini, sliced or shredded

2 carrots, sliced or shredded

1 avocado, sliced or mashed

12 sheets nori seaweed

to taste sesame seeds (optional)

1 tsp (5 mL), or to taste hoisin sauce (optional)

4 tbsp (60 mL) rice vinegar (optional)

1/8 tsp (0.6 mL) agave nectar (optional)
Directions
Cook the brown rice according to package. You can optionally season the cooked rice with 2-4 tbsp (30- 60 mL) of rice vinegar and a few drops of agave.





Spread cooked rice on top of each nori sheet.





Top with avocado and veggies, plus a sprinkling of sesame seeds if using.





Tightly roll into a log shape. Repeat. Cut nori rolls into smaller pieces. Dilute hoisin sauce with water for a dipping sauce, if desired.





Note: Use a short-grain brown rice or you can swap rice for quinoa.




Nutrition Facts
Per roll (1/12 of recipe):
Calories: 359 kcal
Fat: 8 g
     Saturated Fat: 1 g
     Calories From Fat: 18%
Cholesterol: 0 mg
Protein: 10 g
Carbohydrates: 68 g
Sugar: 7 g
Fiber: 11 g
Sodium: 113 mg
Calcium: 64 mg
Iron: 3.2 mg
Vitamin C: 47 mg
Beta-Carotene: 4206 mcg
Vitamin E: 2.1 mg