Recipe
Mushroom Gravy
1 servings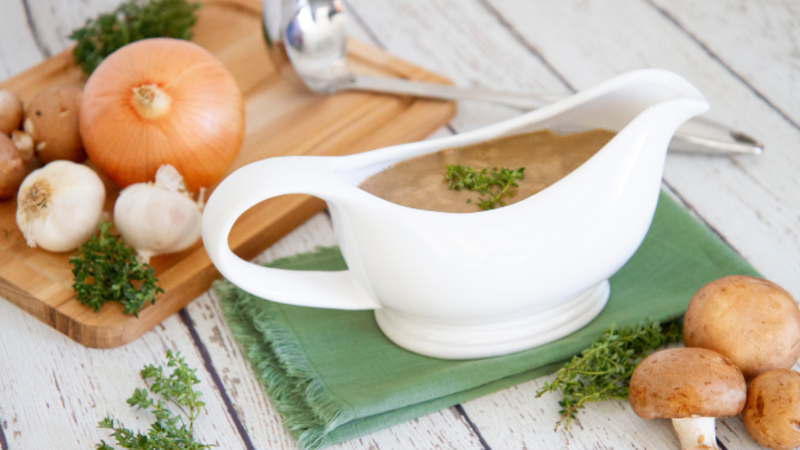 Enjoy this gravy on top of mashed potatoes, portobello mushrooms, or other vegetables!
Ingredients
Makes 1 Servings
1/2 yellow onion, diced

2 cups cremini or white button mushrooms

1/8 tsp. salt

1/4 tsp. freshly ground black pepper

2 cloves garlic, minced

1/2 tsp. fresh thyme or oregano

1 1/2 tbsp. whole-wheat pastry flour or whole-wheat flour

1/2 cup water
Directions
Over medium-high heat, saute the onion just until it turns brown.





Add the mushrooms and continue sauteing these ingredients until the mushrooms brown and release some of their water. Reduce the heat to medium.





Add the salt, pepper, garlic, and thyme or oregano, sauteing for another minute.





Add the whole-wheat flour and gently stir the ingredients for about 1 minute.





Slowly add the water, about 1/4 cup at a time. Stir and make sure the flour incorporates with the water before adding the next batch. Continue doing this until you get a consistency that looks just slightly thinner than you want for the finished gravy. The gravy will thicken when it comes off the heat, so if you cook it to what looks like the right consistency, it will become thicker than desired once it's off the burner.





For a smooth gravy, add about 2 tablespoons more water and puree the gravy once it is done cooking.




Nutrition Facts
Per serving
Calories: 104
Protein: 6 g
Carbohydrate: 18 g
Sugar: 5 g
Total Fat: 0.6 g
     Calories From Fat: 5%
Fiber: 2 g
Sodium: 283 mg