Recipe
Italian Fusilli With Sun-Dried Tomatoes and Artichoke Hearts
4 servings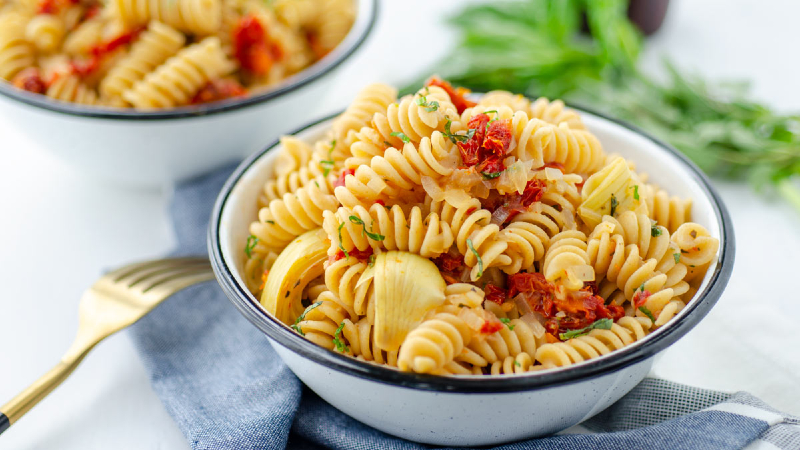 The sun-dried tomatoes and artichokes in this dish are the perfect pair. The flavors are even more striking the next day.
Ingredients
Makes 4 Servings
sun-dried tomatoes (1/2 c (27 g))

vegetable broth (1/4 c (60 mL))

medium onion, coarsely chopped (1)

garlic cloves, minced (3)

artichoke hearts, drained and quartered (1 14-oz (397-g) can)

dry white wine (1/2 c (120 mL))

Iodized salt ()

Ground black pepper ()

fresh oregano, chopped (2 tsp (10 mL))

loosely packed fresh basil, thinly sliced (1/4 c (5 g))

fusilli pasta, preferably whole wheat (10 oz (283 g))
Directions
Cover the sun-dried tomatoes with boiling water in a small bowl and let stand for about 10 minutes to soften. Drain and slice tomatoes into thin strips. Set aside.





Heat the broth over medium-high heat. Add the onion and garlic and saute for 3 to 5 minutes, until softened and translucent. Add the tomatoes, artichoke hearts, wine, salt, and black pepper. Lower heat and simmer for 5 minutes. Stir in the oregano and basil.





Meanwhile cook the pasta according to package directions until al dente. Drain. Toss the pasta with the artichoke mixture.




Nutrition Facts
Per Serving
Calories: 377 kcal
Fat: 4 g
     Saturated Fat: 0.5 g
     Calories From Fat: 8%
Cholesterol: 0 mg
Protein: 15 g
Carbohydrates: 61 g
Sugar: 6 g
Fiber: 12 g
Sodium: 197 mg
Calcium: 65 mg
Iron: 4.6 mg
Vitamin C: 9.5 mg
Beta-Carotene: 150 mcg
Vitamin E: 0.6 mg